EPI Environmental (NYSEARCA:EPI) licenses its developed oxo-biodegradable technology to plastics manufacturers. The company trades for $5.4 million despite $5 million of cash against no debt, and income of over $500 thousand in just the first six months of this year.
---
Last month, the company's majority shareholder made an offer to take the company private at a price that values the entire company at just $6.1 million, even though the company procured a valuation in May of 2013 that valued the company at $7.5 million! Investors at the current price are able to own this company at less than the takeover price offered, with substantial upside potential: EPI is headquartered in British Columbia where dissenting rights allow shareholders a mechanism for receiving fair value for their shares (as determined by the court), which is likely much higher than what the controlling shareholder is currently offering.
Schedule Of Events
On September 19th, a meeting of shareholders will take place at which minority shareholders will vote on the proposal by the controlling shareholder to take the company private at $0.23 per share. Even if a majority of the minority shareholders agree to this transaction, dissenting shareholders do not have to agree to transact. However, they must let the company know of their intention to dissent at least two days before the meeting at which the vote will take place (more on instructions for dissention are provided below).
The Business
EPI Environmental developed oxo-biodegradable technology, which is designed to speed up the degradation of plastics that otherwise occupy landfills for decades at a time. The company sells its proprietary chemical additives to companies that manufacture items such as plastic bags, and these additives can speed up the degradation of plastics by several orders of magnitude.
For more on the company's technology and product markets, see the company's website.
Valuation Procured By EPI
Joseph Gho is the owner (through a 100% controlled corporation) of 63% of the company's shares. He is now offering a buyout of minority shareholders through a 16.6 million to 1 reverse share split, where he would own the only share and minority shareholders would receive $0.23 for each fractional share.
This offer is based on a valuation report the company procured from RwE Growth Partners in July (as opposed to the higher valuation received in May) for the sum of $10,000. The valuation report is included in the company's management information circular which was issued on Friday, August 23rd.
In this author's opinion, this valuation did not do justice to the fair value of the company. A number of adjustments to the valuation are discussed below which bring an estimate of fair value closer to what may be considered consistent with the case law in British Columbia.
Adjustments to Valuation Procured By EPI
A number of changes to the company's procured valuation report of $6.1 million are discussed in this section. At the end of the section, a table summarizing and tabulating these quantities is provided.
1) The valuator "assumed that the US$ is on par with the Canadian dollar", but this is not the case. At current exchange rates ($1 USD = $1.05 CAD), this by itself increases the fair value estimate of the shares by 5%.
2) Incredibly, none of the company's substantial cash holdings were considered in the valuator's discounted cash flow analysis. The explanation runs as follows:
"While the Company has cash on-hand, management and the directors have advised us that such cash is required to run and operate the business over the course of annual operations and the long-term and hence such cash is not redundant."
This is a view that treats minority shareholders extremely unfairly. In EPI's initial quarterly financial statements (filed in 2011) the company had just $3.3 million in cash. Since then, the company saw its cash position increase to $4.7 million at the end-period for the valuator's report. Furthermore, the company's sales and liabilities are actually lower now than they were then, suggesting even less cash is required now!
It's also worth noting that through the reverse-split method described above, Joseph Gho is using the company's substantial cash hoard, not his own money, to completely buy out shareholders. This buyout is costing the company just $2.3 million in cash, but if the company truly does not have excess cash, how does it make sense to use this cash to execute the buy out?
A proper estimate of fair value should consider the fact that some of the company's excess cash build up (through earnings and the fact that there has been no dividend) belongs to minority shareholders. A range of $1.4 million ($4.7 million at the time of valuation less $3.3 million at IPO) to $2.4 million (to bring the company's current ratio to a level above 2, which is considered safe) can reasonably be considered as excess cash.
3) The regulations (section 237 of the BCCA) also make it very clear that the fair value shareholders should receive is the one "the shares had immediately before the passing of the resolution". But the valuation report is "regarding the fair market value...of the Company as at March 31, 2013 (the Valuation Date)."
Since that date, the company has released new financials that were excellent. Operating profit rose by more than 40% and earnings per share rose by even more. In addition, the company's cash balance increased by $300 thousand (again, there is still no debt). Even if no changes are made to the company's future earnings assumptions, at the very least, this additional increase in cash should be seen as belonging to all shareholders.
4) The valuator's comparable method heavily downward biases EPI's estimated value. Even though EPI is larger (by market cap) than 2 of the 7 companies chosen as comparables, the net income multiplier (the metric chosen by the valuator as the basis upon which to compare companies) average of 11.33 for these companies was arbitrarily reduced to just 5.89 on the high end and 5.44 on the low end. Reasons given for the discount include size, liquidity, stage of development, infrastructure, capability and partnerships, with no additional information provided as to how such qualitative data was evaluated and converted to this large quantitative discount.
Considering EPI's substantial cash balance and lack of debt, both in absolute terms and relative to the comparables, a case could be made for EPI to trade at a premium to the average multiplier.
In general, however, the courts have held that a 12% to 15% capitalization rate is appropriate for private businesses with stable cash flows (e.g. Monachese v. Tri Phi Holdings Ltd). This provides for a multiplier of 6.7 on the low end and 8.3 on the high end.
5) The valuator weighted five different valuation approaches in order to arrive at a final fair value estimate for EPI. However, many of the approaches employed here do not make sense for this kind of company. For example, EPI has been an extremely illiquid stock, with only 0.2% of the company's outstanding shares having traded in the last year! Yet the valuator used the company's trading value, without any adjustment to account for illiquidity or lack of control premium, as one of the five inputs to estimate the company's fair value.
The courts do recognize this as a problem. For example, in Grandison et al. v. NovaGold Resource Inc. (2007 BCSC 1780), the courts placed no weights on the trading price because the shares were thinly traded and likely reflected a minority discount, which is a similar situation to this one.
6) The valuator also tried to calculate the replacement value of the company. While this can be a useful approach to valuing some companies, it is inappropriate here. EPI's value is not in tangible assets whose prices are easy to verify, but rather in know-how and intellectual property. While such a subjective replacement value calculation for intellectual property may nevertheless be necessary for companies with no revenues and/or negative cash flow (e.g. development stage companies), it can only be misleading for a company such as EPI, which has had stable cash flow and revenue for many years now.
The valuator's estimates of requirements for design-engineer-years, QA/testing and salary estimates for years into the future are inherently subjective. Where no more objective methods (e.g. comparables, cash flow multiples) apply, such subjective methods may be necessary, but here they are not.
7) Finally, it's worth noting that the company has neither a compensation committee nor retains a consultant for the purposes of determining remuneration. As such, the company's controlling shareholder receives an annual salary and bonuses that are substantially higher than those for companies of comparable size.
In general, the courts have normalized management salaries in order to arrive at improved approximations of cash flows. For example, in Monachese v. Tri Phi Holdings Ltd (2007 BCSC 846), management salaries were assumed reduced in order to arrive at normalized cash flow estimates.
For companies of similar size, Joseph Gho's 2012 total take home pay of $400 thousand was substantially higher than that of the average CEO in 2010 in neighbouring Alberta, where more information on small business salaries are available. Salaries in Alberta tend to be higher than those in BC.
Assuming a normalized salary range of $200 thousand to $250 thousand, which is still above average but below current levels, is likely to yield a better approximation of EPI's true cash flow.
The following table summarizes the above-discussed alterations to the valuation procured by the company: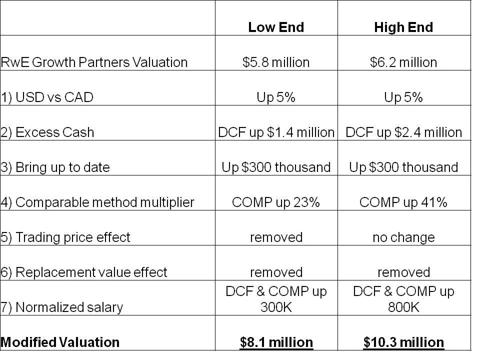 If these modifications were to be implemented, the company's valuation range would be estimated to be between $8.1 million and $10.3 million. The midpoint of $9.2 million provides a value per share of approximately $0.35, well above Joseph Gho's current offer.
Considering the company's $5 million cash balance against no debt, and the valuator's annual cash flow projections of $1 million+, this is much more reasonable than the $6 million valuation arrived at in the more recent company-procured valuation.
Discussion With Mr. Gho
I contacted Mr. Gho to discuss the valuation as a concerned shareholder. When I expressed that I believed RwE's valuation undervalued the company, he said that since I'm not a licensed business valuator my opinion doesn't matter. I asked him if he thought RwE's valuation was fair. He said yes at first, and then continued that actually it valued the company at a premium and was "on the high end". Since Mr. Gho is not a licensed business valuator, I was surprised that he considered his own opinion valid.
Mr. Gho also pointed out that the company's independent board members advised shareholders to vote for the agreement. There are only two such board members, however, and neither owns a single share!
What Mr. Gho did not mention on that call, however, was that the company had previously engaged a valuator which provided a valuation estimate for the company of $7.5 million on May 8th, 2013. Subsequent to that valuation, the company engaged RwE, whose $6 million valuation was discussed/modified above.
In addition, the company's attitude towards minority shareholders shows itself in the manner in which the buyout is taking place. I asked Mr. Gho why this method (through the 16 million to 1 reverse-split) is being used to buy out shareholders rather than a more normal buy out. He insisted that this is the same thing. Unfortunately, this is not the same thing for minority shareholders for tax purposes, as any gains are treated as deemed dividends (since it is the company itself purchasing the shares, not Mr. Gho or his company) rather than capital gains, which have more favourable tax treatment.
Instructions To Dissent
Should the proposed deal be approved by minority shareholders, shareholders wishing to dissent may do so by following the instructions outlined in Sections 237 to 247 of the Business Corporations Act of BC.
The quirk is that notice of dissention must be given to the company two days prior to the vote taking place. In other words, shareholders must dissent before they even know they need to dissent. There have been cases where dissent motions have been dismissed where the instructions were not followed, so it is important that shareholders wishing to dissent follow the procedures diligently.
Conclusion
Shares of EPI appear undervalued, with a possible catalyst on the horizon (assuming the deal is approved). Thanks to the company's large cash position, the downside appears to be protected, even if the offer is withdrawn. However, there is substantial upside were shareholders to receive fair value for their shares.
Disclosure: I am long EPI
Disclosure: I am long EPI.