and when should we go long to take advantage of a reversal?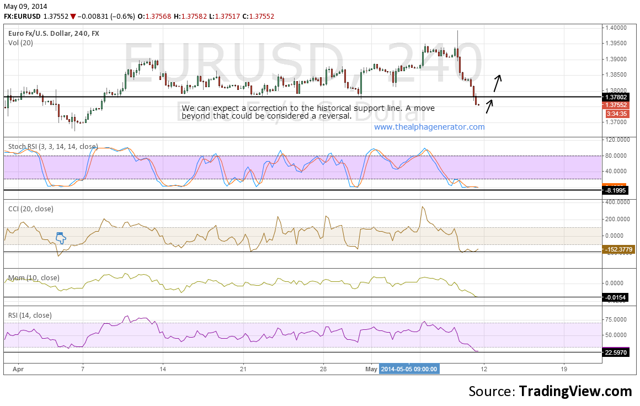 Perhaps we can see a correction to the historical support. A move above that could indicate a reversal. A buy order may be profitable at this level.
In this chart, I've included some oscillating indicators to help us decide if the EUR/USD is oversold and make a prediction about when we can jump into the market and take a long position. I must admit that predicting the bottom carries enormous amount of risk, but the rewards are worth the effort. Considering Draghi hasn't actually lowered the interest rate, and he could be just jaw boning the currency lower, the market will probably call his bluff (again) and we should see the price rise next week according to many analysts.
An explanation of the Indicators:
Stochastic RSI - Oversold. When indicator climbs back into the channel. Then buy.
CCI - Oversold. When indicator jumps back into the channel, again a buy signal. Historically oversold except for an instance in early April. In this case the price also bounced up again.
Momentum - This one is interesting and somewhat subjective. Go long when the price jumps up above the black line which represents the historical support line in the actual price chart. Historically oversold.
RSI - Oversold. Go long when the price goes back into the channel. Historically oversold.