As the yield of long term Treasuries has been declining, TLT has been rising. In the past 18 months of Fed easing, TLT has risen about 50%. That is one heck of a return from this ETF proxy of government bonds.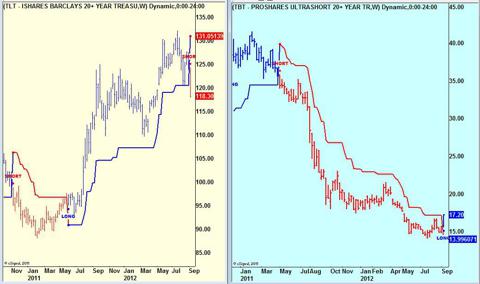 But the past two weeks that has included the latest "petal to the metal" easing from central banks around the globe, the shorter-term trends have reversed. TLT has been declining and its leveraged inverse, TBT, has been rising. SO much so that the former has tirggered Short in its Hourly Trend Model while the fomrer has triggered Long in its Hourly Trend Model.
These are not trends to be trifled with. This past week both of these Hourly Trends were confirmed on the Daily Trend Models meaning that no matter how "well intentioned" (if at all) these bankers may be, we may very well be entring that Twilight Zone of unintended consequences.
Disclosure: I am long TBT.