CTIX was up 35% today on 7X average volume. This is why we have a "Buy & Hold" basket. The news is that CTIX is commencing clinical trials of its anti-cancer drug, Kevetrin:
"As noted in the press release on September 4, the clinical protocol was amended which required Institutional Review Board (IRB) approval. Cellceutix has been informed that the IRB meeting has taken place and hospital preparations are now underway at the respective institutions to allow for the commencement of the clinical trials. Cellceutix expects the process of activation, recruitment, enrolling and first dosing to take approximately 3 weeks.
"This is a unique clinical trial and institutions such as Dana-Farber and Beth Israel Deaconess are extremely meticulous in their protocol. It is this level of excellence that compelled us to sponsor the trials at these clinical sites," commented Dr. Krishna Menon, President and Chief Scientific Officer at Cellceutix.
"Cellceutix Chief Executive Officer Leo Ehrlich added, "There is excitement building around us as was truly evident at the Rodman and Renshaw Healthcare Conference last week. It was amazing to me how many people knew about Cellceutix and approached Dr. Menon and I to discuss Kevetrin and the rest of the Cellceutix pipeline. Our novel cancer drug candidate is garnering quite a lot of attention and we are confident that interest is going to continue to grow as the clinical trials progress."
CTIX is up 56% in the past ten trading days. Is it too late to get in? A trend is a trend.
(click to enlarge)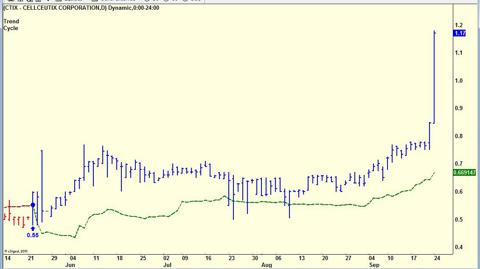 Click to enlarge
Disclosure: I am long OTCQB:CTIX.
Additional disclosure: CTIX is a Buy & Hold recommendation of AllanTrends