FSLR: Grand Slam Home Run
POSTED: April 9, 2013
PUBLISHED IN: Market Analysis
COMMENTS: 0
FSLR is running fast and furious this morning on fundamental news. i.e. strong forward guidance by management. The Daily Trend Model will surely reverse LONG at the close today, but such huge percentage runs will usually give back half before resuming back up. No need to panic into it, although for consistency sake, the model portfolio will go long on today's close.
FSLR is one of the stocks we trade in the Premium Service. As with the hour PTS models, it is based on Hourly price bars instead of Daily price bars. Just after the Open this morning, FSLR Hourly triggered LONG. Our official entry on trade was $28.54. FSLR is currently trading at $37.30. The May $28 calls, purchased at about $2.20 at the time of the Buy signal, have traded as high as $12.75, so far.
Not all PTS (Premium Trading Service) trades do this well and you may be surprised to learn that some of them even miss. But for the extra monthly fee for this service, there are a whole lot of profits sitting out there waiting to be picked up. A subscriber sent me his spreadsheet yesterday showing a return of 158% for the past 12 months trading just NFLX stock, NO OPTIONS, all based on the Hourly Signals from the PTS.
Keeping these special Hourly Models takes a lot more of my time and a little more of your money to access, but it can be a win-win for both of us. But it takes two.
The Daily Stock Models are fine and as you can see in the Daily Trend Tables, there are a lot of very generous positive returns against much smaller negative returns on the individual stocks, so there is something here for everyone. But if you haven't considered the PTS, now would be a good time. If you don't like it, a full refund any time during the first month of your subscription.
As Bob Dylan wrote in one of his most lauded songs, "You got to serve somebody." It may as well be yourself.
Premium Trading Service Sign-Up
(click to enlarge)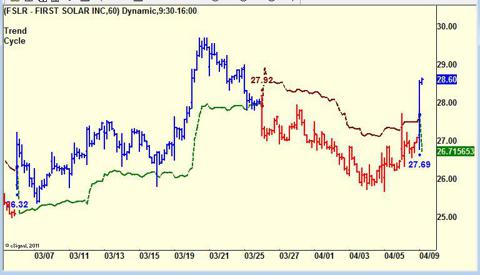 Click to enlarge
TAGS: FSLR, LONG, PTS, trading
Disclosure: I am long FSLR.
Additional disclosure: Long May $28 calls.