TSLA has been making new highs just about every week now. Now for the bull and bear cases as seen by the online StockConsultant tool.
Bull Case
BULLISH Confirmation - Strong bullish 3 day chart pattern with Strong 3 day accumulation.
Confirmation - CONFIRMED breakout above 139.57, no resistance in area just above.
Bear Case
BEARISH Probability - Intermediate trend bearish, Unsustainable uptrend, may turn sideways.
Probability - Overbought, odds favor short trades.
Probability - Short term strong rally, rally may start to slow.
Confirmation - Extreme Neutral 1 day moneyflow, on an strong-extreme rally is considered bearish.
Support and Resistance levels
CURRENT PRICE 143.94, just above resistance, 135.1 ± 4.46, type single, strength 3
RESISTANCE ABOVE None.
SUPPORT BELOW -6.2% at 135.1 ± 4.46, type single, strength 3
-15.6% at 121.5 ± 4.01, type double, strength 8
-27.7% at 104.1 ± 3.43, type double, strength 10
TSLA Chart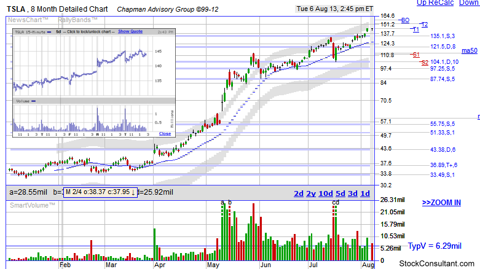 source: http://www.stockconsultant.com/consultnow/basicplus.cgi?symbol=TSLA