Nothing released this week stood out as an argument whether the USA was in or not in a recession (I believe the evidence says there is no recession but it is not overwhelming). The big news this week was the Fed continuing its Quantitative Easing Program by trying to grow their balance sheet by $85 billion per month.
The reasons are:
that the Fed was losing ground on its balance sheet unless it brought in a new source - you see, the government's debt is growing at $85 billion per month, and
the Fed does not want the private sector investing money in the government sector while the economy is so weak
Some are worried this is an inflationary event. This thinking is wrong as:
money is not moving - the velocity is falling. money velocity must grow to have an inflationary event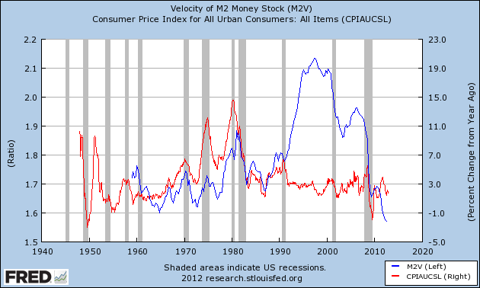 the government buying its own debt is not inflationary;
what the Fed does (monetary policy) effects the global dollar more than the USA economy.
The Econintersect economic forecast for December 2012 shows weak growth. The underlying dynamics continue to have a downward bent. There are recession markers still in play, and one of our alternate methods to validate our forecast is recessionary. All in all, not a great forecast - but not one which would cause you to jump out the nearest window either.
ECRI believes the recession began in July 2012. ECRI first stated in September 2011 a recession was coming . The size and depth is unknown. The ECRI WLI growth index value is enjoying its fourteenth week in positive territory (but slightly improved from last weeks ten week low). The index is indicating the economy six month from today will be slightly better than it is today.
Current ECRI WLI Growth Index

/images/z weekly_indexes.PNG
Initial unemployment claims fell again from 370,000 (reported last week) to 343,000 this week. Historically, claims exceeding 400,000 per week usually occur when employment gains are less than the workforce growth, resulting in an increasing unemployment rate (background here and here).
The real gauge - the 4 week moving average - fell significantly from 408,000 (reported last week) to 381,500. Because of the noise (week-to-week movements from abnormal events AND the backward revisions to previous weeks releases), the 4-week average remains the reliable gauge. This is the highest 4 week average since June 2012.
Weekly Initial Unemployment Claims - 4 Week Average - Seasonally Adjusted - 2010 (blue line), 2011 (red line), 2012 (green line)

/images/z unemployment.PNG
Bankruptcies this Week: LifeCare Holdings, Internal Fixation
Data released this week which contained economically intuitive components (forward looking) were:
Rail movements (where the economic intuitive components indicate a moderately slightly expanding economy).
Imports continue to show the economy is marginally growing
All other data released this week either does not have enough historical correlation to the economy to be considered intuitive, or is simply a coincident indicator to the economy.
Weekly Economic Release Scorecard:
Disclosure: I have no positions in any stocks mentioned, and no plans to initiate any positions within the next 72 hours.