My review of the Personal Consumption and Income data was glowing. There are reasons this data came in strong:
Retail Employment gains were abnormally high for November. This would produce higher than normal income. This is holiday period employment - not permanent, and come December / January will evaporate with a higher than normal labor force contraction.
Retailers have moved the holiday sales forward earlier in November. The hope is that with a longer period more sales are produced. We will see.
The growth in the retail sector was way out of line for an economy just skimming along. The graph below is the historical retail sector jobs growth (in thousands) for the month of November with approximately 50,000 more jobs than one would expect. My takeaway is that unless there was a huge jump in retail sales, it is seasonal employment which occurred earlier than normal. If it is seasonal employment, expect these jobs to disappear in January.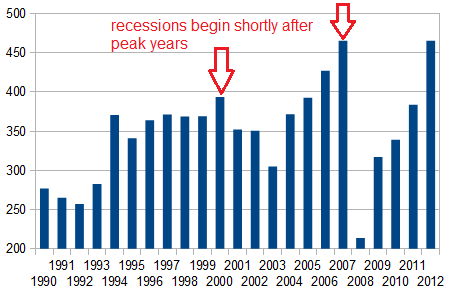 If I am correct, this would explain how the jobs growth was 50,000 higher than expectations.
In perspective, it is income which i watch. With income comes spending. And per capita income really has not changed for five long years - and this is what one of the major headwinds of economic growth.
(click to enlarge)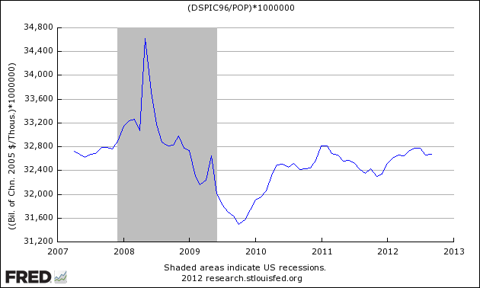 Click to enlarge
The Econintersect economic forecast for December 2012 shows weak growth. The underlying dynamics continue to have a downward bent. There are recession markers still in play, and one of our alternate methods to validate our forecast is recessionary. All in all, not a great forecast - but not one which would cause you to jump out the nearest window either.
ECRI believes the recession began in July 2012. ECRI first stated in September 2011 a recession was coming . The size and depth is unknown. The ECRI WLI growth index value has been weakly in positive territory for over three months. The index is indicating the economy six month from today will be slightly better than it is today.
Current ECRI WLI Growth Index

/images/z weekly_indexes.PNG
Initial unemployment claims rose from 343,000 (reported last week) to 361,000 this week. Historically, claims exceeding 400,000 per week usually occur when employment gains are less than the workforce growth, resulting in an increasing unemployment rate (background here and here).
The real gauge - the 4 week moving average - continued to fall from 381,500 (reported last week) to 367,750. Because of the noise (week-to-week movements from abnormal events AND the backward revisions to previous weeks releases), the 4-week average remains the reliable gauge.
Weekly Initial Unemployment Claims - 4 Week Average - Seasonally Adjusted - 2010 (blue line), 2011 (red line), 2012 (green line)
(click to enlarge)

Click to enlarge
/images/z unemployment.PNG
Bankruptcies this Week: UFood Restaurant Group, Edison Mission Energy, GuildMaster, Imagenetix, THQ
Data released this week which contained economically intuitive components (forward looking) were:
Rail movements (where the economic intuitive components indicate a moderately slightly expanding economy).
There were many important data releases this week which some use to forecast - durable goods, personal income - even gdp - I see little intuitive in these measures except trend lines.
All other data released this week either does not have enough historical correlation to the economy to be considered intuitive, or is simply a coincident indicator to the economy.
Weekly Economic Release Scorecard:
Disclosure: I have no positions in any stocks mentioned, and no plans to initiate any positions within the next 72 hours.