Most of the people are focused on the sequester - but the fall in personal income was a bigger story for the economy. Literally - it wiped out 5 months of improvement. Additionally, inflation adjusted per capita income DROPPED to levels seen in 2010.
Seasonally and Inflation Adjusted Income Per Capita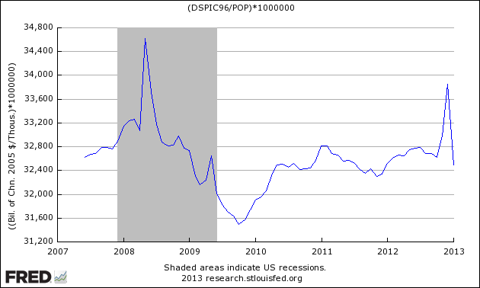 Without income, spending soon will taper off. Read more here. Is it time to increase the minimum wage to get more money in the hands of consumers? I personally don't think the government and bankers are smart enough to interfere in wages which are really set by market place dynamics. What IS the problem is the number of Americans who are not employed. If you think raising the minimum wage will increase employment opportunities - i have a bridge to sell you.
The Econintersect economic forecast for March 2012 continues to show weak but somewhat improving growth. The supply chain contraction we saw last month has dissipated with all of our check methods of measuring the economy clearly in expansion territory.
ECRI now believes a recession began in July 2012. ECRI first stated in September 2011 a recession was coming . The size and depth is unknown. The ECRI WLI growth index value has been weakly in positive territory for over three months - but in a noticeable improvement trend. The index is indicating the economy six month from today will be slightly better than it is today.
Current ECRI WLI Growth Index

Initial unemployment claims fell from 362,000 (reported last week) to 344,000 this week. Historically, claims exceeding 400,000 per week usually occur when employment gains are less than the workforce growth, resulting in an increasing unemployment rate (background here and here).
The real gauge - the 4 week moving average - also improved from 360,750 (reported last week) to 355,000. Because of the noise (week-to-week movements from abnormal events AND the backward revisions to previous weeks releases), the 4-week average remains the reliable gauge.
Weekly Initial Unemployment Claims - 4 Week Average - Seasonally Adjusted - 2011 (red line), 2012 (green line), 2013 (blue line)

Bankruptcies this Week: Ormet, Conexant Systems
Data released this week which contained economically intuitive components (forward looking) were:
Rail movements are somewhat improving.
personal income drop is an economic headwind
All other data released this week either does not have enough historical correlation to the economy to be considered intuitive, or is simply a coincident indicator to the economy.
Weekly Economic Release Scorecard:
Infographic of the Day: Smallest Planet Orbits Kepler-37
Sequester: No Matter What Happens, It Is Wrong
A Brief History of the Chinese Growth Model
Forward Markets: Uncertain Times
Quantity Over Quality in Food Production
Wray Lecture on Dollar Problems
Investing.com Weekly Wrap-Up 01 March 2013
What We Read Today 01March 2013
Markets Close Up But Flat And Directionless
Final February 2013 Michigan Consumer Sentiment Again Better than Expected
Volume Heavy, Bulls And Bears Have Tug Of War As Markets Remain Flat
22 February 2013 ECRI's Weekly Leading Index Growth Again Marginally Less Good
February 2013 ISM Manufacturing Survey Good and Again Above Expectations
Markets Open Down But Recover Somewhat On Heavy Volume
Private Sector Construction Growth Continues in for January 2013
Austerity Will Deepen Recession
January 2013 Real Personal Income Disappoints
Infographic of the Day: Using Cows to Explain Economic Systems
Insane Levels of Inequality
Turn, Turn, Turn: Calendar Spreads
British Gas: How the Bankers Conned Sid
China: Manufacturing Slows
Consumer Credit: First Total Household Credit Growth Since 2008
Fed's Balance Sheet 20 February 2013 Declines Slightly to $3.072 Trillion
Markets Close Down Late Session Profit Taking
What We Read Today 28 February 2013
CBO: Facts on Sequestration
Week Ending 23 February 2013: Total Rail Traffic Growing
Averages In The Green, Flat And Lackluster
Kansas City Fed: Manufacturing Activity Contracts for Fifth Month in February 2013
Markets Flat, Lackluster And Low Volume
New Proposal From West Tabled for Iranian Nuke Program
February 2013 Chicago Purchasing Managers Barometer at 11 Month High
23 February 2013 Unemployment Claims 4 Week Average Improves
Second Estimate 4Q2012 GDP Is Economic Expansion of 0.1%
Infographic of the Day: 10 Biggest Entrepreneurs Under 30
Sequester, Capitalism, Democracy, and Money Theories
Japan: Kuroda Nominated to Head BoJ, as Expected
EU: Taking On the Banking Mob
FDIC Report 4Q 2012: "Banks are Stronger" (Mostly)
Value Investing and Value Traps: Separating Winners From Losers
Where O Where Did My Two Trillion Go?
Rusty Old Tin Can of Gold
Land Grab Cheats North Dakota Tribes Out of $1 Billion, Suits Allege
The Buzzards Circle the Fiscal Cliff
DOW Sets New High - Low Volume - HFT Computers?
What We Read Today 27 February 2013
Averages Cut Monday's Loss In Half On Low Volume
January 2013 Pending Home Sales Index Improves
Markets Melt Up In Early Trading, Remain Lackluster
Nonfinancial Leverage NFCI Again Deteriorated Slightly w/e 22 February 2013
Durable Goods New Orders Show Mixed Picture in January 2013
5 Sequester Facts to Know
Infographic of the Day: Climate Change
Economic Forecast March 2013: Improves But Not Great Yet
Pimco Total Return Shows It's Heels to the Bond Market
Why Must Unregulated Mean Unacceptable?
Pollution in China: Nitrogen at Fault
Money Laundering Prosecution Flow Chart
Aaron Swartz and Freedom of the Press
Averages End Session Up, Directionless And Weak
What We Read Today 26 February 2013
Did Ben Bernanke Make You Feel Better Today?
Small Caps Lead The Way To Further Weakness
Both Parties Reject Stimulus, Want Austerity
February 2013 Conference Board Consumer Confidence Rebounds
Richmond Fed Manufacturing Activity Rebounds in February 2013
Markets Open Up After Yesterday's 'Great Decline'
January 2013 New Home Sales Were Beautiful
Case-Shiller Home Prices Strong Growth in December 2012
Infographic of the Day: Economics of Counterfeit Drugs
Stratfor: Tolerating Aggressive Chinese Behavior
Is the Complacency Over?
Price Discovery and Transparency in Precious Metals
Housing Smoke And Mirrors
What If? - Paul Craig Roberts
India: Why is women's labour force participation dropping?
Week Ending 25 February 2013: Average Gasoline Price Rise $0.039 this Week, Up $0.42 In Last Month
Prometheus: Stock Market Overbought Correction Develops as Expected
Insider Trading 22 February 2013: Professional Investors Sales Distorting Buy-Sell Ratios
MCKinsey: Center of Economic World will be Emerging Market Cities
Are We Protected From Another Collapse?
Is Market About to Be Sequestered?
Book Review: The Battle of Bretton Woods
What We Read Today 25 February 2013
U.S. Dollar Surging
February 2013 Texas Manufacturing Survey Less Good
Italy at an economic crossroads
CFNAI Super Index Improves Again In January 2013
Infographic of the Day: Energy Tax Breaks and Rebates
Misplaced Faith in Quantitative Easing
Blinder Leading the Blind
As Volatility Hits New Lows, It Could Be Time to Sell
Oh-Oh! China Manufacturing Just Barely Growing
Sailing the Northeast Passage in Winter
Investor Going on North Carolina House Buying Spree
Last Weeks' 4 Lessons For This Week
How to Improve Freedom of Speech in India
What We Read Today 24 February 2013
Sunday Economic Comedy: A banking Public Enemy
Government Policy of Not Prosecuting Bank Fraud Continues
Infographic of the Day: Hottest Places to Find a Job
Anticipating the Collapse of the Dollar
Gold - Safety Blanket or Quilting Essential?
ETFs and ETNs are Different, and You Better Know How
Trefis: Highlights Week Ending 23 February 2013
Titan, France and the Devil v. Daniel Webster
America's Education Gap
Oil Price BUBBLEOMIX
Watch Lumber: An Indicator for the Economy and an Investment
Is the Indian Economy Stalling?
The New Banks in Town: Chinese Finance in Latin America
Is there a Relationship Between Minimum Wage and Jobs Creation?
Prometheus: Extremely High Corporate Profit Margins are Unsustainable
Domestic Aerial Drones Spies On Its Citizens?
Prosecuting the TBTF Banks
Ecuador Chooses Stimulus Over Austerity
Prometheus: Stock Market Secular Bear Remains in Control
Global Companies Should Not Be Getting Away With Paying No Taxes
LIBOR Scandal Is More Than Fraud
Prometheus: Gold Closes Below Important Support Level
Disclosure: I have no positions in any stocks mentioned, and no plans to initiate any positions within the next 72 hours.