It seems like Wall Street is seeing a different economy than I am seeing if the market rise over the last few weeks is based on a strong economy. I saw significant warning signs in retail sales where the headlines suggested the consumer was shaking off increased taxation and buying.
First one month is not a trend. The warning is for me and the Wall Streeters. No matter what anyone saw, one cannot extrapolate one month of data. Per Reuters:
U.S. retail sales expanded at their fastest clip in five months in February, the latest sign of momentum for an economy facing headwinds from higher taxes and pricier gasoline.

The solid sales came on the heels of strong gains in employment and manufacturing. But the improvement in the economic picture is likely insufficient to compel the Federal Reserve to reduce its monetary policy support.

"Consumers have been less fazed by the increase in taxes than we expected," said Gus Faucher, a senior economist at PNC Financial Services in Pittsburgh. "Because the labor market has been doing a bit better than we were expecting, people are feeling a bit confident and not cutting back their spending."
Ok, I agree that employment growth was great (the best February of the 21st century) - but employment is a lagging indicator. My studies indicate a lag of 6 months to the economy. Further, variations in employment can be from issues other than economic (such as changes in laws which have a short term impact).
Retail sales were terrible despite headlines which says sales were strong.

using unadjusted data - inflation adjusted sales actually contracted year-over-year;
the headline numbers show backward revisions were positive, while the published unadjusted data shows the backward revisions as negative;
the weakness in the data is main street brick stores.
Year-over-Year Change - Unadjusted Retail Sales (blue line) and Inflation Adjusted Retail Sales (red line)
(click to enlarge)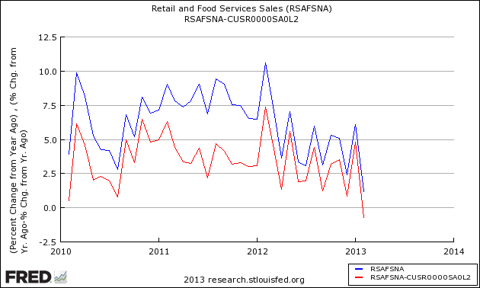 Click to enlarge
The Econintersect economic forecast for March 2012 continues to show weak but somewhat improving growth. The supply chain contraction we saw last month has dissipated with all of our check methods of measuring the economy clearly in expansion territory.
ECRI now believes a recession began in July 2012. ECRI first stated in September 2011 a recession was coming . The size and depth is unknown. The ECRI WLI growth index value has been weakly in positive territory for over three months - but in a noticeable improvement trend. The index is indicating the economy six month from today will be slightly better than it is today.
Current ECRI WLI Growth Index

Initial unemployment claims fell from 340,000 (reported last week) to 332,000 this week. Historically, claims exceeding 400,000 per week usually occur when employment gains are less than the workforce growth, resulting in an increasing unemployment rate (background here and here).
The real gauge - the 4 week moving average - also improved from 348,750 (reported last week) to 346,750. Because of the noise (week-to-week movements from abnormal events AND the backward revisions to previous weeks releases), the 4-week average remains the reliable gauge.
Weekly Initial Unemployment Claims - 4 Week Average - Seasonally Adjusted - 2011 (red line), 2012 (green line), 2013 (blue line)
(click to enlarge)

Click to enlarge
Bankruptcies this Week: Geokinetics,
Data released this week which contained economically intuitive components (forward looking) were:
Rail movements are somewhat improving.
retail sales - normally this is a lagging indicator, but our analysis is that the trend may be changing to the downside.
All other data released this week either does not have enough historical correlation to the economy to be considered intuitive, or is simply a coincident indicator to the economy.
Weekly Economic Release Scorecard:
Is USA Government Debt Finally Under Control?
Eating the Dow for Breakfast
What A Shock! (Not) Initial Claims Beat Consensus AGAIN! Stock Uptrend is SAFE
The Good Economist
SAC Capital: The Cost of Doing Business
Krugman Doesn't Understand IS-LM, Part 1
Investing.com Weekly Wrap-Up 15 March 2013
What We Read Today 15 March 2013
Markets Down, Flat And Once Again Lackluster
Markets Close Gaps - Indices Appear To Be Weak
Infographic of the Day: All About Cruise Vacations
Is MSN a Day Late and a Video Short?
08 March 2013 ECRI's Weekly Leading Index Growth Again Marginally Less Good
"Destiny of Destruction Awaits U.S." - North Korea
Preliminary March 2013 Michigan Consumer Sentiment Falls to 14 Month Low
Averages Head Down, Is This The Correction?
February 2013 Industrial Production Growth Strong
February 2013 CPI Rises to 2.0% Year-over-Year Inflation
March 2013 Empire State Survey Continues to Say Manufacturing Expanding
Where Did the Prices Go?
As Investors Flee Gold ETFs, Central Banks Jump in as Bigger Gold Buyers
Full Time Job Growth is Weak
Using Legal Tender Laws Against the State?
Minsky Kickstarter Campaign Rolls Toward Finish Line
Fed: Not All Large Financial Institutions Capital Plans Okay
Fed's Balance Sheet 13 March 2013 Grows Slightly to $3.15Trillion
Germany Set To Eliminate Borrowing by 2015
SP500 Closes In On Its All Time High - On Low Volume
What We Read Today 14 March 2013
Our Video of the Day On North Korea Is a Fake
Week Ending 09 March 2013: Total Rail Traffic Less Good
Infographic of the Day: Comet Pan-STARRS in Night Sky Explained
Markets Melting Further Up On Falling Volume
North Korea Comedy Show : ORIGINAL: North Korea Comedy Show
Indices Mark New Highs On Continued Low Volume
09 March 2013 Unemployment Claims 4 Week Average Again Better
February 2013 Producer Price Index Increase Due to Energy
An Open Letter to Governor Nikki Haley
Money for the People: Grillo's Populist Plan for Italy
Australia Enters Its Third Decade of Expansion
The Relationship Perils of Job Loss: Rebranding Work and Workers
Central Banks Slowed Rate Cutting in February 2013
Where Do U.S. Life Insurers Invest?
Europe: Industrial Production Slumps
March Madness Productivity Hit
NYSE Summation Has 'Fish Hook' Pattern
Markets Closed Up Flat, Lackluster And Looking Tired
What We Read Today 13 March 2013
Prometheus: Dissecting Mainstream Misconceptions about Likely Stock Market Returns
Averages Melt up From Morning Lows Under Low Volume
Nonfinancial Leverage NFCI Continues to Deteriorate w/e 08 March 2013
Largest telescope scans alien planets
Business Inventories and Sales Improve in January 2013
Market Briefly Opens Up Then Melt Down
Export Price Deflation Continues In February 2013
Retail Sales Were Terrible in February 2013
Infographic of the Day: Jobs With the Worst Bosses
A Background to the Origination Of Soft Currency Economics aka Modern Monetary Theory
What Everyone Must Know About The US Dollar: Sea Change Coming?
Will 2013 See Record Valuations for Middle Market Business Sales?
Location, Location, Location (and Credit)
China: Is the Big Sell Underway?
Equity Investing: A Global Perspective
What We Read Today 12 March 2013
Markets Close Down, Mixed, Flat And Directionless
Indices Fall Off New Highs Amid Low Volume
Gas Fuss: US threatens Pakistan with sanctions over Iran pipeline
Markets Open Higher DOW And SP500 Sets New Highs
January 2013 JOLTS Continues to Predict Less Good Employment
February 2013 Small Business Optimism Slightly Improves
Stratfor: Departure in North Korea's Strategy?
Week Ending 11 March 2013: Gasoline Prices Fall $0.072 In Last Two Weeks
Infographic of the Day: Facts on Flexible Working / Telecommuting
Let's Look a Little More Closely at What Bernanke Told Congress
Look at the Jobs Report to See How America Has Changed, and Continues to Change
GBPUSD Breakdown
SEC: Illinois Charged With Fraud
Bonus Cap Legislator, Sharon Bowles: 'Woman' Does Not Make Her An 'Outsider'
Why Now Is the Time to Add Australia to Your Portfolio
Prometheus: Stock Market Investment Risk Remains at Historic Extreme
What We Read Today 11 March 2013
The Facts on Medical-Care Spending Growth
A Look at Federal Grants to State and Local Governments
Markets Cautious Ahead of China, U.S. Retail Data, Big E-U Events in Coming Week
Infographic of the Day: New Private Spacecraft for 7 Astronauts
Insider Trading 08 March 2013: Carl Icahn's Herbalife Purchase Drives Insider Buying
Minsky Program Status
Chris Cook: Tax and Spend is a Myth
Watching Some Fellow Travelers
Carl Sagan Revisited
Cracks Appearing In Investor Cycle
Lessons This Week: 24 Fundamental and 2 Technical Factors
An Infinite Amount of Money
Effects of Automatic Stabilizers on the Federal Budget
What We Read Today 10 March 2013
Over a barrel: Beer duty could kill off UK pubs
Sunday Economic Comedy: Economic Advise from Oz
Infographic of the Day: Periodic Table of Beer
The Week Ahead: With Less Data Opinions are Uninhibited
Disclosure: I have no positions in any stocks mentioned, and no plans to initiate any positions within the next 72 hours.