I remain concerned that the economic data is soooooo soft. I am not screaming a recession is coming based on what is being seen, but it contradicts literally all economic forecasts including Econintersect's for a flat to generally improving economy in 1Q2013.
The case in point this week is retail sales which actually is contracting year-over-year when the data is inflation adjusted. The following graph is year-over-year growth of unadjusted retail sales (blue line) and inflation adjusted retail sales (red line adjusted using CPI-U less shelter).
(click to enlarge)

Click to enlarge
Industrial production shows no signs of improvement.
(click to enlarge)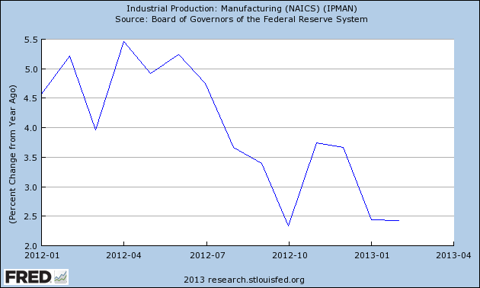 Click to enlarge
And likewise, no improvement in employment.
(click to enlarge)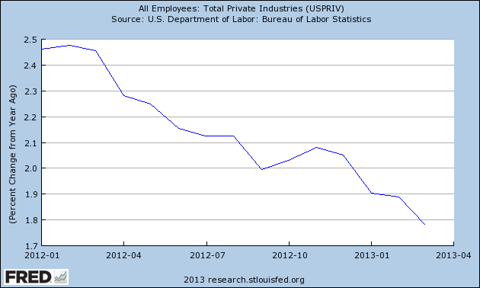 Click to enlarge
The Econintersect economic forecast for April 2012 improved marginally, and is now in a zone which says the economy is beginning to grow normally. There are some warning signs that our interpretation is not correct - but we will see how these play out in the coming months. Not to end on a negative note, the majority of pulse points are improving.
The ECRI WLI growth index value has been weakly in positive territory for over four months - but in a noticeable improvement trend. The index is indicating the economy six month from today will be slightly better than it is today.
Current ECRI WLI Growth Index

Initial unemployment claims fell from 385,000 (reported last week) to 346,000 this week. Historically, claims exceeding 400,000 per week usually occur when employment gains are less than the workforce growth, resulting in an increasing unemployment rate (background here and here).
The real gauge - the 4 week moving average - slightly worsened from 354,250 (reported last week) to 358,000. Because of the noise (week-to-week movements from abnormal events AND the backward revisions to previous weeks releases), the 4-week average remains the reliable gauge.
Weekly Initial Unemployment Claims - 4 Week Average - Seasonally Adjusted - 2011 (red line), 2012 (green line), 2013 (blue line)
(click to enlarge)

Click to enlarge
Bankruptcies this Week: Central European Distribution, Rotech Healthcare
Data released this week which contained economically intuitive components (forward looking) were:
Rail movements which are mixed.
Is ending of Quantitative Easing a negative dynamic?
All other data released this week either does not have enough historical correlation to the economy to be considered intuitive, or is simply a coincident indicator to the economy.
Weekly Economic Release Scorecard:
How Will Ending Quantitative Easing Effect the Markets?
Fed is NOT Printing Money, Treasuries Still Good
A Sea Change In the Knowledge of the Young In India
Initial Claims are Still on Slowly Improving Trend
Iron Lady Irony in Gold
Chinese Monetary Policy - How Does It Work?
'Bombe Francaise' A Step Closer To Detonation?
Self-defeating Austerity?
Global Crowdfunding Volume Reaches $2.7 Billion in 2012
Investing.com Weekly Wrap-Up 12 April 2013
Markets Close Down Citing Investors Fears As Reason
This Is an Investment Theme Worth Paying Attention To
What We Read Today 12 April 2013
Averages Remain Depressed, Trading In Narrow Range
Winner Takes All: The Super-priority Status of Derivatives
Should Full Employment Be a Mandate for Central Banks?
Bikinis Trademarks The Term 'Breastaurant': Is Hooters Shaking In Their Booty Shorts?
05 April 2013 ECRI's Weekly Leading Index Growth Unchanged
Preliminary April 2013 Michigan Consumer Sentiment Has Sharp Downturn
February 2013 Business Inventories and Sales A Nasty Data Point
Markets Open Down On Poor Financial Reports
Infographic of the Day: A Picture of Health in America
March 2013 Producer Price Index Declines Due to Energy Price Moderation
Retail Sales Again Were Terrible in March 2013
Investing.com Technical Analysis 11 April 2013
Don't Be The Little Brother
Whippersnappers
Foreclosures Loom Large in the New York-Northern New Jersey Region
Kyle Bass: Japan, The Beginning of the End
Fed's Balance Sheet 10 April 2013 Again at New Record
ECB Incompetence, New York Times Gullibility
Japan: Is Starship Enterprise Needed?
Can Bank of Japan Buy the Kitchen Sink?
Game Changer: Market Beware Slower Economic Growth
Major Indices Close Above Yesterday's Highs
Personal Computer Shipments Significantly Down
What We Read Today 11 April 2013
Bitcoin: Exhaustion Bottom?
Week Ending 06 April 2013: Total Rail Traffic Gain, Intermodal Weak
Markets Back Off New Highs As Volume Dries Up
Bitcoin Rises: Digital currency beats paper
Morning Opening Brings In New Historical Market Highs
06 April 2013 Unemployment Claims 4 Week Average Worsens
Export / Import Price Moderation Continues In March 2013
Infographic of the Day: Why Parents Hate Social Networking Sites
'Everything You Think You Know about China is Wrong,' Really?
A Growth Stock in Aristocrat's Clothing
Mexico Growing Importance In North American Auto Production
Apple Computer Update
Everything You Know About Money Is Wrong
Bitcoin: Going, Going......Coming Back?
Simpson and Bowles Praise President's Budget
New York Times Needs Basic Economics Lessons
New Historic Highs Mark This Session - Volume Remains Moderate
What We Read Today 10 April 2013
Facebook Does an About-Face: Set to Move Higher?
Getting Unhooked from Certain Foods
Bulls Are Breaking Out The Champagne On Market Highs
Anti-Rape Underwear Shocks Predator and Calls Police
Markets Open Strongly Higher On Moderate Volume
Nonfinancial Leverage NFCI Again Less Good w/e 05 April 2013
March 2013 FOMC Meeting Minutes: Will QE Be Ending Soon?
Infographic of the Day: Post Traumatic Stress Disorder
Investing.com Technical Analysis 09 April 2013
Ben Bernanke, the Rodney Dangerfield of Fed Chairmen
Stocks Increasingly Vulnerable to Earnings
Producer Price Index Soars to Annual Rate of 8.4%; Government Says No Inflation
China: Trade Deficit in March 2013
USD/JPY: One Way Traffic?
On Paying Our 'Fair Share'
U.S. Poverty Map
Prometheus: Corporate Profit Margins Likely to Decline Substantially
Money Should Be Printed for Populations, Not Banks!
New Highs Made But Fall Back To Previous Highs
What We Read Today 09 April 2013
Negative Divergences Setting Up S&P
Stocks: Some Selling, Some Buying And No Direction
February 2013 JOLTS Is Predicting Better Jobs Growth
Just My Opinion: Monsanto Protection Act signed for fistful of dollars
February 2013 Wholesale Sales & Inventories Had a Very Bad Month
Markets Opened Up Remain Flat And Mixed
March 2013 Small Business Optimism Index Declines Slightly
Infographic of the Day: Sphynx Cats
Stratfor: The Ferocious, Weak and Crazy North Korean Strategy
March 2013 Employment Number is No Disaster
Terminal Velocity (3) - The Pyramid Scheme
The Dirty Secret Behind Goldman Sachs' Conviction Buy List
Michael Pettis: China is NOT Headed for Disaster
Bernanke: Stress Tests are Doing Great
China: Inflation Growth Drops
March 2013 Conference Board Employment Index Declines
Can Risk Aversion Explain Stock Price Volatility?
Week Ending 08 April 2013: 6th Straight Week of Gasoline Price Decline
Analysis of the Housing Recovery Mirage
Government Debt and Deficits Are Not the Problem. Private Debt Is.
Inflation Itinerary
What We Read Today 08 April 2013
Prometheus: Monetary Data Continue to Reflect Structural Economic Weakness
Bloggers More Bearish in April 2013
Lessons from Online Job Search
Goldman Big Shots 'Too Big to Jail'
Prometheus: Gold Approaches Key Long-term Support Level
Android Market Share Appears To Have Peaked
Import Competition Improves the Quality of Domestic Goods
Infographic of the Day: How To Protect Yourself From Tax Scams
The Knowledge Economy's Two Classes of Workers
Prometheus: Monetary Data Continue to Reflect Structural Economic Weakness
Judgments of Paris, Princeton, and Lenox, Part 4
'Sanctions on Iran failure, initiators lose out' - Tehran's nuclear negotiator
FDR's Gold Confiscation, 80 Years On
What's Going to Happen to the Fed's Balance Sheet?
February 2013 Consumer Credit Growth Increases
Residents Divided on North Korean Threats
Bottom Call for Gold
China culls birds as flu deaths mount
North Korea warns it could shut down joint industrial zone
Second US Warship Moving Toward Asian Pacific
Prometheus: Gold Approaches Key Long-term Support Level
Everyone but China TPP Trade Deal Threatens Sovereignty and Public Ownership
Prometheus: Current Stock Market Overvaluation According to CAPE and Q Metrics
US F-22 jets join S. Korea war games, 'situation on knife's-edge'
N Korea threats unfaze South
'Only rabbit from hat can save Cypriot deposits'
Disclosure: I have no positions in any stocks mentioned, and no plans to initiate any positions within the next 72 hours.