If I had only one item to look at to gauge the economy - it would be rail. Rail moves the raw materials and semi-finished goods for manufacturing. Rail moves finished goods to distribution centers (much by containers or trailers).
It is a view of the GDP measured economy months in advance.
Now consider that rail traffic for the last month has been showing very positive growth dynamics.
Four week rolling average is improving, and better than the rolling average one year ago;
13 week rolling average is improving, and better than the rolling average one year ago; and,
52 week rolling average is improving, and better than the rolling average one year ago.
These are dynamics which should not be ignored - and clearly shows expansion. However the rate of growth is not massive - 0.3% year-over-year growth using 52 week rolling averages to 2.7% year-over-year growth using monthly rolling averages.
Conservatively, the real economy is now growing in May over 2% using rail as a metric.
The Econintersect economic forecast for May 2012 declined marginally, but remains in a zone which says the economy is beginning to grow normally. There are some warning signs that our interpretation is not correct - but we will see how these play out in the coming months.
The ECRI WLI growth index value has been weakly in positive territory for over four months - but in a noticeable improvement trend. The index is indicating the economy six month from today will be slightly better than it is today.
Current ECRI WLI Growth Index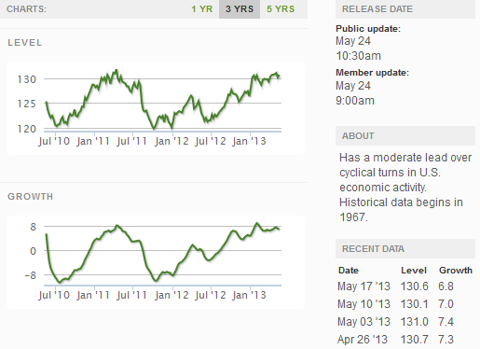 Initial unemployment claims fell from 360,000 (reported last week) to 340,000 this week. Historically, claims exceeding 400,000 per week usually occur when employment gains are less than the workforce growth, resulting in an increasing unemployment rate (background here and here).
The real gauge - the 4 week moving average - was statistically unchanged from 339,250 (reported last week) to 339,500. Because of the noise (week-to-week movements from abnormal events AND the backward revisions to previous weeks releases), the 4-week average remains the reliable gauge.
Weekly Initial Unemployment Claims - 4 Week Average - Seasonally Adjusted - 2011 (red line), 2012 (green line), 2013 (blue line)

Bankruptcies this Week: none
Data released this week which contained economically intuitive components (forward looking) were:
All other data released this week either does not have enough historical correlation to the economy to be considered intuitive, or is simply a coincident indicator to the economy.
Weekly Economic Release Scorecard:
Free Book for Memorial Day
Investing.com Weekly Wrap-Up 24 May 2013
What We Read Today 24 May 2013
17 May 2013 ECRI's Weekly Leading Index Growth Declines For Second Week
Durable Goods New Orders Rebound in April 2013
The World's Largest Lego Model Gets A Dramatic Launch
Econintersect Live Market Commentary
Where Are Banks Buying And Selling In The Forex Market?
Study: Extended Unemployment Benefits Do Not Delay Return to Employment
Excess German Savings, Not Thrift, Caused the European Crisis
Investing.com Technical Analysis 23 May 2013
Infographic of the Day: How to Ensure Longevity for Your Business
Fed's Balance Sheet 22 May Up $45 Billion
Tech Companies Have Top Global Brands
The Great 'American' Divide
Markets Close Down, Flat And Mixed
What We Read Today 23 May 2013
Week Ending 18 May 2013: Rail Traffic Now Showing Solid Growth Trend
Averages Melt Up Into Flat And Lackluster Zone
NY Fed Economic Forecast Is More Optimistic
Kansas City Fed: Manufacturing Activity Expands in May 2013
Could Gold Hit a Double Bottom?
Markets Gap Down On Opening, Currently Easing Back Up
April 2013 New Home Sales Has a Good Month
18 May 2013 Unemployment Claims 4 Week Average Is Statistically Unchanged
Japan Redux
Top 10 American Misconceptions about Democracy
On the Imposition of the German Export-led Growth Model on the Eurozone
Gold and Silver Prices Could Soar
Tornado History
Game Consoles: Not Just for Gaming Anymore
Comparing the Japanese and U.S. Zero Bound Experience
Trucking Tonnage Falls Marginally in April 2013
Infographic of the Day: Top 10 Most Dangerous Foods
May 2013 FOMC Meeting Minutes: Mid-Year QE Slowdown on the Table
The Strength In The Dollar Is Hard To Ignore
What We Read Today 22 May 2013
Massive Free Fall Sends Averages Down With Investors Worried
Prometheus: Looking Beyond Quantitative Easing
Jitters Push Markets Downwards, HFT Computers Push Upwards
Riots in Sweden continue after police shooting
Bernake to Congress: Ending Accomodative Monetary Policy Could End Recovery
April 2013 Existing Home Sales Show Above Average Growth
Markets Open Higher - New Highs Made On High Volume
Nonfinancial Leverage NFCI Less Good Trend Continues w/e 17 May 2013
Infographic of the Day: Study Abroad, Step 1: The Best Colleges, Programs, and States for Studying Abroad
Eurozone: Periphery Countries Restored External Balances, Recovery Follows?
EURUSD Technical Analysis (20 to 24 May)
Housing Smoke and Mirrors (7) - 'Get Out of Jail'
Investing.com Technical Analysis 21 May 2013
The Sick Man Is Europe
Bank of Japan: Maintain Course on Improving Economy
The Dollar Debate
Barry Ritholtz: Apology Due from Inhof and Coburn
The Trade of the Decade - and It Is Not Gold
New Mortgage Modification Program Can't Stop Further Housing Collapse
Thin Ice: An Assessment
What We Read Today 21 May 2013
New Highs And Markets Close Higher, But Weak
Averages Recover From Morning Lows And Seeking Higher Ground
Coincident Indicator Review: Philly Fed USA Coincident Index Showed Economic Growth in April 2013
Stratfor: Syria's Outside Patronage, a New Offensive for the Regime
Infographic of the Day: The Future Of The Mainframe
Inescapable Cycle: Bubble after bubble after bubble
Markets Open Higher - Serious Fall By 10 AM
The Arrogance of Power
Profit Margins Are Irrelevant - Stock Prices Measure Liquidity, Not Profit Growth
Escaping Liquidity Traps: Lessons from the UK's 1930s Escape
Fortune: Criminal Fraud Produces Damaging and Ineffective Generic Drugs
Senators: Apple Avoids Billions in Taxes
How the IRS's Nonprofit Division Got So Dysfunctional
Romanian Teen Wins Top Intel Prize
Week Ending 20 May 2013: 7.0 Cent Gasoline Price Rise
Lyme Wars
Insider Trading 17 May 2013: James R. Murdoch Selling News Corp. Shares
What We Read Today 20 May 2013
Iraq sees worst violence in years
CFNAI Super Index Mixed In April 2013
Do Big Cities Help College Graduates Find Better Jobs?
Eisman: Best Housing Stocks to Buy in 2013
Terminal Velocity (9) - 'Helicopter Take-off'
Niall Ferguson: Four Reasons Why the U.S. Is Failing
Options Indicate Bull Market Stage 1 Underway
Economic Growth in Foreign Regions and U.S. Export Growth
Infographic of the Day: Best and Worst States for Business by Tax Laws
Monetary Policy Week: Cuts Continue
Japan: Exporting Deflation
Prometheus: Gold Market Long-term Correction Continues
What We Read Today 19 May 2013
Five Reasons Why We Should Eliminate School Loans
Evidence of Bubble in Stock Prices when Compared with Industrial Production
Why Conflicting Economic Data All Leads Back To The Unemployment Rate
France and Pension Reform - A Sick Headache
Economic Zeitgeist
'Bitcoin bomb may blow up banks' bondage, hence US attacks'
Should You Tell Your Kid to Drop Out of High School?
A Different View of Silver
Initial Claims Not Great but Not as Bad as Claimed
US Guns: What Should Be Done?
'US clamps down on Bitcoin, fears lack of control'
Preliminary May 2013 Michigan Consumer Sentiment Highest Since July 2007
April 2013 Leading Economic Index Forecasts Continuing Economic Expansion
Really Real Rates vs. Gold
Alternative fur Deutschland?
Uncertainty, Liquidity Hoarding, and Financial Crises
Falsterity: France slips into new recession amid higher taxes
May 2013 Philly Fed Business Outlook Goes Negative
Residential Building Sector Growth Continues in April 2013
Walter Young: A Self-Made Man!
Wireless car charging
Europe: Spreading the Pain
A Reversion to A Dickensian Variety of Capitalism
Mission Accomplished: Soyuz returns from ISS after 146 days in space
Skills, Education and Employment
Prometheus: Stock Market Investment Risk Holds at Historic High
Car bomb kills at least 15 outside hospital in Benghazi, Libya
Military Millions: US spends fortune on Israeli Iron Dome amid efficiency doubts
Keynesian Economics vs. Austrian Economics
Disclosure: I have no positions in any stocks mentioned, and no plans to initiate any positions within the next 72 hours.