Listen to the pundits scream - "crash coming" or "Dow 60,000 soon". From an analytical point of view - I would be hard pressed to do more then prove the market was only slightly overpriced. I have yet to see the market move based on analytical gyrations in the short or medium terms.
The market is and always has been a forward indicator subject to short term manipulation by the few that can. Being an imperfect forward indicator, it can misread the tea leaves - which I suspect is happening now. I am at a loss to understand why the market reacted negatively to the "news" that QE was likely to be scaled back this year - as this has been the rhetoric from the Fed for months.
One should note that reasons are never what they seem - and the markets grabbing on to the scaling back of QE as a reason to decline was an event looking for a reason - the market had overrun equilibrium and out-bulled itself. Based on potential business and profit growth this year, the major entices should not improve more than 5% for all of 2013.
The Econintersect economic forecast for June 2012 again declined marginally, and remains under a zone which would indicate the economy is about to grow normally. The concern is that consumers are spending a historically high amount of their income.
The ECRI WLI growth index value has been weakly in positive territory for over four months - but in a noticeable improvement trend. The index is indicating the economy six month from today will be slightly better than it is today.
Current ECRI WLI Growth Index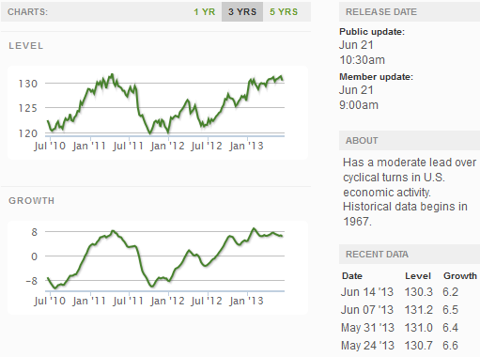 Initial unemployment claims degraded from 334,000 (reported last week) to 354,000 this week. Historically, claims exceeding 400,000 per week usually occur when employment gains are less than the workforce growth, resulting in an increasing unemployment rate.
The real gauge - the 4 week moving average - worsened from 345,250 (reported last week) to 348,250. Because of the noise (week-to-week movements from abnormal events AND the backward revisions to previous weeks releases), the 4-week average remains the reliable gauge.
Weekly Initial Unemployment Claims - 4 Week Average - Seasonally Adjusted - 2011 (red line), 2012 (green line), 2013 (blue line)

Bankruptcies this Week: Orchard Supply Hardware Stores, OnCure Holdings
Data released this week which contained economically intuitive components (forward looking) were:
Rail movements are beginning to show a modest growth trend.
The FOMC meeting statement although not a proven indicator - did not change ZIRP or QE (ending one or both would be an economic drag). However, the market did react to the new perception that the Fed was going to start tapering off asset purchases (confusing because this schedule was mentioned before)
All other data released this week either does not have enough historical correlation to the economy to be considered intuitive, or is simply a coincident indicator to the economy.
Weekly Economic Release Scorecard:
Disclosure: I have no positions in any stocks mentioned, and no plans to initiate any positions within the next 72 hours.