This week we heard the White House media blitz on climate change (Econintersect post here). As a former sailor and captain, there is no doubt in my mind that climate change is occurring. I do have doubts about that a strict focus on carbon emissions is the way to go - as there are too many situations where correlations are not causations.
The President's primary focus on carbon emissions seems to be coal power plants - which disproportionately emit compared to other types of fossil fueled power plants. Some of the lignite burners in the west lose up to 1/3 their potential electrical output cleaning up the gases they emit.
I offer two opposing arguments at this point, as decisions are never black or white:
Focusing on power generation is low hanging fruit for politicians - because there are relatively few power plants with owners with deep pockets. But despite all the emissions, power plants are FAR more efficient in converting energy than say cars. Cars are the big consumer of fossil fuels accounting for 1/3 of emissions. It is not logical to reduce power production ability (or raise its costs) until a firm direction is established on green power for cars. As far as emissions are concerned, it is better to replace the gas burning car than a coal fired plant.
I am a believer that we are wasting coal by using too much of its output to clean up emissions. I would leave it in the ground for a future time when technology provided a much more efficient conversion without emissions.
The Econintersect economic forecast for June 2012 again declined marginally, and remains under a zone which would indicate the economy is about to grow normally. The concern is that consumers are spending a historically high amount of their income.
The ECRI WLI growth index value has been weakly in positive territory for over four months - but in a noticeable improvement trend. The index is indicating the economy six month from today will be slightly better than it is today.
Current ECRI WLI Growth Index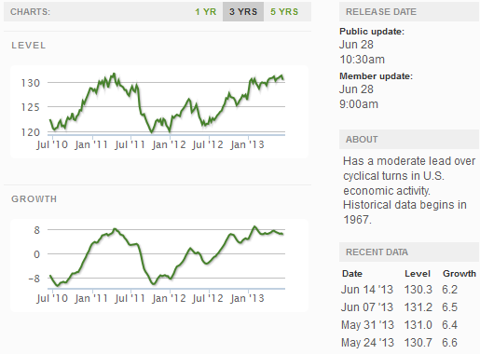 Initial unemployment claims improved from 354,000 (reported last week) to 346,000 this week. Historically, claims exceeding 400,000 per week usually occur when employment gains are less than the workforce growth, resulting in an increasing unemployment rate.
The real gauge - the 4 week moving average - improved from 348,250 (reported last week) to 345,750. Because of the noise (week-to-week movements from abnormal events AND the backward revisions to previous weeks releases), the 4-week average remains the reliable gauge.
Weekly Initial Unemployment Claims - 4 Week Average - Seasonally Adjusted - 2011 (red line), 2012 (green line), 2013 (blue line)

Bankruptcies this Week: Mercantile Bancorp (NYSE:MBI)
Data released this week which contained economically intuitive components (forward looking) were:
Rail movements are beginning to show a modest growth trend.
Personal income now has a slight positive trend line. If it holds, this is economically positive.
All other data released this week either does not have enough historical correlation to the economy to be considered intuitive, or is simply a coincident indicator to the economy.
Weekly Economic Release Scorecard:
Disclosure: I have no positions in any stocks mentioned, and no plans to initiate any positions within the next 72 hours.