Cyberspace is buzzing with good and bad issues with the overall BLS employment report. My take was published here: Again a Good BLS Jobs Situation in June 2013.
Please consider:
I could always take apart the inconsistencies in the BLS report. It is a compilation of two different surveys which NEVER seem to match. June was a just little more inconsistent than normal.
No matter how I cut the data, jobs grew in June faster than the population growth.
The rate of jobs growth is increasing slightly.
Looking back in the unadjusted data, June 2013 real jobs growth (not the dumbed down headline seasonally adjusted number) was only average for the last 10 years - and the population is growing. Point = this report is nothing to get excited about except if your expectations were unusually low.
The data is subject to backward revision.
Some are pointing out that the jobs being created are crappy low paying almost unskilled jobs - hello, they have been crappy for a long, long time. This is the challenge our economy faces.
The Econintersect economic forecast for June 2012 again declined marginally, and remains under a zone which would indicate the economy is about to grow normally. The concern is that consumers are spending a historically high amount of their income.
The ECRI WLI growth index value has been weakly in positive territory for over four months - but in a noticeable improvement trend. The index is indicating the economy six month from today will be slightly better than it is today.
Current ECRI WLI Growth Index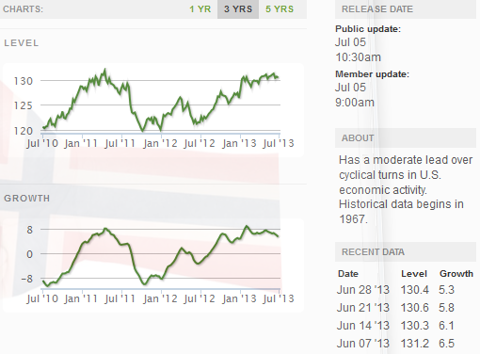 Initial unemployment claims improved from 346,000 (reported last week) to 343,000 this week. Historically, claims exceeding 400,000 per week usually occur when employment gains are less than the workforce growth, resulting in an increasing unemployment rate.
The real gauge - the 4 week moving average - improved from 345,750 (reported last week) to 345,500. Because of the noise (week-to-week movements from abnormal events AND the backward revisions to previous weeks releases), the 4-week average remains the reliable gauge.
Weekly Initial Unemployment Claims - 4 Week Average - Seasonally Adjusted - 2011 (red line), 2012 (green line), 2013 (blue line)

Bankruptcies this Week: Excel Maritime Carriers, Cengage Learning, Unigene Laboratories, Residential Capital
Data released this week which contained economically intuitive components (forward looking) were:
All other data released this week either does not have enough historical correlation to the economy to be considered intuitive, or is simply a coincident indicator to the economy.
Weekly Economic Release Scorecard:
Disclosure: I have no positions in any stocks mentioned, and no plans to initiate any positions within the next 72 hours.