We just published a post Labor Market On Track to Return to Historical Averages. This is a study from the Kansas City Fed suggesting the labor market was improving but it will take two more years to be what is considered normal. Our independent analysis says employment growth is accelerating.
But I am not buying into a belief this acceleration is much more than transient.
Comparing BLS Non-Farm Employment YoY Improvement (blue line, left axis) with Econintersect Employment Index (red line, left axis) and The Conference Board ETI (yellow line, right axis)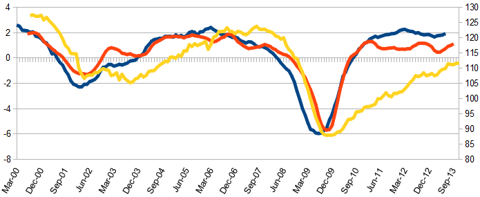 The red line on the above chart is the economic dynamics which influence jobs growth. For 2013, the dynamics clearly are improving. But this pressure is likely to decline in the second half of 2013 because of the weak economic data seen recently.
The Econintersect economic forecast for June 2012 again declined marginally, and remains under a zone which would indicate the economy is about to grow normally. The concern is that consumers are spending a historically high amount of their income.
The ECRI WLI growth index value has been weakly in positive territory for over four months - but in a noticeable improvement trend. The index is indicating the economy six month from today will be slightly better than it is today.
Current ECRI WLI Growth Index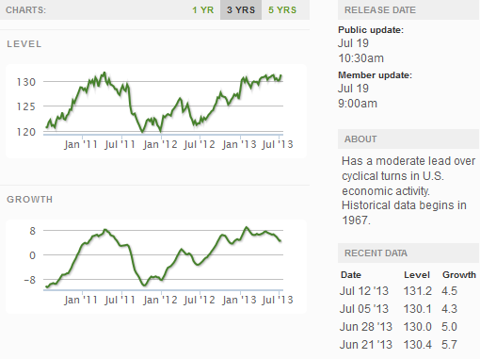 Initial unemployment claims improved from 360,000 (reported last week) to 334,000 this week. Historically, claims exceeding 400,000 per week usually occur when employment gains are less than the workforce growth, resulting in an increasing unemployment rate.
The real gauge - the 4 week moving average - improved from 351,750 (reported last week) to 346,000. Because of the noise (week-to-week movements from abnormal events AND the backward revisions to previous weeks releases), the 4-week average remains the reliable gauge.
Weekly Initial Unemployment Claims - 4 Week Average - Seasonally Adjusted - 2011 (red line), 2012 (green line), 2013 (blue line)

Bankruptcies this Week: AgFeed Industries, Excel Maritime, City of Detroit (in appeals process), IntraOp Medical
Data released this week which contained economically intuitive components (forward looking) were:
All other data released this week either does not have enough historical correlation to the economy to be considered intuitive, or is simply a coincident indicator to the economy.
Weekly Economic Release Scorecard:
Disclosure: I have no positions in any stocks mentioned, and no plans to initiate any positions within the next 72 hours.