It was interesting the muted market reaction to July 2013 New Home Sales Were Really Bad. It seems like everyone and their brother is blaming it on climbing mortgage rates. Please prove this to me.
Pundits like to put a face on every data point - whether they have proof or do not have proof. You hear it daily, "the market went up because ....." I would love to be the source of these one line reasons.
Here is what one can prove:
New home sales are likely one of the worst data series pumped out by US Census. A data point is revised up one month, and the same data point is revised down the next month.
This data series is not produced from hard data - up one month, down the next. It is a survey.
The growth in this series peaked early in 2013, and has been on a gentle "less good" trend since (red line is 3 month moving average on Figure 1).
Figure 1 - Year-over-Year Growth for New Home Sales (blue line), 3 month rolling average of Growth for New Home Sales (red line)

Ok - mortgage rates increasing are not a positive dynamic. But in perspective, the increase is not significant.
Figure 2 - 30 Year Conventional Mortgage Rate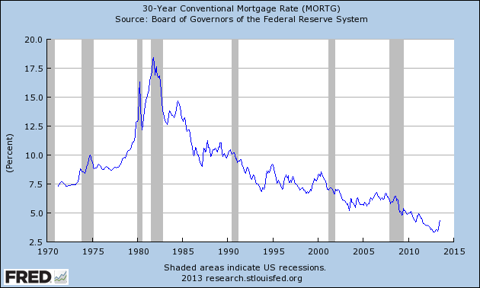 So here are all the possibilities of dynamics which could be effecting new home sales - please add to this list:
increasing mortgage rates;
existing homes provide better pricing points;
it is just noise in the data - we will know the "truth" in a few months;
the economy is cooling;
income is not keeping up with spending and inflation - or the recent improvements in home prices;
The Econintersect economic forecast for August 2013 again declined, and sees the economy barely expanding. The concern is that consumers are spending a historically high amount of their income, and several non-financial indicators are struggling or flat.
The ECRI WLI growth index value has been weakly in positive territory for over four months - but in a noticeable improvement trend. The index is indicating the economy six month from today will be slightly better than it is today.
Current ECRI WLI Growth Index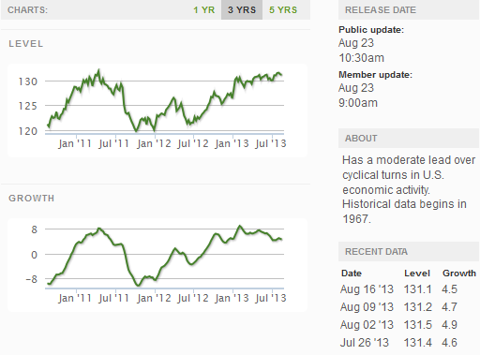 Initial unemployment claims rose from 320,000 (reported last week) to 336,000 this week. Historically, claims exceeding 400,000 per week usually occur when employment gains are less than the workforce growth, resulting in an increasing unemployment rate.
The real gauge - the 4 week moving average - improved from 332,000 (reported last week) to 330,500. Because of the noise (week-to-week movements from abnormal events AND the backward revisions to previous weeks releases), the 4-week average remains the reliable gauge.
Weekly Initial Unemployment Claims - 4 Week Average - Seasonally Adjusted - 2011 (red line), 2012 (green line), 2013 (blue line)

Bankruptcies this Week: Cengage Learning, Personal Communications Devices, OnCure Holdings, Florida Gaming
Data released this week which contained economically intuitive components (forward looking) were:
Rail movements growth trend is currently accelerating.
There are some forward looking trends in the CFNAI which improved.
All other data released this week either does not have enough historical correlation to the economy to be considered intuitive, or is simply a coincident indicator to the economy.
Weekly Economic Release Scorecard:
Disclosure: I have no positions in any stocks mentioned, and no plans to initiate any positions within the next 72 hours.