I (along with most other pundits) were critical of Friday's BLS Jobs Situation. I stated BLS Jobs Situation Is Not Excellent.
The trend lines are flat to mildly declining. The unadjusted growth this month is the worst in 3 years.
Historical
Unadjusted
Private Non-Farm Jobs Growth Between Julys and Augusts (Table B-1, data in thousands) - unadjusted (blue line) vs seasonally adjusted (red line)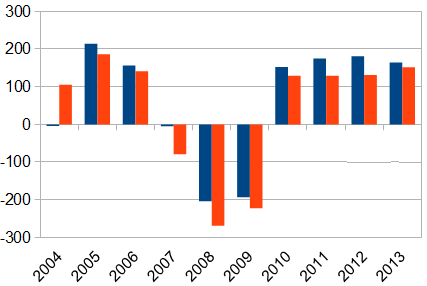 This particular Jobs Report was more inconsistent than normal between the household survey and establishment portions. it is obvious that the BLS seasonal adjustments (see above graphic) is inconsistent in how it adjusts for Augusts. I could ramble on and on - but I continue to be mystified why so much attention is directed towards a report which is proven to be inaccurate in real time, and is a lagging indicator of the economy (it lags the real economy by 6 months).
The Econintersect economic forecast for September 2013 improved but still shows the economy barely expanding. The concern is that consumers are spending a historically high amount of their income, and several non-financial indicators are weak.
The ECRI WLI growth index value has been weakly in positive territory for over four months - but in a noticeable improvement trend. The index is indicating the economy six month from today will be slightly better than it is today.
Current ECRI WLI Growth Index
(click to enlarge)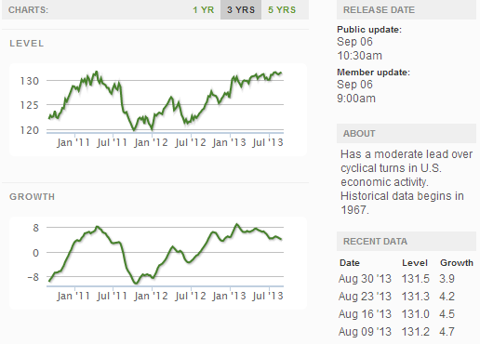 Click to enlarge
Initial unemployment claims went from 331,000 (reported last week) to 323,000 this week. Historically, claims exceeding 400,000 per week usually occur when employment gains are less than the workforce growth, resulting in an increasing unemployment rate.
The real gauge - the 4 week moving average - improved from 331,250 (reported last week) to 328,500. Because of the noise (week-to-week movements from abnormal events AND the backward revisions to previous weeks releases), the 4-week average remains the reliable gauge.
Weekly Initial Unemployment Claims - 4 Week Average - Seasonally Adjusted - 2011 (red line), 2012 (green line), 2013 (blue line)
(click to enlarge)

Click to enlarge
Bankruptcies this Week: Longview Power,
Data released this week which contained economically intuitive components (forward looking) were:
All other data released this week either does not have enough historical correlation to the economy to be considered intuitive, or is simply a coincident indicator to the economy.
Weekly Economic Release Scorecard:
Disclosure: I have no positions in any stocks mentioned, and no plans to initiate any positions within the next 72 hours.