For those who love the BLS Jobs Report, here is what it think it would have said:
Once the weekly initial weekly unemployment claims falls below 350,000 (the current situation) - correlation between initial claims and the employment report is lost. So initial unemployment claims offers little reliable insight.
The market expected (from Yahoo finance):

Econintersect forecast jobs at 160,000 based on economic pressures in its economic forecast for September (released in late August).
Trends continue until they do not continue. Here we have a problem in estimating. ADP's data showed a trend change. Would the BLS data also show a trend change? If the current BLS trends continued, non-farm private payrolls would be 200,000 - if they rollover (similar to ADP) - then the BLS September non-farm payroll growth would come in at 180,000.
As the BLS has been shadowing ADP's number for the last few months - we could expect a number in the range of 160K to 170K.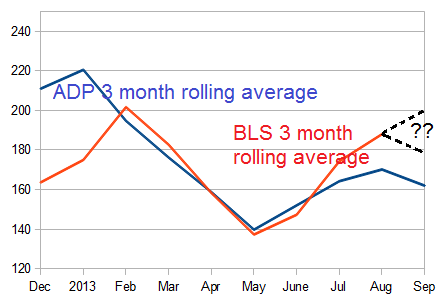 I don't even care about the unemployment rate as I disagree with the way it is calculated. It is intended to measure employment slack - and I am unsure what it is really measuring.
The Econintersect economic forecast for October 2013 again improved and it appears an improving cycle has begun. There is no indication the cycle is particularly strong, as our concern remains that consumers are spending a historically high amount of their income, and the rate of gain on the points we watch are not very strong.
The ECRI WLI growth index value has been weakly in positive territory for over four months - but in a noticeable improvement trend. The index is indicating the economy six month from today will be slightly better than it is today.
Current ECRI WLI Growth Index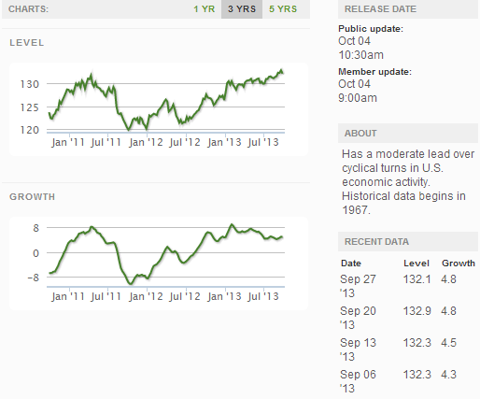 Initial unemployment claims went from 305,000 (reported last week) to 308,000 this week. Historically, claims exceeding 400,000 per week usually occur when employment gains are less than the workforce growth, resulting in an increasing unemployment rate.
The real gauge - the 4 week moving average - improved from 308,000 (reported last week) to 305,000. Because of the noise (week-to-week movements from abnormal events AND the backward revisions to previous weeks releases), the 4-week average remains the reliable gauge.
Weekly Initial Unemployment Claims - 4 Week Average - Seasonally Adjusted - 2011 (red line), 2012 (green line), 2013 (blue line)

Bankruptcies this Week: GateHouse Media (aka Liberty Group Publishing), Fresh & Easy Neighborhood Market, Teletouch Communications
Data released this week which contained economically intuitive components (forward looking) were:
All other data released this week either does not have enough historical correlation to the economy to be considered intuitive, or is simply a coincident indicator to the economy.
[click here to view a summary page of all economic analysis this week]
Disclosure: I have no positions in any stocks mentioned, and no plans to initiate any positions within the next 72 hours.