Trying to summarize this week is difficult if one does not want to venture into partisan politics - as the government shutdown was directly caused by one party. This is the 12th day.
I have no love for either party involved. But the damage now is beginning to grow from the lack of information. Two working weeks of data collection and analysis by the various government agencies are hard to make up.
Temporary fixes are now being negotiated - again, a can being kicked down the road.
There was a lot of important data not issued this week - the biggest was retail sales. The economy is far from healed from the Great Recession. Shutting down the government, no matter the noble reason - is not appropriate.
The Econintersect economic forecast for October 2013 again improved and it appears an improving cycle has begun. There is no indication the cycle is particularly strong, as our concern remains that consumers are spending a historically high amount of their income, and the rate of gain on the points we watch are not very strong.
The ECRI WLI growth index value has been weakly in positive territory for over four months - but in a noticeable improvement trend. The index is indicating the economy six month from today will be slightly better than it is today.
Current ECRI WLI Growth Index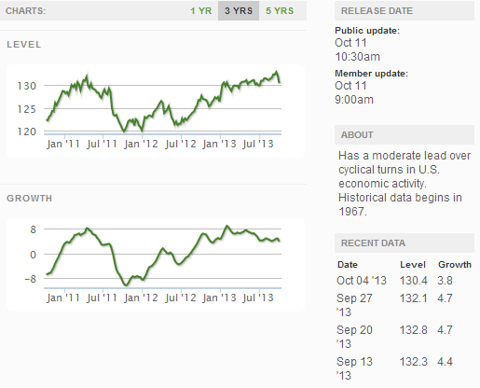 Initial unemployment claims went from 308,000 (reported last week) to 374,000 this week. Historically, claims exceeding 400,000 per week usually occur when employment gains are less than the workforce growth, resulting in an increasing unemployment rate.
The real gauge - the 4 week moving average - degraded from 305,000 (reported last week) to 325,000. Because of the noise (week-to-week movements from abnormal events AND the backward revisions to previous weeks releases), the 4-week average remains the reliable gauge.
Weekly Initial Unemployment Claims - 4 Week Average - Seasonally Adjusted - 2011 (red line), 2012 (green line), 2013 (blue line)

Bankruptcies this Week: Cengage Learning
Data released this week which contained economically intuitive components (forward looking) were:
All other data released this week either does not have enough historical correlation to the economy to be considered intuitive, or is simply a coincident indicator to the economy.
Click here to view all the analysis and opinion for economic news this week.
Disclosure: I have no positions in any stocks mentioned, and no plans to initiate any positions within the next 72 hours.