I really do not know what is getting into me lately as my posts seemed to be getting more upbeat on the economy. For sure the picture is not excellent but it seems like the forces of good are slightly better than the forces of evil.
This week the pundits echoed the decline in industrial production headlines. The market loves bad news but industrial production was not bad. Here is what most people missed.
Econintersect's analysis using the unadjusted data is that IP growth accelerated 0.2% month-over-month, and is up 3.3% year-over-year.
The year-over-year rate of growth is trending up using a three month rolling average.
Industrial production is being affected by large movements in utilities (and was joined by a sharp decline in mining this month).
IP headline index has three parts - manufacturing, mining and utilities - manufacturing wasup 0.3% this month (up 3.3% year-over-year), mining down 1.6% (up 4.8% year-over-year), and utilities were down 1.1% (up 0.2% year-over-year). Note that utilities are 9.9% of the industrial production index.
Comparing Seasonally Adjusted Year-over-Year Change of the Industrial Production Index (blue line) with Components Manufacturing (red line), Utilities (green line), and Mining (orange line)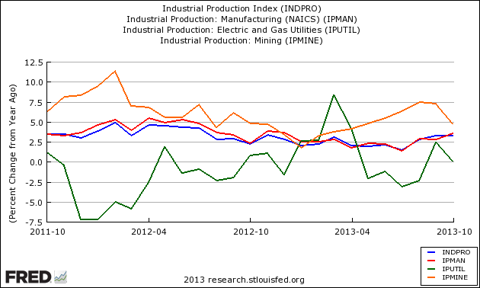 Unadjusted Industrial Production year-over-year growth in most of 2013 has been between 2% and 4% - it is currently 3.3%. It is interesting that the unadjusted data is giving a smooth trend line.
Year-over-Year Change Total Industrial Production - Unadjusted (blue line) and 3 month rolling average (red line)

The Econintersect economic forecast for November 2013 again improved . There is no indication the cycle is particularly strong, as our concern remains that consumers are spending a historically high amount of their income, and the rate of gain on the economic elements we watch are not very strong.
The ECRI WLI growth index value has been weakly in positive territory for over four months - but in a noticeable improvement trend. The index is indicating the economy six month from today will be slightly better than it is today.
Current ECRI WLI Growth Index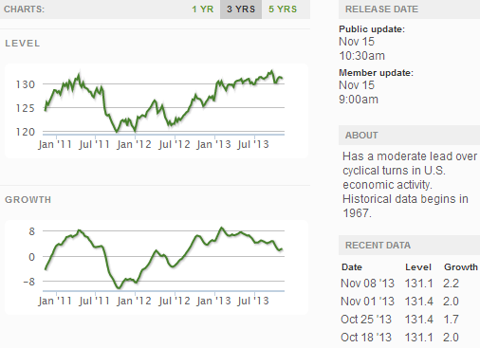 Initial unemployment claims went from 336,000 (reported last week) to 339,000 this week. Historically, claims exceeding 400,000 per week usually occur when employment gains are less than the workforce growth, resulting in an increasing unemployment rate.
The real gauge - the 4 week moving average - improved from 348,250 (reported last week) to 344,000. Because of the noise (week-to-week movements from abnormal events AND the backward revisions to previous weeks releases), the 4-week average remains the reliable gauge.
Weekly Initial Unemployment Claims - 4 Week Average - Seasonally Adjusted - 2011 (red line), 2012 (green line), 2013 (blue line)

/images/z unemployment.PNG
Bankruptcies this Week: Global Aviation Holdings, Physiotherapy Associates Holdings
Data released this week which contained economically intuitive components (forward looking) were:
All other data released this week either does not have enough historical correlation to the economy to be considered intuitive, or is simply a coincident indicator to the economy.
For all analysis this week, please click here.
Disclosure: I have no positions in any stocks mentioned, and no plans to initiate any positions within the next 72 hours.