Do I think true deflation of assets will set in like Japan - nah!!! But this week the USA saw two data releases (consumer price index and the producer price index) which are showing almost no inflation.
Why? The alarmists were worried about the Fed and its monetary easing programs - which they believed would trigger inflation. But the longer the QE program runs, the lower inflation goes. To me, the Fed has altered the net worth of money.
Say what? If the Fed did not buy mortgage and government debt, somebody else would have. This would have forced up interest rates making using other peoples money have value. Right now, owning money has no value, saving money has no value, and without inflation - why spend today when you can spend tomorrow.
This becomes the paradox - no reason to spend, no reason to save. It provides the illusion of a recession so business and consumers just hunker down. If nothing else, low interest rates are a sign to everyone confirming a weak economy. The Fed's forward guidance is telegraphing poor economic growth for the next few years.
Whatever! Low interest rates to spur economic growth works in small doses. Continued long term dosage of any drug will impair the patient with growing negative side-effects.
The Econintersect economic forecast for November 2013 again improved . There is no indication the cycle is particularly strong, as our concern remains that consumers are spending a historically high amount of their income, and the rate of gain on the economic elements we watch are not very strong.
The ECRI WLI growth index value has been weakly in positive territory for over four months - but in a noticeable improvement trend. The index is indicating the economy six month from today will be slightly better than it is today.
Current ECRI WLI Growth Index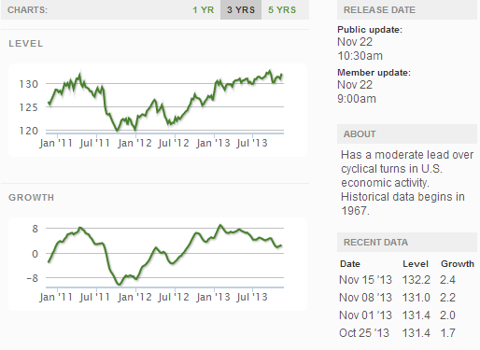 Initial unemployment claims went from 339,000 (reported last week) to 323,000 this week. Historically, claims exceeding 400,000 per week usually occur when employment gains are less than the workforce growth, resulting in an increasing unemployment rate.
The real gauge - the 4 week moving average - improved from 344,000 (reported last week) to 338,500. Because of the noise (week-to-week movements from abnormal events AND the backward revisions to previous weeks releases), the 4-week average remains the reliable gauge.
Weekly Initial Unemployment Claims - 4 Week Average - Seasonally Adjusted - 2011 (red line), 2012 (green line), 2013 (blue line)

Bankruptcies this Week: Privately-held Scrub Island Development Group, TranSwitch
Data released this week which contained economically intuitive components (forward looking) were:
All other data released this week either does not have enough historical correlation to the economy to be considered intuitive, or is simply a coincident indicator to the economy.
Please click here to view all economic posts published this week.
Disclosure: I have no positions in any stocks mentioned, and no plans to initiate any positions within the next 72 hours.