I want to share a part of a post I did on retail sales this past week - showing the disconnect between the headline words and what the data is saying:
Econintersect Analysis:
unadjusted sales rate of growth decelerated 0.3% month-over-month, and up 4.3% year-over-year.
unadjusted sales 3 month moving year-over-year average decayed from 4.3% to 4.1% (note that inflation adjusted averages growth accelerated).
unadjusted sales (but inflation adjusted) up 4.0% year-over-year
backward revisions were up moderately;
motor vehicles were the largest contributor to the gain this month, whilst gas stations and miscellaneous retail were the drag on growth.
U.S. Census Headlines:
seasonally adjusted sales up 0.7% month-over-month, up 4.7% year-over-year
the market was expecting between +0.6% to +0.9% month-over-month seasonally adjusted sales increase (versus the 0.7% reported)
Year-over-Year Change - Unadjusted Retail Sales (blue line) and Inflation Adjusted Retail Sales (red line)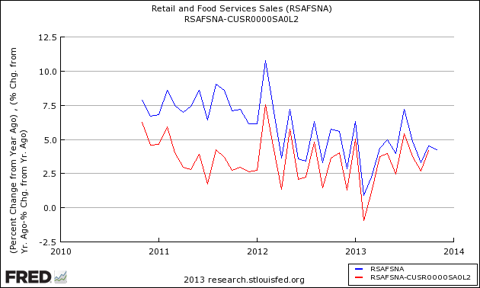 I do not really understand the seasonal adjustment process of US Census - but if i add the headline growth over a year period - it is always much better that the real year-over-year growth. Note that the headline data is not inflation adjusted. Yet the bottom line is that the inflation adjusted data is doing well - and it is inflation adjusted data which migrates into the GDP.
The Econintersect economic forecast for December 2013 again improved. What this forecast cannot see is the real effect of austerity and Obamacare - but it does see that business is betting the effects on the economy will be minimal.
The ECRI WLI growth index value has been weakly in positive territory for over four months - but in a noticeable improvement trend. The index is indicating the economy six month from today will be slightly better than it is today.
Current ECRI WLI Growth Index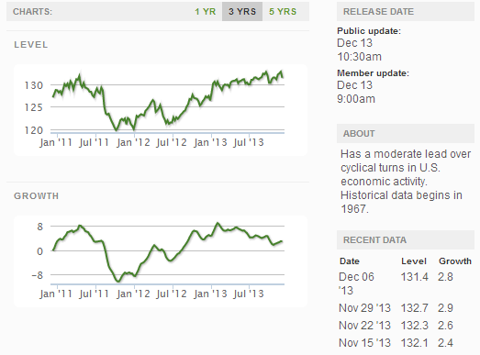 Initial unemployment claims went from 298,000 (reported last week) to 368,000 this week. Historically, claims exceeding 400,000 per week usually occur when employment gains are less than the workforce growth, resulting in an increasing unemployment rate. The real gauge - the 4 week moving average - degraded from 322,250 (reported last week) to 328.750. Because of the noise (week-to-week movements from abnormal events AND the backward revisions to previous weeks releases), the 4-week average remains the reliable gauge.
Weekly Initial Unemployment Claims - 4 Week Average - Seasonally Adjusted - 2011 (red line), 2012 (green line), 2013 (blue line)

Bankruptcies this Week: none
[To view all the economic analysis this week click here]
Disclosure: I have no positions in any stocks mentioned, and no plans to initiate any positions within the next 72 hours.