Is the economy picking up steam? Every third quarter 2013 GDP releases has improved since the advance estimate. Normally, this is a sign that the growth is increasing in the later part of the quarter.
To look at the progression, here is my table which freezes in time the growth of 3Q2013 GDP.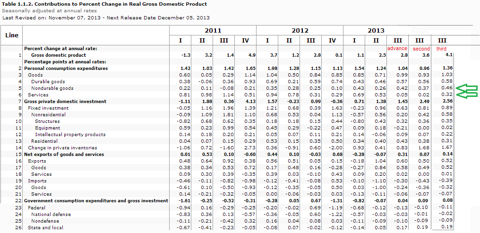 Initially, the improvement in the second estimate was in inventory builds (this means it will be a negative force in the 4Q as inventories are depleted for the Holiday season). The third estimate revealed a strengthening consumer segment which should indicate strength going forward into 4Q.

And the facts are that it does look like the consumer spending spree continued into 4Q2013. But it will not be enough to overcome the depletion of the inventories which is credit we took in 3Q for 4Q2103 sales.
The Econintersect economic forecast for December 2013 again improved. What this forecast cannot see is the real effect of austerity and Obamacare - but it does see that business is betting the effects on the economy will be minimal.
The ECRI WLI growth index value has been weakly in positive territory for over four months - but in a noticeable improvement trend. The index is indicating the economy six month from today will be slightly better than it is today.
Current ECRI WLI Growth Index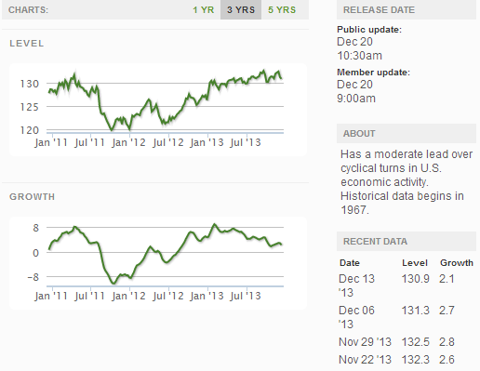 Initial unemployment claims went from 368,000 (reported last week) to 379,000 this week. Historically, claims exceeding 400,000 per week usually occur when employment gains are less than the workforce growth, resulting in an increasing unemployment rate. The real gauge - the 4 week moving average - degraded from 328.750 (reported last week) to 343,500. Because of the noise (week-to-week movements from abnormal events AND the backward revisions to previous weeks releases), the 4-week average remains the reliable gauge.
Weekly Initial Unemployment Claims - 4 Week Average - Seasonally Adjusted - 2011 (red line), 2012 (green line), 2013 (blue line)

Bankruptcies this Week: Privately-held Constar International Holdings
Please click here to view all the economic and financial posts this week.
Disclosure: I have no positions in any stocks mentioned, and no plans to initiate any positions within the next 72 hours.