First of all let me wish everyone a great New Year.
This was a slow week which allowed me to catch up with administrative tasks at Econintersect. But we did have one rather significant release this past week - durable goods. The headlines showed strong growth - new orders up 3.5% (last month was originally posted as down 2.0% - and now is down 0.7%) month-over-month - making this headline even stronger.
Our analysis was that aircraft made the headlines stronger than what they should have been.
Econintersect Analysis:
unadjusted new orders growth accelerated 4.2% month-over-month , and is up10.0% year-over-year
the three month rolling average for unadjusted new orders accelerated 0.2% month-over-month, and up 8.6% year-over-year.
Inflation adjusted but otherwise unadjusted new orders are up 9.0% year-over-year.
The November Federal Reserve's Durable Goods Industrial Production Index growth decelerated 1.2% month-over-month, up 4.5% year-over-year [note that this is a series with moderate backward revision - and it uses production as a pulse point.
To visualize the drivers of durable goods - the chart below shows transport (mostly aircraft is the volatile element in durable goods - but that there has been a gentle acceleration of growth in the consumer segment through most of 2013.
Unadjusted Durable Goods New Orders Year-over-Year Growth - Consumer Goods less transport (blue line), All Durable Goods (green line), and Transport (red line)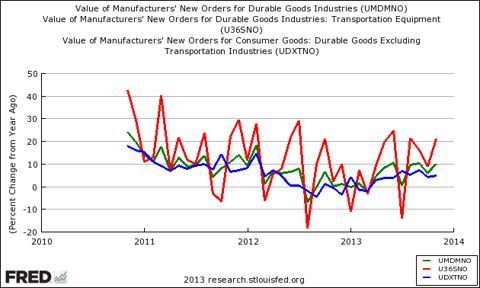 The Econintersect economic forecast for December 2013 again improved. What this forecast cannot see is the real effect of austerity and Obamacare - but it does see that business is betting the effects on the economy will be minimal.
The ECRI WLI growth index value has been weakly in positive territory for over four months - but in a noticeable improvement trend. The index is indicating the economy six month from today will be slightly better than it is today.
Current ECRI WLI Growth Index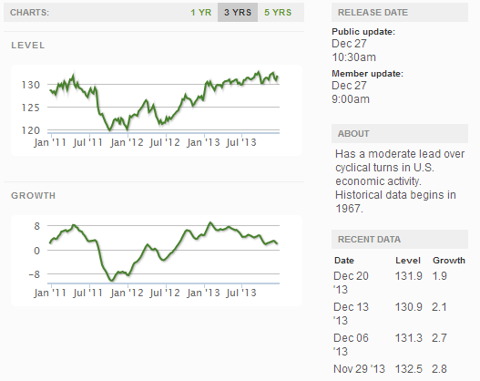 Initial unemployment claims went from 379,000 (reported last week) to 338,000 this week. Historically, claims exceeding 400,000 per week usually occur when employment gains are less than the workforce growth, resulting in an increasing unemployment rate. The real gauge - the 4 week moving average - degraded from 343,500 (reported last week) to 348,000. Because of the noise (week-to-week movements from abnormal events AND the backward revisions to previous weeks releases), the 4-week average remains the reliable gauge.
Weekly Initial Unemployment Claims - 4 Week Average - Seasonally Adjusted - 2011 (red line), 2012 (green line), 2013 (blue line)

Bankruptcies this Week: none
For a complete list of analysis and news this week - click here.
Disclosure: I have no positions in any stocks mentioned, and no plans to initiate any positions within the next 72 hours.