This was the slowest week I can remember for economic releases. This allowed me to perform some administrative tasks which I have been putting off. One thing did strike me as notable - the continuing deceleration of existing home sales.
The headlines for existing home sales say that sales growth improved marginally in December month-over-month. Our analysis says the sales last month were so bad that any data would look good in comparison. The three month rolling averages are still declining demonstrates how soft the data is.
Econintersect Analysis:
Sales growth accelerated 9.2% month-over-month, up 3.2% year-over-year - sales growth rate trend is decelerating using the 3 month moving average.
Prices growth accelerated 0.1% month-over-month, Up 7.0% year-over-year - price growth rate trend is decelerating using the 3 month moving average.
The homes for sale inventory declined significantly this month, and is historically low for Decembers.
Graphically, the three month rolling averages are taking a nose-dive.
3 month rolling average of year-over-year growth (over the 3 month rolling average one year ago) - existing home sales (red line) and pending home sales (blue line)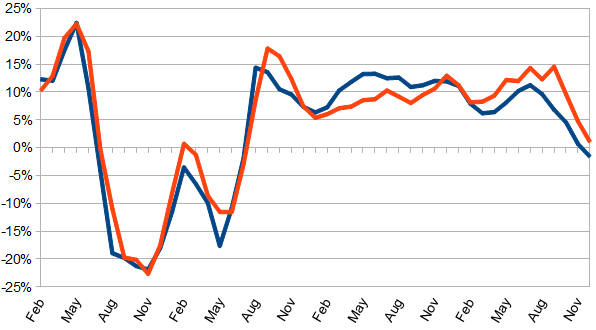 Why? Part of the reason is that distressed sales have declined. Another part of the reason is people are not selling (evidenced by declining inventories). I doubt this is the entire story because this is supply side information. What about buyers? They are missing also. Maybe renting is the preferred option for now.
Other Economic News this Week:
The Econintersect economic forecast for January 2014 predicted a slowing economic growth after several months of increasing growth. What this forecast cannot see is the effect of Obamacare - but slowing of growth in this forecast was primarily the result of the business sector.
The ECRI WLI growth index value has been weakly in positive territory for over four months - but in a noticeable improvement trend. The index is indicating the economy six month from today will be slightly better than it is today.
Current ECRI WLI Growth Index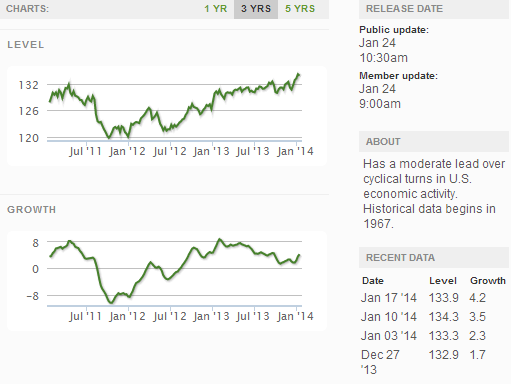 Initial unemployment claims went from 326,000 (reported last week) to 326,000 this week. Historically, claims exceeding 400,000 per week usually occur when employment gains are less than the workforce growth, resulting in an increasing unemployment rate. The real gauge - the 4 week moving average - improved from 335,000 (reported last week) to 331,500. Because of the noise (week-to-week movements from abnormal events AND the backward revisions to previous weeks releases), the 4-week average remains the reliable gauge.
Weekly Initial Unemployment Claims - 4 Week Average - Seasonally Adjusted - 2011 (red line), 2012 (green line), 2013 (blue line), 2014 (orange line)

Bankruptcies this Week: none
For a full recap of economic releases, news, and opinion this week - [click here]
Disclosure: I have no positions in any stocks mentioned, and no plans to initiate any positions within the next 72 hours.