This week we had soft retail sales [analysis here], but my eyes were on industrial production which is more of a forward indicator than retail sales.
Headline seasonally adjusted Industrial Production (NYSE:IP) fell 0.3% month-over-month and up 2.9% year-over-year.
Econintersect's analysis using the unadjusted data is that IP growth decelerated 0.2% month-over-month, and is up 3.2% year-over-year.
The year-over-year rate of growth has decelerated 0.2% from last month using a three month rolling average.
Industrial production is being affected by large movements in utilities. This is distorting the underlying trends.
The market was expecting 0.3% to 0.6% month-over-month (vs the headline decline of 0.3%).
The seasonally adjusted manufacturing sub-index (which is more representative of economic activity) was down 0.8% month-over-month - and up 1.3% year-over-year .
Backward revision was moderate and generally down for the last 2 months.
Combine that the month-over-month data is comparing a moderately revised downward December data, and the manufacturing portion had a significant decline - makes this report much worse than appears at first glance.
Unadjusted Industrial Production year-over-year growth for the past 12 months has been between 2% and 4% - it is currently 3.7%. It is interesting that the unadjusted data is giving a smooth trend line.
Year-over-Year Change Total Industrial Production - Unadjusted (blue line) and the Unadjusted 3 month rolling average (red line)

IP headline index has three parts - manufacturing, mining and utilities - manufacturing was down 0.8% this month (up 1.3% year-over-year), mining down 0.9% (up 6.7% year-over-year), and utilities were up 4.1% (up 9.3% year-over-year). Note that utilities are 9.9% of the industrial production index.
Comparing Seasonally Adjusted Year-over-Year Change of the Industrial Production Index (blue line) with Components Manufacturing (red line), Utilities (green line), and Mining (orange line)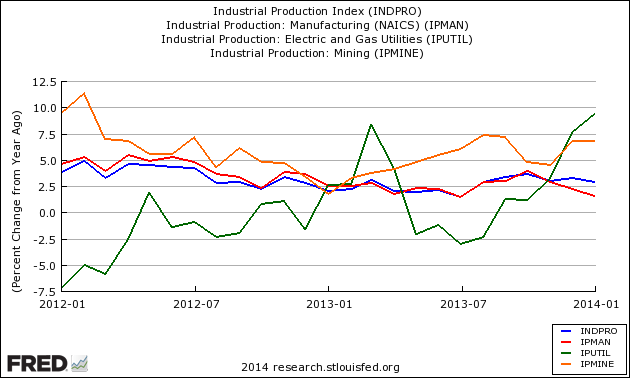 Fix your eyes on the red line in the above graph - there is a definite deceleration in the growth of manufacturing (the largest component of industrial production) - and manufacturing is currently expanding at a rate of less than one half of GDP.
The underlying economy is definitely decelerating when you combine manufacturing with rail movements [analysis here]. In 2013, the same deceleration occurred - this time it is worse.
The Econintersect economic forecast for February 2014 continues to confirm a moderately improving economy without the roller coaster effect seen from the end of the Great Recession to mid 2013. Is this suggesting 2014 will be a good year? - This remains to be seen.
The ECRI WLI growth index value has been weakly in positive territory for over four months - but in a noticeable improvement trend. The index is indicating the economy six month from today will be slightly better than it is today.
Current ECRI WLI Growth Index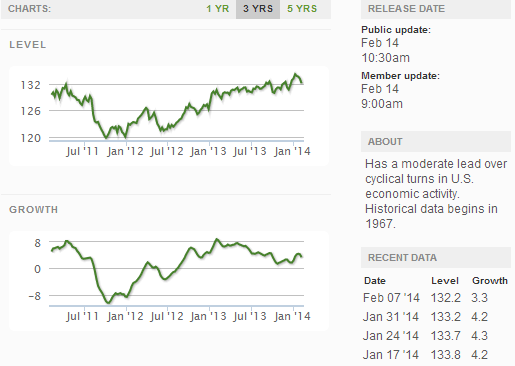 /images/z weekly_indexes.PNG
Initial unemployment claims went from 331,000 (reported last week) to 339,000 this week. Historically, claims exceeding 400,000 per week usually occur when employment gains are less than the workforce growth, resulting in an increasing unemployment rate. The real gauge - the 4 week moving average - marginally worsened from 334,000 (reported last week) to 336,750. Because of the noise (week-to-week movements from abnormal events AND the backward revisions to previous weeks releases), the 4-week average remains the reliable gauge.
Weekly Initial Unemployment Claims - 4 Week Average - Seasonally Adjusted - 2011 (red line), 2012 (green line), 2013 (blue line), 2014 (orange line)
(click to enlarge)

Click to enlarge
Bankruptcies this Week: Lexico Resources International, First Mariner Bancorp, Cereplast, Optim Energy, Event Rentals
To view all the analysis this week, please visit our scorecard.
Disclosure: I have no positions in any stocks mentioned, and no plans to initiate any positions within the next 72 hours.