Should we blame the weather?
This week the US Census followed the Federal Reserve's Industrial Production - showing a manufacturing contraction for January 2014.
It is interesting to me that the ISM manufacturing survey and ALL of the regional Federal Reserve manufacturing surveys showed expansion in January 2014 - so much for either the accuracy of surveys or the accuracy of data collection by the Fed or US Census.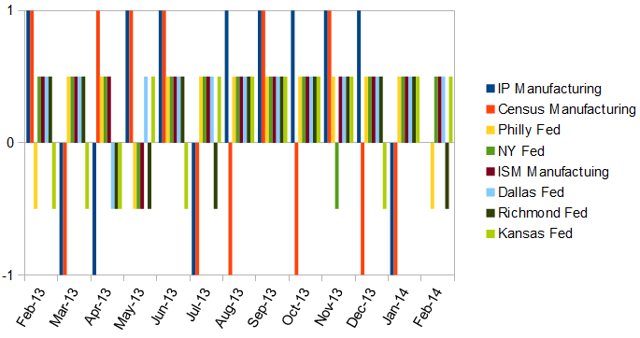 Some of the details of the US Census manufacturing release this week:
The 3 month moving average of unadjusted new orders continues to decelerate.
3 Month Rolling Average - Unadjusted Manufacturing New Orders (blue line), Inflation Adjusted New Orders from the Unadjusted Data (red line)

The seasonally adjusted manufacturing new orders is down 0.7% month-over-month, and up 1.2% year-to-date.
Market expected month-over-month growth of -1.6% to +1.0% (consensus -0.7%).
Manufacturing unfilled orders up 0.1% month-over-month, and up 6.9% year-over-year
Econintersect Analysis:
Unadjusted manufacturing new orders growth decelerated 0.6% month-over-month, and up 1.8% year-over-year
Unadjusted manufacturing new orders (but inflation adjusted) up 0.5% year-over-year
Unadjusted manufacturing unfilled orders growth decelerated 0.2% month-over-month, and up 6.9% year-over-year
As a comparison to the inflation adjusted new orders data, the manufacturing subindex of the Federal Reserves Industrial Production was growth decelerated -0.8% month-over-month, and up 1.5% year-over-year.
The Econintersect Economic Index for March 2014 is showing a moderate growth deceleration. There are soft data points we watch outside of our index which bears watching. Nothing at this time is pointing to real economic contraction, but there is enough data sets in the warning track to let you know that the economy is far from running on all cylinders.
The ECRI WLI growth index value has been weakly in positive territory for over four months - but in a noticeable improvement trend. The index is indicating the economy six month from today will be slightly better than it is today.
Current ECRI WLI Growth Index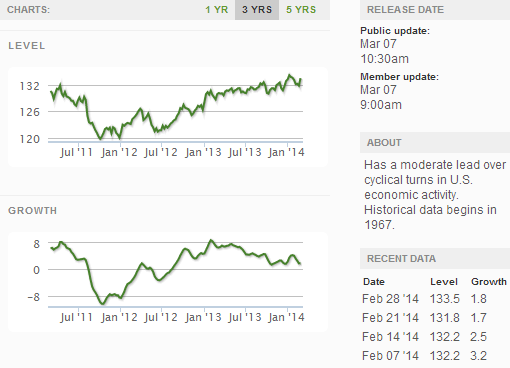 Initial unemployment claims went from 348,000 (reported last week) to 323,000 this week. Historically, claims exceeding 400,000 per week usually occur when employment gains are less than the workforce growth, resulting in an increasing unemployment rate. The real gauge - the 4 week moving average - marginally worsened from 338,500 (reported last week as 338,250) to 336,500. Because of the noise (week-to-week movements from abnormal events AND the backward revisions to previous weeks releases), the 4-week average remains the reliable gauge.
Weekly Initial Unemployment Claims - 4 Week Average - Seasonally Adjusted - 2011 (red line), 2012 (green line), 2013 (blue line), 2014 (orange line)

Bankruptcies this Week: Sorenson Communications, Privately-held MACH Gen, USEC
For a complete list of economic analysis and opinion this week - [click here]
Disclosure: I have no positions in any stocks mentioned, and no plans to initiate any positions within the next 72 hours.