This week the the Chicago Fed National Activity Index (CFNAI) 3 month moving (3MA) average went negative. A negative number means the economy is growing below its historical rate. For the previous five months in a row, the economy was expanding above the historical trend rate of growth.
This index IS NOT accurate in real time - and it did miss the start of the 2007 recession.
One more point, the headlines talk about the single month index which is not used for economic forecasting. Economic predictions are based on the 3 month moving average. This index is very noisy and the 3 month moving average would be the way to view this index in any event. Note that the single month index is very noisy which is a secondary reason to keep your eyes on the 3 month moving average.
This index is a rear view mirror of the economy.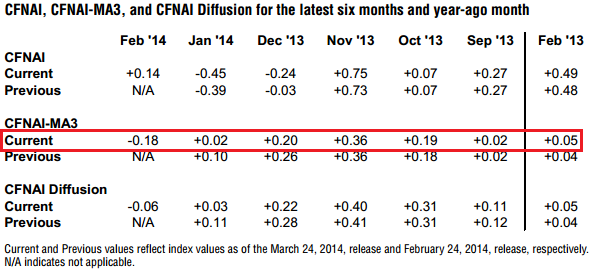 A value of zero for the index would indicate that the national economy is expanding at its historical trend rate of growth, and that a level below -0.7 would be indicating a recession was likely underway. Econintersect uses the three month trend because the index is very noisy (volatile).
CFNAI Three Month Moving Average (blue line) with Historical Recession Line (red line)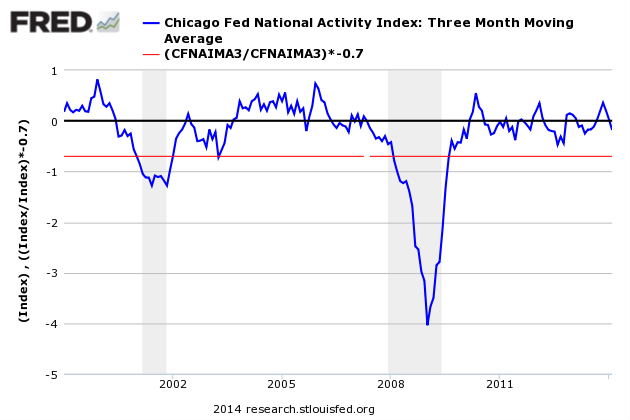 As the 3 month index is the trend line, the trend is currently showing a decelerating rate of growth. As stated: this index only begins to show what is happening in the economy after many months of revision following the index's first release.
CFNAI Three Month Moving Average Showing Month-over-Month Change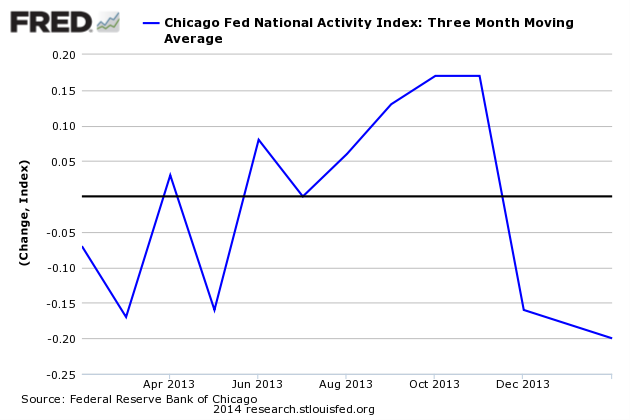 The CFNAI is a weighted average of 85 indicators drawn from four broad categories of data: 1) production and income; 2) employment, unemployment, and hours; 3) personal consumption and housing; and 4) sales, orders, and inventories.
CFNAI Components - Production & Income (orange line), Employment / Unemployment & Hours (green line), Personal Consumption & Housing (blue line), and Sales / Orders & Inventory (red line)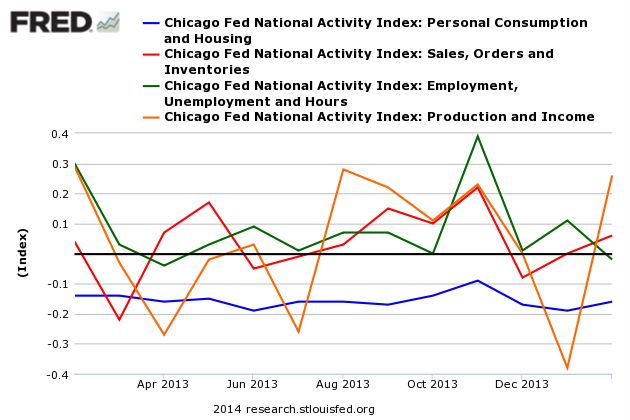 Low Personal Consumption has been a headwind on the index for the last two years. The other three elements of the CFNAI have taken turns dragging the index down.
Other Economic News this Week
The Econintersect Economic Index for March 2014 is showing a moderate growth deceleration. There are soft data points we watch outside of our index which bears watching. Nothing at this time is pointing to real economic contraction, but there is enough data sets in the warning track to let you know that the economy is far from running on all cylinders.
The ECRI WLI growth index value has been weakly in positive territory for over four months - but in a noticeable improvement trend. The index is indicating the economy six month from today will be slightly better than it is today.
Current ECRI WLI Growth Index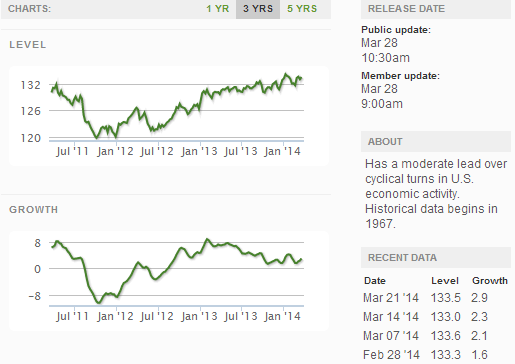 Initial unemployment claims went from 320,000 (reported last week) to 311,000 this week. Historically, claims exceeding 400,000 per week usually occur when employment gains are less than the workforce growth, resulting in an increasing unemployment rate. The real gauge - the 4 week moving average - marginally improved from 327,250 (reported last week as 327,000) to 317,750. Because of the noise (week-to-week movements from abnormal events AND the backward revisions to previous weeks releases), the 4-week average remains the reliable gauge.
Weekly Initial Unemployment Claims - 4 Week Average - Seasonally Adjusted - 2011 (red line), 2012 (green line), 2013 (blue line), 2014 (orange line)

Bankruptcies this Week: The Dolan Company, Money Centers of America, Global Geophysical Services
For a complete lists of economic and financial posts this week [click here].
Disclosure: I have no positions in any stocks mentioned, and no plans to initiate any positions within the next 72 hours.