I spent Friday in Jury duty. Where I live, you or a close member of your family needs to be dying to get out of this civic duty. I was struck by the number of young people working minimum wage jobs and begging for relief as they would not be able to make ends meet if they were "forced" into jury duty. In my state, this argument is ignored.
However, this is a powerful argument for states to impose minimum wage payments for jury duty.
This week there was a significant and strong increase of personal income (great news) - but on the other hand, there was even a stronger increase in consumption. What bothers me is the continuing decline of personal savings rate (blue line in graph below) which along with borrowing is fueling the increase in consumption.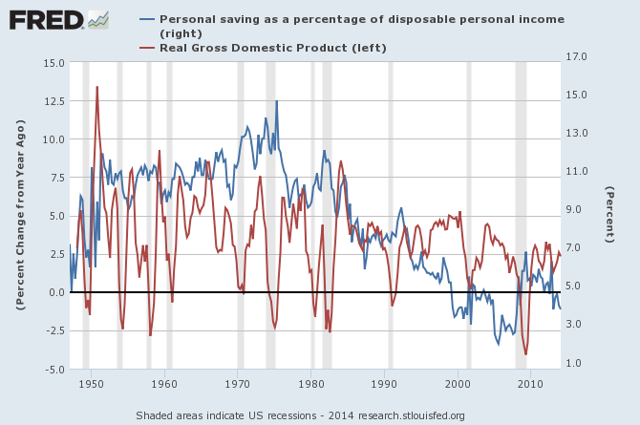 How can this trend continue, and how can you even consider possible a consumer resurgence?? More data from our analysis:
The market looks at current values (not real inflation adjusted) and was expecting a PCE (expenditures) rise of 0.2% to 0.8% (consensus 0.6%) versus 0.9% actual, and a rise in DPI (income) of 0.2% to 0.5% (consensus 0.4%) versus 0.5% actual. In other words, expenditures and income were near expectations.
The monthly fluctuations are confusing. Looking at the 3 month trend rate of growth, both income and expenditures are trending up.
Real Personal Income is up 2.2% year-over-year, and real personal expenditures is up 2.9% year-over-year. The gap between income and expenditure growth has expanded.
this data is very noisy and as usual includes backward revision (detailed below) making real time analysis problematic - the backward revisions this month were moderate and upwards to both REAL income and expenditures.
Yesterday, the advance estimate of 1Q2014 GDP indicated the economy was growing at 0.1%. Expenditures are counted in GDP, and income is ignored as GDP measures the spending side of the economy. However, over periods of time - income and expenditure must grow at the same rate. Usually this differential signals a future slowdown of consumer spending growth.
The savings rate continues to be low, and fell this month partially explaining the increase in consumption.

The graph below illustrates the relationship between income (DPI) and expenditures (PCE) - showing clearly income and expenditures grow at nearly the same rate over time. In dollar terms, expenditures are growing faster than consumer income - and this is not positive for long term economic growth.
Indexed to Jan 2000, Growth of Real Disposable Income (blue line) to Real Expenditures (red line)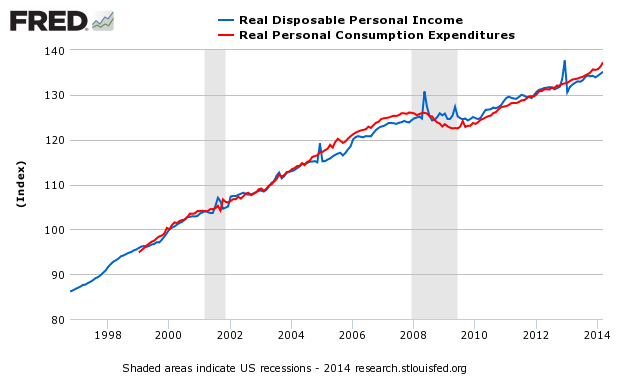 The long term trend remains that the consumer is spending more of its income.
Seasonally Adjusted Spending's Ratio to Income (a declining ratio means consumer is spending less of its Income)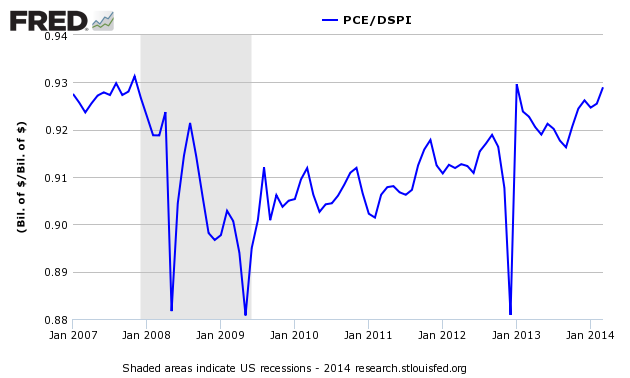 Other Economic News this Week:
The Econintersect Economic Index for May 2014 is showing marginal growth acceleration - but the pattern over a half a year remains in a fairly tight range. The major soft data point remains personal income which is not part of our Economic Index. My position remains that the economy remains too strong to recess, and too weak to grow.
The ECRI WLI growth index value has been weakly in positive territory for many months - but now in a noticeable improvement trend. The index is indicating the economy six month from today will be slightly better than it is today.
Current ECRI WLI Growth Index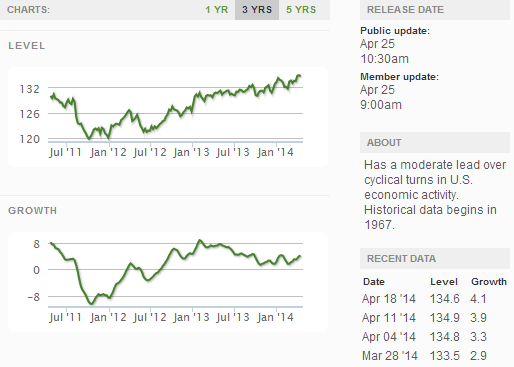 Initial unemployment claims went from 329,000 (reported last week) to 344,000 this week. Historically, claims exceeding 400,000 per week usually occur when employment gains are less than the workforce growth, resulting in an increasing unemployment rate. The real gauge - the 4 week moving average - degraded from 330,000 (reported last week as 316,750) to 320,000. Because of the noise (week-to-week movements from abnormal events AND the backward revisions to previous weeks releases), the 4-week average remains the reliable gauge.
Weekly Initial Unemployment Claims - 4 Week Average - Seasonally Adjusted - 2011 (red line), 2012 (green line), 2013 (blue line), 2014 (orange line)

Bankruptcies this Week: Energy Future Holdings (EFH)
Please [click here] to view all of our analysis and data this week.
Disclosure: I have no positions in any stocks mentioned, and no plans to initiate any positions within the next 72 hours.