I always wonder about the relation between consumer credit, personal income and consumer spending - and we all know the consumer has been real active in pushing up.
Friday's data release on consumer credit showed a pretty significant jump. Part of my analysis:
Consumer credit growth has been in a tight range for over a year. When student loans are backed out, the rate of expansion of consumer credit is:
expanding;
significantly better than the current growth of GDP.
The headline said:
In April, consumer credit increased at a seasonally adjusted annual rate of 10-1/4 percent. Revolving credit increased at an annual rate of 12-1/4 percent, while nonrevolving credit increased at an annual rate of 9-1/2 percent.
Econintersect's view:
Unadjusted Consumer Credit Outstanding
| | | | | |
| --- | --- | --- | --- | --- |
|   | Month- over- Month Growth | Year- over- Year Growth | Month- over- Month Growth without Student Loans | Year- over- Year Growth without Student Loans |
| Total | +0.5% | +6.6% | +0.5% | +3.6% |
| Revolving | +1.0% | +2.5% | n/a | n/a |
| Non- Revolving | +0.3% | +8.2% | -0.2% | +6.5% |
Overall takeaways from this month's data:
Student loan growth has been decelerating for the past 14 months;
Non-revolving credit growth strengthened significantly - and revolving credit (credit cards) also significantly strengthened;
The backward revision this month again was moderate.
The market expected consumer credit to expand $13.3 to $20.5 billion (consensus = $15.0 billion) versus the seasonally adjusted headline expansion of $26.8 billion reported.
So consumer credit is up 6.6% year-over-year, personal consumption expenditures is up 4.3%, whilst disposable income is up 3.3% (see graph below).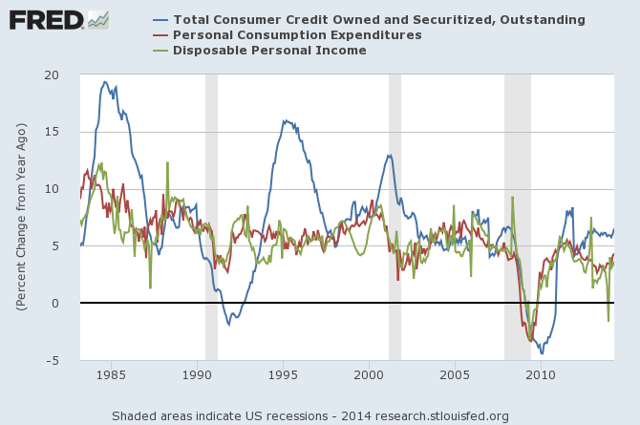 Interest rates are currently low allowing consumers to borrow more - except credit card debt which also jumped in April. Something about this credit expansion does not make sense.
Other Economic News this Week:
The Econintersect Economic Index for June 2014 is showing continued growth acceleration. Outside of our economic forecast - we are worried about the consumer's ability to expand its consumption as the ratio between income and expenditures are near all time highs. The GDP contraction for 1Q2014 is a paper contraction as GDP is determined by playing games with accounts. No serious element of the economy was in contraction (except government spending) which is already expanding in the 2Q2014.
The ECRI WLI growth index value has been weakly in positive territory for many months - but now in a noticeable improvement trend. The index is indicating the economy six month from today will be slightly better than it is today.
Current ECRI WLI Growth Index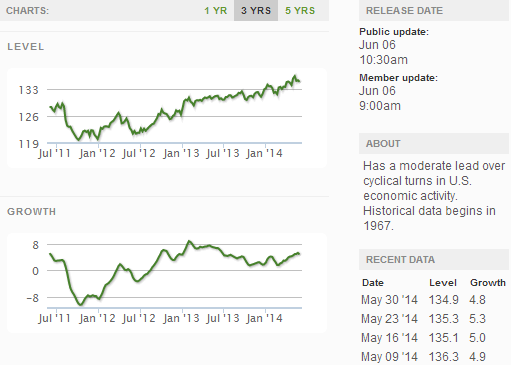 Initial unemployment claims went from 300,000 (reported last week) to 312,000 this week. Historically, claims exceeding 400,000 per week usually occur when employment gains are less than the workforce growth, resulting in an increasing unemployment rate. The real gauge - the 4 week moving average - improved marginally from 312,500 (reported last week as 311,500) to 311,500. Because of the noise (week-to-week movements from abnormal events AND the backward revisions to previous weeks releases), the 4-week average remains the reliable gauge.
Weekly Initial Unemployment Claims - 4 Week Average - Seasonally Adjusted - 2011 (red line), 2012 (green line), 2013 (blue line), 2014 (orange line)

Bankruptcies this Week: Buccaneer Energy Limited
To view all our analysis and opinion this week - [click here]
Disclosure: I have no positions in any stocks mentioned, and no plans to initiate any positions within the next 72 hours.