This week, the US Census website had some issues, and the website was basically inoperative on Wednesday. No analyst could access the data until late in the day on Wednesday, so there were very little analysis done by us pundits.
US Census says manufacturing new orders declined. Our analysis agrees but indicates the decline was even worse. Although the data was soft - the big headwind this month was from civilian and military aircraft.
The Federal Reserve's Industrial Production and the US Census disagree that May was worse than April.
The 3 month moving average of unadjusted new orders is still accelerating because of the strength of the March 2014 data.
3 Month Rolling Average - Unadjusted Manufacturing New Orders (blue line), Inflation Adjusted New Orders from the Unadjusted Data (red line)

The seasonally adjusted manufacturing new orders is down 0.5% month-over-month, and up 2.5% year-to-date.
Market expected month-over-month growth of -0.5% to +1.0% (consensus -0.3%).
Manufacturing unfilled orders up 0.6% month-over-month, and up 7.8% year-to-date
Econintersect Analysis:
Unadjusted manufacturing new orders growth decelerated 3.8% month-over-month, and up 1.3% year-over-year
Unadjusted manufacturing new orders (but inflation adjusted) down 0.2% year-over-year
Unadjusted manufacturing unfilled orders growth decelerated 0.3% month-over-month, and up 7.8% year-over-year
As a comparison to the inflation adjusted new orders data, the manufacturing subindex of the Federal Reserves Industrial Production was growth accelerated0.7% month-over-month, and up 3.8% year-over-year.
Seasonally Adjusted Manufacturing Value of New Orders - All (red line, left axis), All except Defense (green line, left axis), All with Unfilled Orders (orange line, left axis), and all except transport (blue line, right axis)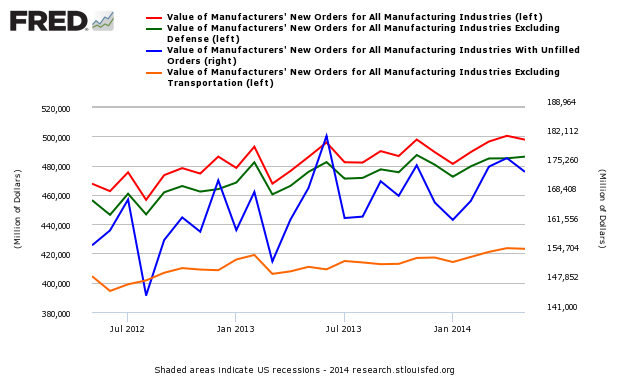 From the above graphic, one can see that defense spending was one of the tailwinds this month. The graph below shows sector growth year-over-year.
Year-over-Year Change Manufacturing New Orders - Unadjusted (blue line) and Inflation Adjusted (red line)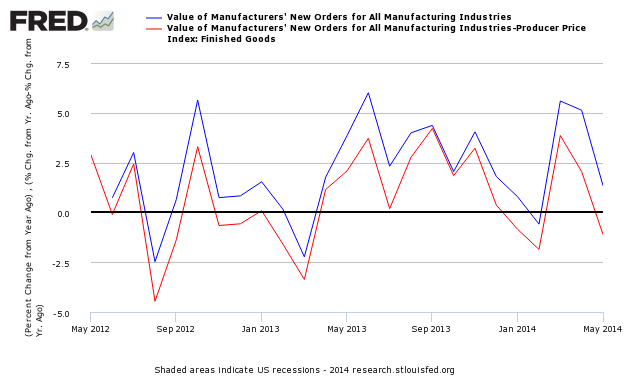 Now look at the manufacturing component of industrial production. While it is true that these are slightly different pulse points (inventory not accounted in shipments) - they should not have different trends for long periods of time. Although the general trend is mixed - but in narrow channels.
Comparing Year-over-Year Change - Manufacturing Industrial Production (blue line) to Inflation Adjusted Manufacturers Shipments (green line)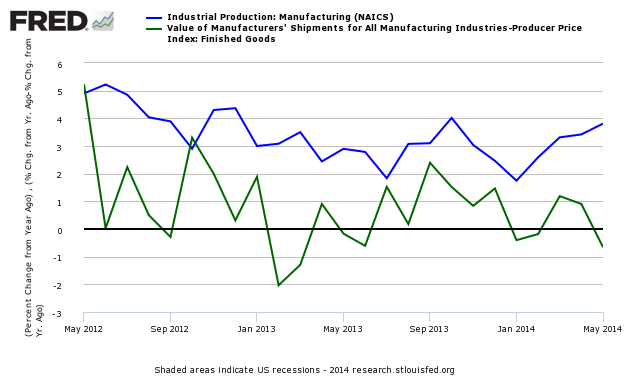 Using employment to confirm manufacturing growth says this industry is growing year-over-year.
Employment Growth - Manufacturing (Seasonally Adjusted) - Total Employment (blue line) and Year-over-Year Change (red line)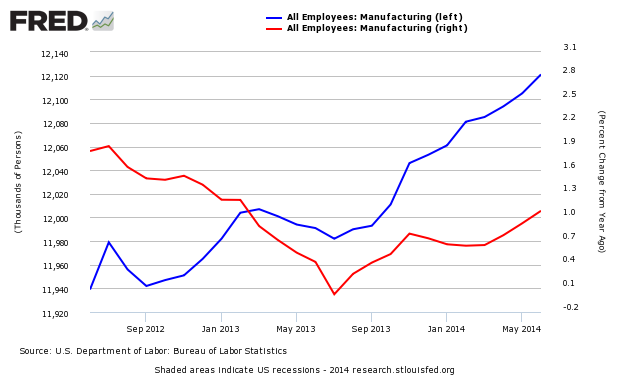 The health of manufacturing is gauged by the growth of unfilled orders. The 3 month rolling average rate of growth is currently accelerating.
Unadjusted Unfilled Orders - Total Current Value (blue line, left axis) and Year-over-Year Change (red line, right axis)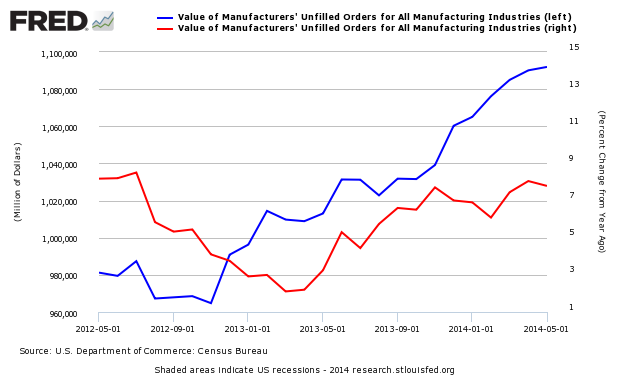 A declining unfilled orders backlog could be a recessionary indication as unfilled orders generally decline in poor economic times.
Overall this seems to have been just a bad month - not a softening of trend in manufacturing. But I will keep my eyes on this sector.
The Econintersect Economic Index for July 2014 is showing continued growth acceleration. Outside of our economic forecast - we are worried about the consumers' ability to expand consumption because the ratio between income and expenditures continues near all time highs. The GDP contraction for 1Q2014 is a paper contraction as GDP is determined by playing games with accounts. For 2Q2014 GDP, the trade balance will be a serious headwind.
The ECRI WLI growth index value has been weakly in positive territory for many months - but now in a noticeable improvement trend. The index is indicating the economy six month from today will be slightly better than it is today.
Current ECRI WLI Growth Index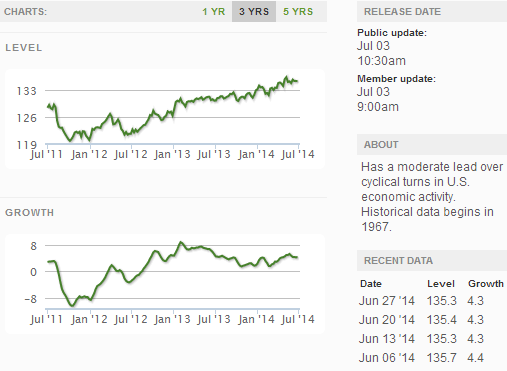 The market was expecting the weekly initial unemployment claims at 307,000 to 325,000 (consensus 314,000) vs the 315,000 reported. The more important (because of the volatility in the weekly reported claims and seasonality errors in adjusting the data) 4 week moving average moved from 314,250 (reported last week as 314,250) to 315,000.
Weekly Initial Unemployment Claims - 4 Week Average - Seasonally Adjusted - 2011 (red line), 2012 (green line), 2013 (blue line), 2014 (orange line)

Bankruptcies this Week: Buccaneer Energy Limited, Privately-held MIG (aka Metromedia International Group)
Please visit [our website] for complete list of analysis and opinion this week.
Disclosure: The author has no positions in any stocks mentioned, and no plans to initiate any positions within the next 72 hours.