The advance estimate of second quarter 2014 Real Gross Domestic Product (GDP) is a positive 4.0%.
The market expected GDP at +2.3% to 4.0% (consensus 3.1%).
1Q2014 GDP was just revised from a negative 2.9% to negative 2.1% - an unusual revision.
There are significant "buts" relative to this advance GDP estimate.
Before you believe the economy is taking off like a rocket, one must consider:
This advance estimate is based on source data that are incomplete or subject to further revision. (See caveats below.) Please note that historically advance estimates have turned out to be little more than wild guesses.
Headline GDP is calculated by annualizing one quarter's data against the previous quarters data (and the previous quarter was terrible in this instance). A better method would be to look at growth compared to the same quarter one year ago. For 2Q2014, the year-over-year growth is 2.4% - up from 1Q2014's 1.9% year-over-year growth. So one might say that GDP accelerated 0.6% from the first quarter.
1.7% (over 40% of GDP growth) was attributable to inventory gain.
Real GDP Expressed As Year-over-Year Change
(click to enlarge)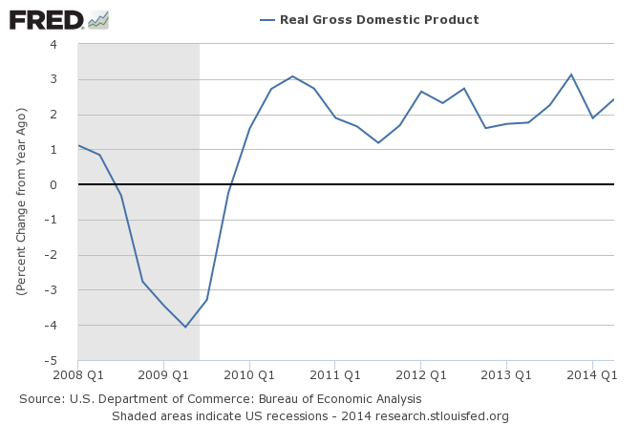 Click to enlarge
You can read more on GDP [here].
We also published our August 2014 Economic Forecast continues to show a stable and growing economy - this general strengthening cycle began a year ago with one small dip at the beginning of 2014. Now our Economic Forecast Index is at a 3 year high. All portions of the economy outside our economic model - except housing - are showing expansion.
The July 2014 BLS jobs report headlines again were fairly strong - although slightly less good than the previous month. Our unadjusted analysis paints a stronger picture of job growth this month. Non-seasonally adjusted non-farm payrolls rose 127,000 - the strongest July this century.
Historical
Unadjusted
Private Non-Farm Jobs Growth Between Junes and Julys (Table B-1, data in thousands) - unadjusted (blue line) vs seasonally adjusted (red line)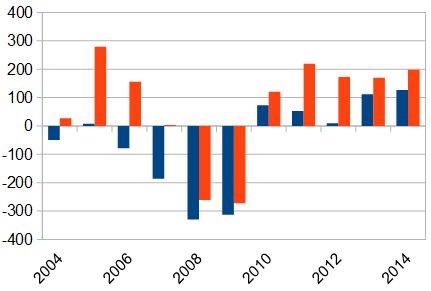 Other Economic News this Week:
The ECRI WLI growth index value has been weakly in positive territory for many months - but now in a noticeable improvement trend. The index is indicating the economy six month from today will be slightly better than it is today.
Current ECRI WLI Growth Index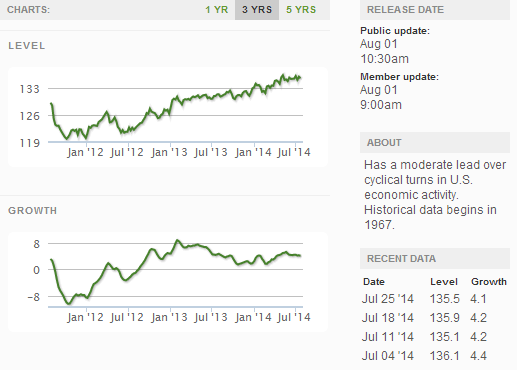 The market was expecting the weekly initial unemployment claims at 295,000 to 320,000 (consensus 305,000) vs the 302,000 reported. The more important (because of the volatility in the weekly reported claims and seasonality errors in adjusting the data) 4 week moving average moved from 300,750 (reported last week as 302,000) to 297,250.
Weekly Initial Unemployment Claims - 4 Week Average - Seasonally Adjusted - 2011 (red line), 2012 (green line), 2013 (blue line), 2014 (orange line)
(click to enlarge)

Click to enlarge
Bankruptcies this Week: Ambient, United Kingdom-based New World Resources, United Kingdom-based Zodiac Pool Solutions
Please visit econintersect.com to view all of our analysis this week.
Disclosure: The author has no positions in any stocks mentioned, and no plans to initiate any positions within the next 72 hours.