Import goods growth has positive implications historically to the economy - and the US Census produced seasonally adjusted goods and services imports were reported down month-over-month. Our analysis shows unadjusted goods (not including services) growth acceleration of 4.9% month-over-month (unadjusted data). The rate of growth 3 month trend is accelerating. You can see the correlation in the graph below: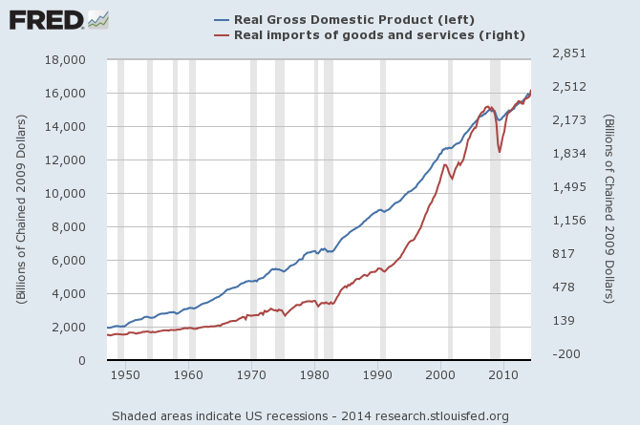 Look at the red line in the graph below.
Inflation Adjusted But Not Seasonally Adjusted Year-over-Year 3 Month Rolling Average - Goods Export (blue line) and Goods Import Excluding Oil (red line)

Exports remain weak because the world's economy continues to hurt.
Other Economic News this Week:
The Econintersect Economic Index for August 2014 is showing our index at a 3 year high. Outside of our economic forecast - we are worried about the consumers' ability to expand consumption although data is now showing consumer income and expenditures growth are similar. The GDP expansion of 4% in 2Q2014 is overstated as 2.1% of the growth would be making up for the contraction in 1Q2014, and 1.7% of the growth is due to an inventory build.
The ECRI WLI growth index value has been weakly in positive territory for many months - but now in a noticeable improvement trend. The index is indicating the economy six month from today will be slightly better than it is today.
Current ECRI WLI Growth Index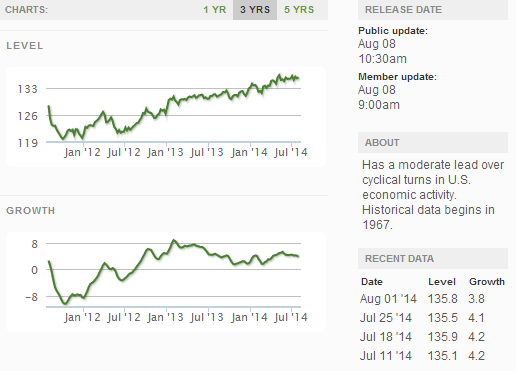 The market was expecting the weekly initial unemployment claims at 295,000 to 315,000 (consensus 305,000) vs the 289,000 reported. The more important (because of the volatility in the weekly reported claims and seasonality errors in adjusting the data) 4 week moving average moved from 297,500 (reported last week as 297,250) to 293,500.
Weekly Initial Unemployment Claims - 4 Week Average - Seasonally Adjusted - 2011 (red line), 2012 (green line), 2013 (blue line), 2014 (orange line)

Bankruptcies this Week: Privately-held Entegra Power Group, Eagle Bulk Shipping
Please [click here] to view our analysis of events this week.
Disclosure: The author has no positions in any stocks mentioned, and no plans to initiate any positions within the next 72 hours.