The recession we're emerging from was primarily caused by a lack of responsibility and accountability from Wall Street to Washington. That's why I made passage of Wall Street reform one of my top priorities as president, so that a crisis like this does not happen again. -
President Obama, 20 May 2010
.
The precipitating event for the Great Recession was the bursting of the housing bubble.
I ask the simple question – was it or was it not official US Government Policy regardless of whether the government was under Democratic or Republican control – to try to put every American possible into their own home?  Did lawmakers ignore the growing housing price bubble, and did lawmakers ignore poor lending standards? Did lawmakers ignore regulating the securitization market for mortgages?
No question Wall Street used and abused the lack of control. Any way you cut it, the most guilty are our elected officials, and we should never forget that no matter what reforms our lawmakers enact – they padded their pockets with Wall Street money to get elected. Their reward should be defeat in the next election cycle which will be the real legislative change we need.
While the political wizards are lining up to lynch the obvious evil of Wall Street, a significant economic threat continues to build globally.
Federal Reserve Governor Governor Daniel K. Tarullo testifying before a House committee stated in part:
The agreement of the Federal Reserve to reinstate foreign exchange swap arrangements was designed not to insulate banks and investors from losses they may incur, but as a prudent effort to help minimize the risk of financial turmoil in Europe, with the consequences that would ensue for the global financial system, including the United States. In the worst case, such turmoil could lead to a replay of the freezing up of financial markets that we witnessed in 2008. With unemployment remaining quite high, and with continued need for balance sheet repair by many businesses, financial institutions, and households, it is particularly important that the United States not sustain a significant external shock.

…....The United States is in a very different position from that of the European countries whose debt instruments have been under such pressure. But their experience is another reminder, if one were needed, that every country with sustained budget deficits and rising debt--including the United States--needs to act in a timely manner to put in place a credible program for sustainable fiscal policies.
Throwing Europe's financial issues into the global economic soup adds significant uncertainty in the medium and long term.
The leading indicators are telling us the USA "recovery" is already showing signs of being less good. Lakshman Achuthan, Managing Director at ECRI stated "with WLI growth sinking further to a 43 week low, U.S. Economic growth is set to start easing in fairly short order."
Click to enlarge
Even the Conference Board's Leading Economic Index showed a slight decline for April 2010. Remember, the LEI trails ECRI's WLI by one half a month, and uses different criteria. 27% of the index is manufacturing hours, 32% M2 money supply, and 10% the spread between the 10 year treasury and the Fed's fund rate. The LEI steep recovery was fooled by massive liquidity when the Fed flooded the market to prevent the economy from stalling – and I hope the Conference Board will adjust the makeup of the LEI to make it more accurate for today's new realities.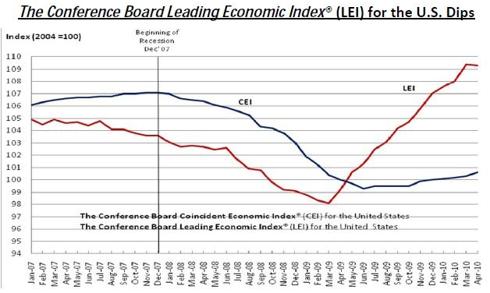 Click to enlarge
Just when we got over saying things were less bad, we are now beginning to say things are less good. Hopefully this is just a bad month – and the medium and long term economic prospects will strengthen after taking a rest.
Consumer Prices
The statement of the BLS when releasing the Consumer Price Index (NYSEARCA:CPI) for April 2010 stated in part:
The continuing stability of the index for all items less food and energy has resulted in an increase over the last 12 months of 0.9 percent, the smallest 12-month increase since January 1966.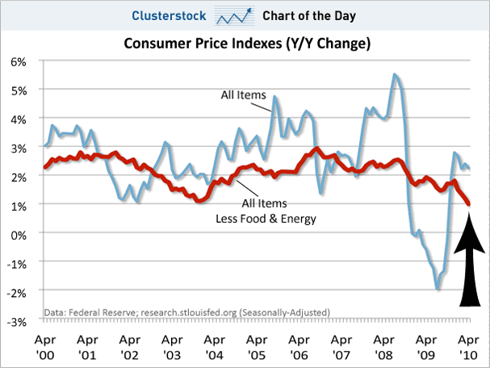 Click to enlarge
You can cut the data any way you want -price increases are slowing.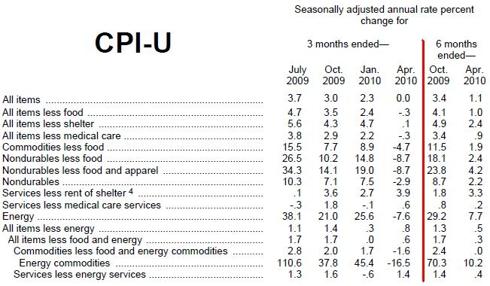 Click to enlarge
And the pipeline of goods coming to the retailers is also decreasing according to the Producer Price Index for April 2010.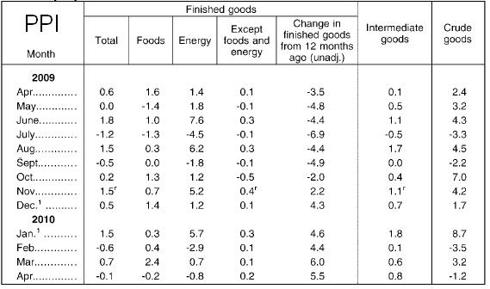 Click to enlarge
Are we on the doorstep of deflation for consumer prices? Not likely, but the continuing slowing of consumer price increases occurring over six months after the date most believe the Great Recession ended is unprecedented. It begs the question – is the USA headed for the dreaded Japanese "L" flat-line recovery?
Every time I view the falling Treasury yields during a period of very high financing needs – it runs contrary to intuitive explanations. Are investors voting that getting next to nothing for your investment is as good as it gets? Boys and girls, this is what the Japanese "L" is all about.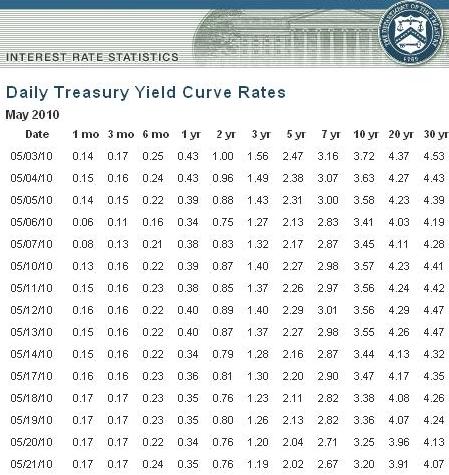 Japanese "L" = Lower asset values + getting next to nothing for your investment + little price increases in consumer goods.
Asset prices are mixed. Equity price are unchanged over the last ten years, and according to Case-Shiller home prices have increased 46%. When you consider inflation over the last 10 years is at least 30%, you have a real annual return of under 2%. Any takers on a bet that home prices will not gain in value over the next 10 years (inflation adjusted)?
The argument of whether we are in a bull or bear market has ended with our correction over the past weeks. I believe we are in a bear cycle which began in 2000 – coincidentally corresponding to when I believe our depression began. Technically, I realize what I am saying is crap as the market did have a bull cycle between 2003 and 2007, and possibly one between 2009 and the present.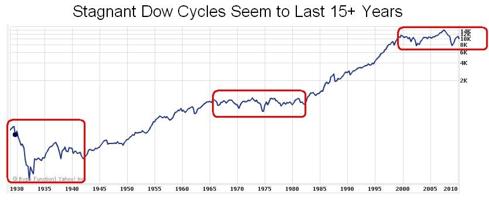 Click to enlarge
But what we have may be called a stagnant market – a market which ran ahead of itself and must languish until the economy catches up. Only this time, there are unusual headwinds (baby boomers retiring, high sovereign debt, asset price deflation, open tariff borders which has wiped jobs) which are strong and growing. The economy is not recovering normally from a major recession.
A view on the equities market was offered by David A. Rosenberg, Chief Economist & Strategist at Gluskin Sheff:
We went back to 1946 and never found a time when the stock market (S&P 500) corrected this much in the so-called "sweet spot" of the cycle (the time between the end of the recession and the first Fed rate hike). The most it has ever gone down in this positive part of the "investment clock" was 3%. Then again, you have to go back to 1930 to have seen such a massive rebound from any low. In other words, a 10% correction feels severe, but must be viewed in the context of an abnormal cycle involving a credit collapse of historic proportions to have been only briefly papered over by an unprecedented expansion of government balance sheets globally. In the same being, this correction must be viewed in the context of an 80% surge from the March lows.

What is "normal" is that during the "sweet spot" period, the equity market is up 15% from the lows, not 80%. Depending on whether you calculate the 15% off the first low in November 2008 or the second low in March 2009, it would not be a stretch to see this market trade down to below 900 on the S&P500 before the interim low is turned in. In this latest phase, the steepest advance was 30%, which would therefore mean, if you want to be early at calling the low, a test of the 870 to 975 range would be your band in which to scale back in.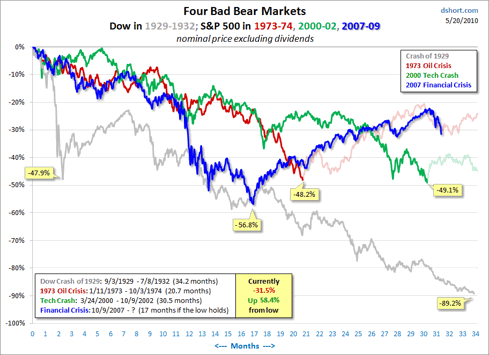 Click to enlarge
Real estate summary for the past week:
National home prices, including distressed sales, increased by 1.7 percent in March 2010 compared to March 2009 according to CoreLogic. On a month-over-month basis, the national average home price index fell by 0.3 percent in March 2010 compared to February 2010, which was more moderate than the previous one month decline of 1.7 percent from January to February.

According to Bloomberg, Moody's/REAL Commercial Property Price Index fell 0.5% in March MoM. Prices slid 25 percent from a year earlier and are down 42 percent from the October 2007 peak.
New residential construction permits issued and housing starts increased YoY in April 2010, but remain below April 2008 levels. Housing completions are still down YoY and down over April 2008 levels. Overall, housing permits being issued remain below the level of completions.
According to the MBA, purchase applications plummeted 27 percent last week and have declined almost 20 percent over the past month, despite relatively low interest rates. The data continue to suggest that the tax credit pulled sales into April at the expense of the remainder of the spring buying season. In fact, this drop occurred even as rates on 30-year fixed-rate mortgages continued to fall, and at 4.83 percent are at their lowest level since November 2009," said Michael Fratantoni, MBA's Vice President of Research and Economics. "However, refinance borrowers did react to these lower rates, with refi applications up almost 15 percent, hitting their highest level in nine weeks."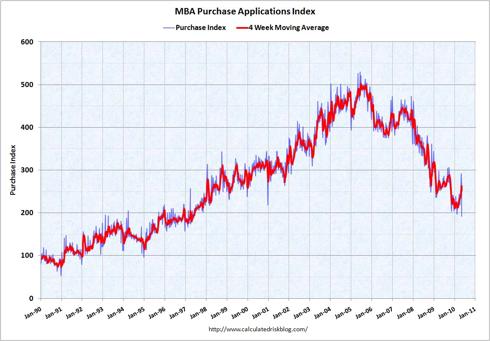 Click to enlarge
Other Economic Items
The Philly Fed's regional business survey for May 2010 may sound like things are getting better – but the important issues show things are less good or declining. New orders are less good, backlog is declining, inventories declining. Remember this is not real data, but a well run survey.
The similar business survey by the New York Fed for their region for May 2010 gives the same results – new orders up MoM but the rate of increase is less good, inventories continue to decline, and backlog declining.
Hard data normally confirms these surveys, and the big change from hard data is that order backlog is declining faster. A growing backlog is confirmation the economy is expanding.
Initial Unemployment claims continued their unpredictable course. For the week ending May 15, claims rose. Turmoil continues in the labor market.

Click to enlarge
Bankruptcies Filed this Week: Neff, R&G Financial,Beach First National Bancshares , Copper King Mining
Failed banks this week:

Click to enlarge
 
Disclosure:
GLD, GDX and numerous puts and calls not exceeding 3% of portfolio value.