The following excerpt from a
NYT article
caught my eye:
The battle was on full display Wednesday as Senate Democrats pushed ahead with efforts to pass a bill that would increase lending to small businesses and provide tax breaks, and President Obama visited the Tastee Sub Shop in Edison, N.J., where he ordered a "super sub with everything," to highlight his party's small-business agenda.
How many are hoping this will bring a new Tastee Sub Shop your city? The Senate on Thursday could not advance the bill mustering only 59 of the 60 votes needed to end debate.
This is a primary example that government does not get the problem. Please do not think this is some partisan attack – I think the party of NO has equally poor understanding. After all, small business are not big donors to political campaigns – yet small business historically is the jobs engine in our economy.
The problem is that there is little understanding with career politicians and academic economists of business. Politicians and Economists can quote statistics and describe the problem. And they also prescribe the solutions. This is on a par to a car owner telling a mechanic how to repair the car.
This is what is being ignored:
All jobs are not equal. Each private sector job creates some multiple of new jobs – in both the private and public sectors. We are losing our polluting jobs and our manufacturing jobs to other countries. Service industry jobs and retail jobs do not create the same downstream employment multiples.
Some argue correctly that there is always a metamorphosis of jobs. Some caused by productivity changes. Some caused by movement of jobs to lower cost areas. But the sad truth is that we have expedited this process by minimum wage, literally unlimited liability legislation, and the regulation of undesirable business out of the country.
Government jobs have little impact on the private sector jobs. However, due to organizational inefficiencies, the larger you grow an organization – the more inefficient it becomes and the more jobs you need. A large government employment is inefficient.
Large companies create small business through outsourcing. If large business is not expanding, it is unlikely you can create small business. This is an organic process.
We are probably locked into a decade of high unemployment caused by fundamental issues. This appears to be the third time this event occurred in the United States (1870, Great Depression, Today). There was a period also around the turn of the 20th century with high unemployment but it did not last a decade. Graph hat tip to Wikipedia.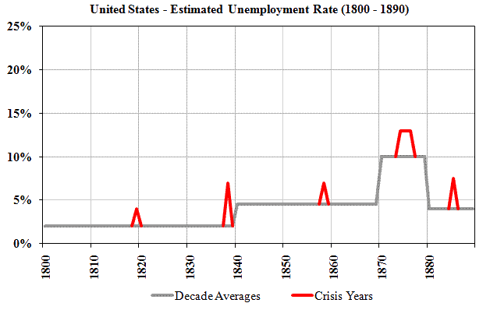 Initial unemployment claims for the week ending July 24th dropped slightly but still remain above the levels required for solid jobs growth.

The economic releases this past week did not change my view that in May / June we went through an economic pivot point where the economy shifted from moderate growth to something less – for me it is a Japanese L. The low interest rates and high debt traps us between feast and famine. This could result in some slightly negative GDP results as the economy flat lines.
2Q2010 GDP shows a 2.4% growth (annualized). This was below the expectations of many. As this is advance data which will be revised several times, it does not help to dig too deeply – but several trends are evident.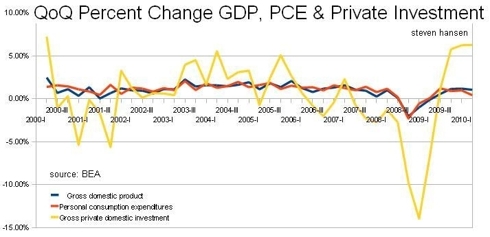 Personal Consumption expenditures is 70% of GDP. The trend, which began in 4Q2009, of PCE under performing GDP is growing stronger. This is consistent with the concept of the new normal which involves personal debt unwinding, higher savings, and lower spending.
The Gross Private Domestic Investment (12.7% of GDP) growth rate seems to have peaked, and still remains below pre-recession levels.
GDP cherry picks the National Income and Product Accounts Table on the expenditure side. These tables also show the income side, and personal income can also be analyzed for 2Q2010.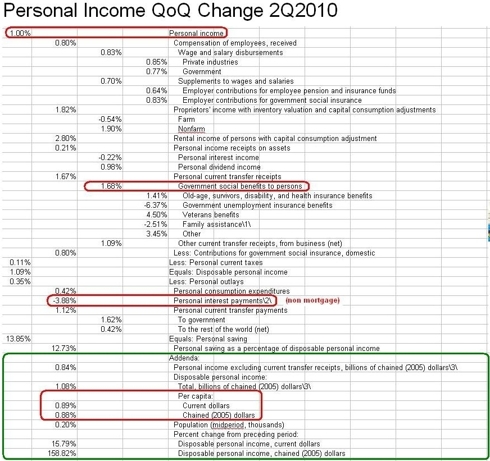 The income side confirms the trend income up (but down on a per capita basis), debt unwinding, and higher savings.
There has been a major change in the methodology for 2Q2010 in data gathering for GDP and back fit to 4Q2006 which caused an almost $100 million downward revision in GDP. We now have several quarters before the economy recovers to the pre Great Recession levels (using chained dollars).
GDP is not my favorite indicator of the economy because it does not properly indicate the conditions of Joe Sixpack. GDP suffers because it measures expenditures, and when Joe Sixpack and business slow down spending GDP suffers.
There is a definite disconnect now between employment and GDP – the GDP has recovered 73% (using chained dollars) while non-farm payrolls have recovered 11%. Joe Sixpack wants to work. The only measure of the economy for the majority of Americans is employment. The debate is over whether employment is a lagging, coincident or leading indicator – it is THE economic indicator. Employment is defining the economy.
The economy remains under headwinds from what obviously is a confirmation of the New Normal consumer. I do not feel that any of the data suggests a double dip yet – nor would I remove the possibility from the table. So much depends on government actions, and events around the world. When an economy is walking near the edge, any negative event or miscalculation can drag the economy into a recession.
My favorite leading indicator – the WLI from ECRI – is still moving slightly lower (now at -10.7% from 10.5%). Their coincident indicator also is falling.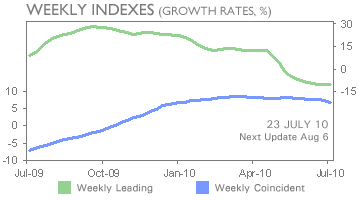 Most know my love for the Chicago Fed's National Activity Index (CFNAI) which is a weighted average of 85 indicators. This index fell into negative territory in June 2010, and the drop was the second largest monthly drop since the beginning of the recession in December 2007.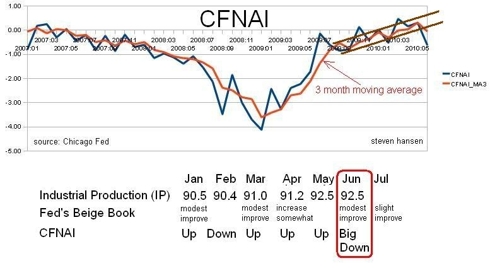 Even though the CFNAI is an average of 85 indexes, it still has a lot of data noise. The Chicago Fed recommends using the CFNAI-MA3 which is a 3 months moving average of the index. But the drop of the base index is so significant, that there is no disputing that the economy hit a wall in June. The slightly upward trend lines have been broken, and it appears a new trend line with lower economic activity will emerge.
When trend lines are changing, survey data is always suspect – even the well run surveys of the Federal Reserve. So take the data of the July 2010 Beige Book with a grain of salt. One reason is that filling out of any survey is not a serious business for a company. In my case, I had my secretary fill it out. But even if the company CEO completed the survey, it usually takes a month or two of changing conditions before it registers. In any event, here is their summary statement:
Economic activity has continued to increase, on balance, since the previous survey, although the Cleveland and Kansas City Districts reported that the level of economic activity generally held steady. Among those Districts reporting improvements in economic activity, a number of them noted that the increases were modest, and two Districts, Atlanta and Chicago, said that the pace of economic activity had slowed recently.
Further confirmation that the US Census is still having problems with its seasonal adjustment factors comes from the advance Durable Goods report for June 2010. Their release says there was a 1% drop in new orders MoM but looking at the unadjusted data, I could make a strong argument that sales were consistent so far this year. The problem I have with this release is that order backlog continues to decline – either too much capacity or the economy is weakening. Sooner or later, this sector is going to have to lay off people unless business picks up.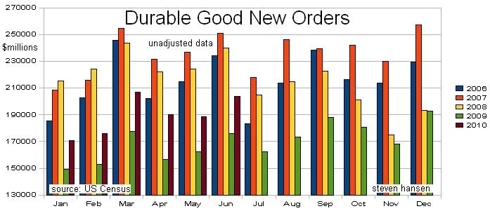 Housing
We had two major housing related releases this week – Case-Shiller for May 2010 and New Home Sales for June 2010. Starting with New Home Sales statement:
Sales of new single-family houses in June 2010 were at a seasonally adjusted annual rate of 330,000, according to estimates released jointly today by the U.S. Census Bureau and the Department of Housing and Urban Development. This is 23.6 percent (±15.3%) above the revised May rate of 267,000, but is 16.7 percent (±10.9%) below the June 2009 estimate of 396,000.
A non-seasonally adjusted data chart (hat tip to Calculated Risk) makes you question where the 23.6% growth came from. US Census continues to have issues with seasonal adjustment factors. The statement should have read "New Home Sales for June 2010 are the worst June on record." The new home sales are recorded based on purchase contracts – not closing, or even housing completions. The data is very noisy and subject to significant revision. Therefore the June 2010 data no longer is being affected by the first home buyers stimulus.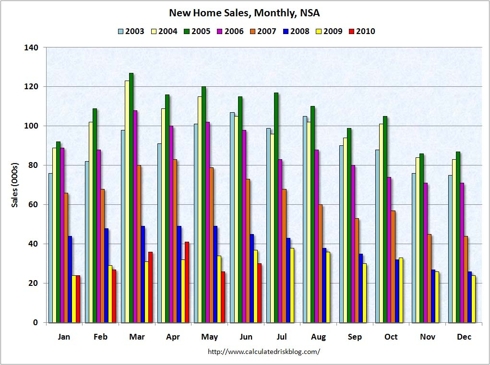 The Case-Shiller data is for existing homes whose sales were finalized / recorded during the month of May 2010 which is up 4.6% YoY. It is a less noisy index as it is a three month average but it is influenced by the effects of the first time home buyers stimulus. The statement which accompanied this release was fairly negative, and most likely is foreshadowing an index which will roll over when the effects of buyers stimulus begins to abate.
"While May's report on its own looks somewhat positive, a broader look at home price levels over the past year still do not indicate that the housing market is in any form of sustained recovery," says David M. Blitzer, Chairman of the Index Committee at Standard & Poor's. "Since reaching its recent trough in April 2009, the housing market has really only stabilized at this lower level. The two Composites have improved between 5 and 6% since then, but this is no better than the improvement they had registered as of October 2009. The last seven months have basically been flat."

"The May 2010 data for 15 of the 20 MSAs and the two Composites show an improvement in annual returns compared to April's report. With the month-over-month data, while 19 of the 20 MSAs and the two Composites were positive, we are in a strong seasonal period for home prices, so that was largely expected. In addition, there may still be some residual impact from the homebuyers' tax credit, since they affect any purchase that closes through June 30th 2010. We need to watch where the housing markets will go after these temporary stimuli go away. June's existing and new home sales and housing starts data do not show much real improvement in those statistics either. It still looks possible that the housing market might bounce along the bottom for the foreseeable future, before showing any real improvement that will filter through to the rest of the economy."
Even though Case-Shiller uses different methodologies, the trend lines still correlates to the National Association of Realtor data. We should expect to see a continuing gain next month in the Case-Shiller home prices as the first home buyer's effect on data will still exist.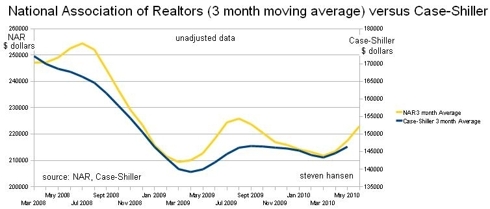 This week the US Census released the vacancy statistics for residential housing for 2Q2010. It seems there is still little headway being made in reducing the over supply of residences.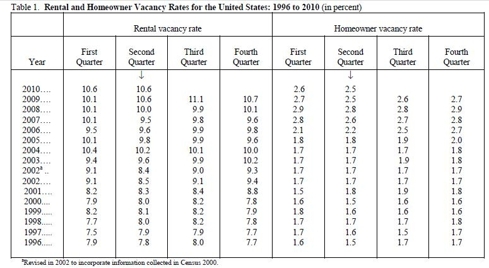 Transport Indicators
Economic slowing is validated by two indicators this week – the June 2010 truck tonnage index and rail scrap tonnage which correlates to GDP.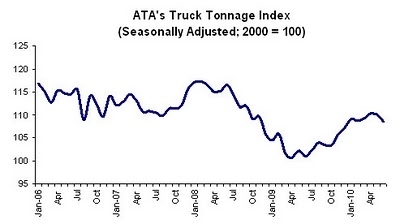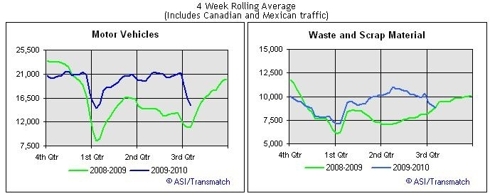 Bankruptcies this Week: Capital Growth Systems, American Safety Razor Company, Environmental Power

Failed Banks this Week:


Disclosure:
GDX and various options not exceeding 5% of my portfolio value