One of the more intriguing presentations at ELBC 13 was an evaluation of the Ultrabattery by the University of Sheffield. In their study, the researchers compared four device configurations including:
A conventional AGM battery;
An AGM battery in parallel with a 200 Farad supercapacitor;
An AGM battery in parallel with a 2400 Farad supercapacitor;
A Furukawa Ultrabattery.
By the time they adjusted for voltage differences between the battery and the supercapacitors, the 200 Farad supercapacitor pack resulted in a 33 Farad system and the 2400 Farad supercapacitor pack resulted in a 416 Farad system.
Since the researchers used a BoostCap from Maxwell Technologies (NASDAQ:MXWL) for their 2400 Farad parallel string, the following impedence chart compares the Ultrabattery with the technical equivalent of the Maxwell-Continental system.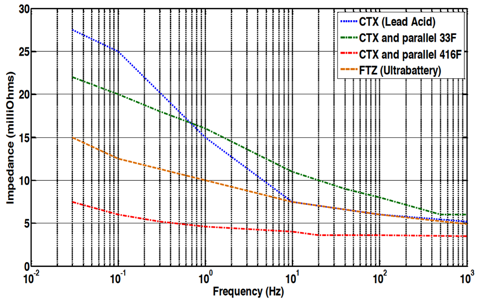 As I understand the impedence chart, the Ultrabattery performed better than the AGM battery or the AGM battery in parallel with a small supercapacitor module, but worse than the AGM battery in parallel with a large supercapacitor module.
I was surprised because I always assumed that the Ultrabattery would have more capacitance than the Continental-Maxwell system and that doesn't seem to be the case.
While Axion Power International (NASDAQ:AXPW) doesn't typically talk about the capacitance of the PbC, the unsuccessful DOE grant application it filed jointly with GM in February 2011 did note, "The large capacitance of the PbC battery (13,000F) means that it can support typical vehicle loads for up to 600s above 12V without the need for charging."
I'm sure there's more in the University of Sheffield presentation than I've been able to glean for myself, but it should give some of our more knowledgeable friends something to chew on.
Disclosure: I am long AXPW.