A few days ago HT Love noted that there was a strong correlation between the performance of several storage sector stocks and the S&P 500. Since my tracking workbook indicated that the storage stocks had taken a much bigger beating than the broader markets, I decided to put together a graph that compares the third quarter performance of Johnson Controls (NYSE:JCI), Enersys (NYSE:ENS), Exide Technologies (XIDE) and Active Power (NASDAQ:ACPW) against the S&P 500.

To eliminate day-to-day clutter I used 10-day weighted moving averages for all five lines. The similarity of the curve shapes clearly shows the correlation HT was talking about, but the amplitude of the performance differences strikes me as amazing.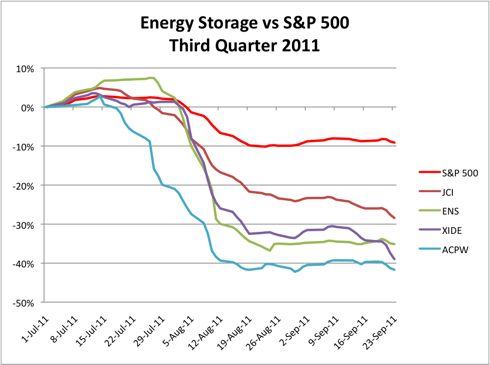 Click to enlargeAs the markets settle down from their current turmoil and return to some semblance of normalcy, I'd expect the amplitude of the swings to the upside to mirror the amplitude of the swings to the downside. If I'm right, the winner's list should be the inverse of the loser's list. It will be fascinating to see whether this theory holds over the next six months.