Holidays can be fun because they leave time to go through ancient archives to find data that you knew you once had but somehow misplaced. This morning I found historical pricing data on my first client with a major supply and demand imbalance and thought the story might be instructive.

WRT Energy was a gulf coast natural gas producer that had a great technology and $2 million in stockholders equity when it got talked into doing a Vancouver shell deal in the late 80s. Despite the promoters promises of unlimited fundraising capacity, the Canadian company was plagued by a depressed stock price, horrid supply and demand imbalances and a tragic inability to attract needed capital.

I started working with them in the mid-1991 and ultimately took a job as their Executive VP. I developed a long term plan to clean up the supply and demand problems by re-placing about 40% of the stock with selected block purchasers and moving the company to the US market. It took the better part of a year to register the company under the Exchange Act and move the stock out of the hands of the willing sellers and into the hands of block purchasers who understood what we were trying to accomplish and what the long term business potential was.

On October 12, 1992, we implemented a 1 for 5 reverse split and moved the stock from the VSE to Nasdaq. After the move we learned that a couple of the block purchasers who had assured me they were long-term holders were actually shoveling stock out the back door as quickly as they could. It took another couple months to bring them under control.

The following chart adjusts all prices to account for the reverse split and applicable currency exchange rates; shows how WRT suffered through a year of dismal market performance while the sloppy supply and demand dynamic was being rectified; and shows how the stock performed once the supply and demand problems were resolved.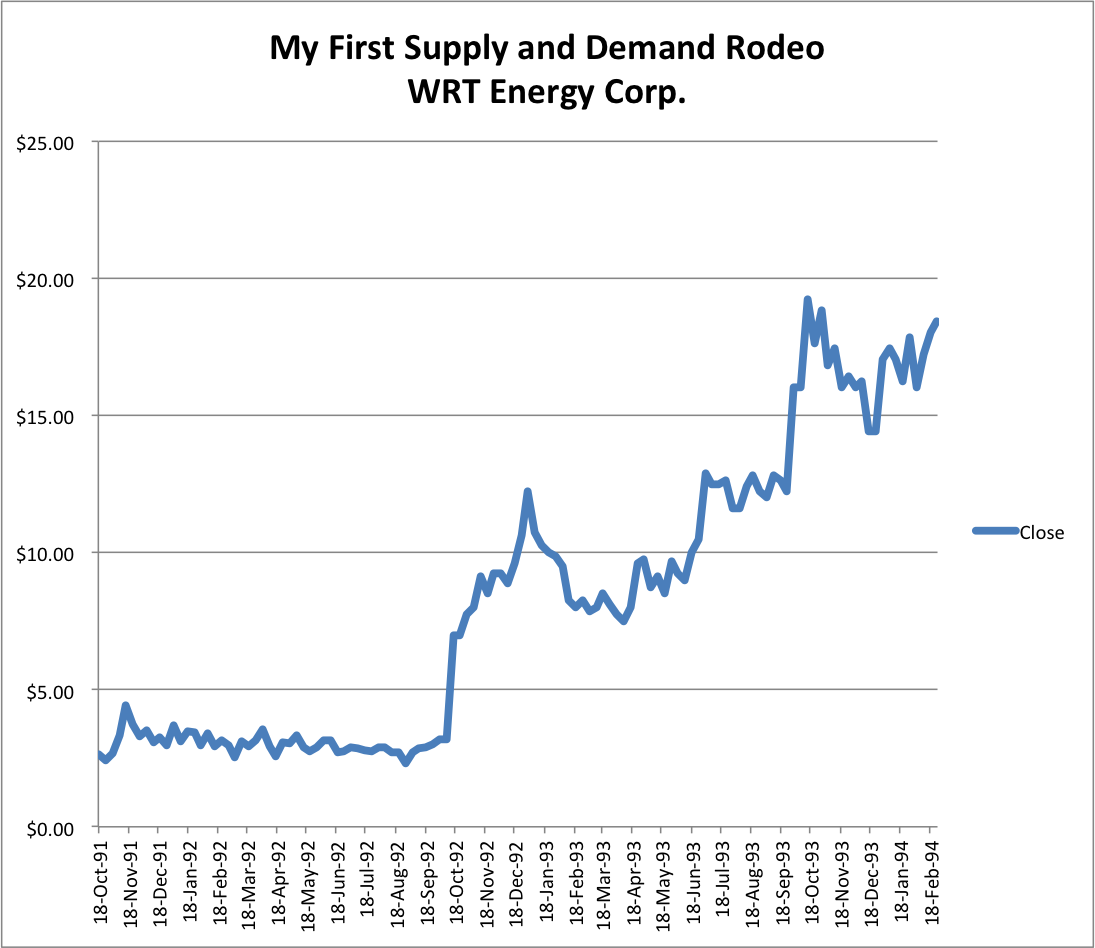 While WRT was not able to attract significant capital when it was stuck in supply and demand hell, we raised $8.7 million in the first half of '93 and $30 million in the second half. In late-'94 we got talked into a $100 million high yield debt offering that proved to be catastrophic when natural gas prices collapsed shortly after the offering was completed and the properties we bought couldn't throw off enough cash to carry debt service costs. WRT ultimately ended up in Chapter 11 and the properties I bought are now the core operations of Gulfport Energy.

WRT was a seven digit loss for me, but a priceless lesson in supply and demand dynamics and the dangers of debt financing.