As most of my followers know, Axion Power International (NASDAQ:AXPW) has endured the price chart from hell since late 2009. Since I'm a former Axion director and worked as its legal counsel for several years, I've always believed the price chart was 180° out of synch with its business execution. I've also believed the declining stock price is purely a function of supply and demand dynamics in the stock market.
This morning I decided to put together a quick graph that shows Axion's stock price; 100-day moving average trading volume and 100-day moving average daily liquidity since December 2009. The beige bar at the bottom is a reference key that shows when a variety of corporate events occurred. Financing transactions are highlighted in red and business execution events are in simple black type.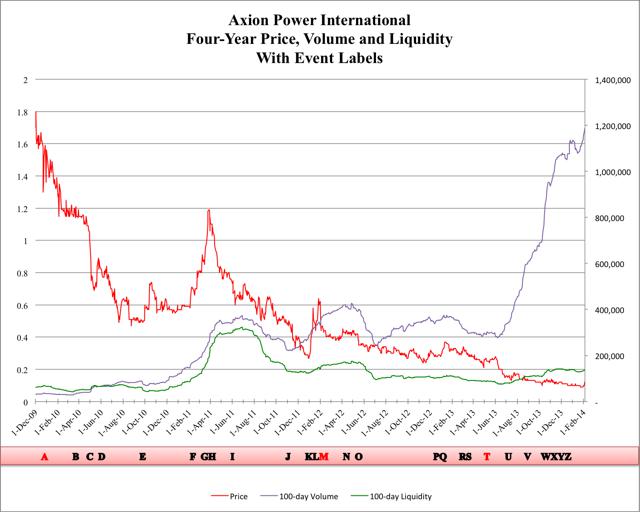 The events identified on the stock price chart are summarized in the following table.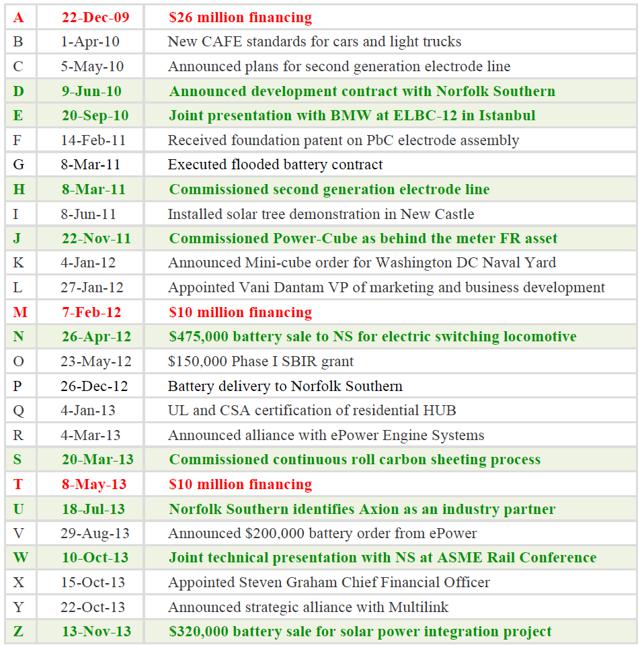 While I showed the business execution events in black on the price graph, I've highlighted several execution events in green because I believe they're extraordinary for a nano-cap company that carries a fully diluted market capitalization of less than $25 million.
When I look at the list of business accomplishments I'm delighted to see the orderly conclusion of a development process that began in September 2003 with a crude laboratory prototype and finished up in March 2013 with the commissioning of a continuous roll carbon sheeting process that makes the PbC technology portable by giving Axion the ability to build electrode fabrication facilities anywhere in the world.
When I look at the list of disclosed development partners I'm floored because my experience is that first tier companies don't associate with nano-caps, and if they do they certainly don't allow the nano-caps to mention their names in public. Until September 2010, I had never heard of a case where a first tier company publicly wrapped its arms around a nano-cap company that was still engaged in R&D for a promising technology. Before July 2013 I had never seen a case where a first tier company publicly identified a nano-cap as an industry partner. By November 2013, a second joint presentation with a first tier company at an industry event was almost old hat.
I spend a lot of time communicating with Axion stockholders who worry that there's no clear path to sustainable revenues. When I look at Axion's history over the last four years and factor in all the challenges Axion had to overcome in order to simply survive until December 2009, I can't see any reason beyond my own insecurity to question the competence of management or the ultimate market acceptance of the PbC. It's a hell of a battery.
By nature I'm a very impatient person. I want what I want and I want it right now. Ten years of experience in the battery industry has taught me that progress in electrochemistry is far more difficult than I ever imagined it could be, but Axion's management team has never failed to attain a critical business objective. The only expectations I've had that went unsatisfied arose from my own naïve assumptions about timing and the behavior of other investors who bought stock in Axion's 2009, 2012 and 2013 offerings.
Disclosure: I am long AXPW.