Since many stockholders of Axion Power International (AXPW) are following the progress of our development work at ePower Engine Systems and it's been a month and a half since I offered any detail, I thought a lightly edited version Jay Bowman's most recent shareholder update would be worthwhile.
We have completed all of the modifications to the Peterbilt 387 sleeper as of last Friday. Over the course of the last month we have.
Changed the transmission valve body to drop the shifting points to 1950 rpm because we wanted to bring the drive motor's speed within its maximum torque band (1800 rpm).
Reduced the rear end gear ratio on the truck from 4:63 to 3:55 because we wanted to reduce the drive motor speed and keep it closer to its optimal torque curve.
Removed the forward drive axle and replaced it with a liftable tag axle to reduce weight.
Reworked the air system for the air ride suspension and brakes to ensure legal operation of the tag axle and controls.
Replaced the rear dual wheels with aluminum wheels and super single tires to reduce weight.
Removed four PbC batteries from the battery pack because we wanted to find out if the batteries could operate at a higher state of charge, which would eliminate the need for further work on our charge optimization software and save about 230 pounds.
Collected data for the Marathon engineers in an effort to improve our system's Power Factor and improve efficiency.
Moved the electric drive motor and transmission assembly 30 inches towards the rear of the tractor to shift weight off the front steering axle.
As you can see, thses were some major modifications. I'm happy to report that we saved 1,022 lbs. and brought the tractor closer to the goals R&L gave me last year. The front axle weight is well within DOT limits and the transmission is more accessible for maintenance. Our drive motor is now operating at 1860 rpm at 65 mph, rather than 2800 rpm at 65 mph. We spent most of last week working with the Marathon engineers collecting data while we tuned the truck for our upcoming fuel and performance testing. With Marathon's help we have been able to correct several problems with our digital voltage regulator (NYSE:DVR) and raised our power factor from the 0.62 we were seeing last month into the 0.92 to 0.94 range. We also increased peak generator output from 115KW to 135KW and reduced the drop in rpm on the diesel engine during high power requirements.
We made one test run on the truck each day last week logging a total of 330 miles. We had some problems with the air system that prevented us from doing additional testing. The truck's air dryer was releasing air pressure to the brake system and the brakes would not function properly. Temporary repairs have been made so that we can continue testing and we have ordered a new air dryer that should be delivered by end of next week. Most of the testing last week focused on collecting data Marathon. We will begin serious fuel economy testing on Monday and should have a good idea of what our numbers are by the end of the week. With the generator and DVR working properly and a 52 PbC battery pack we saw a solid 11.0 MPG on our test course with a bob-tail tractor.
(click to enlarge)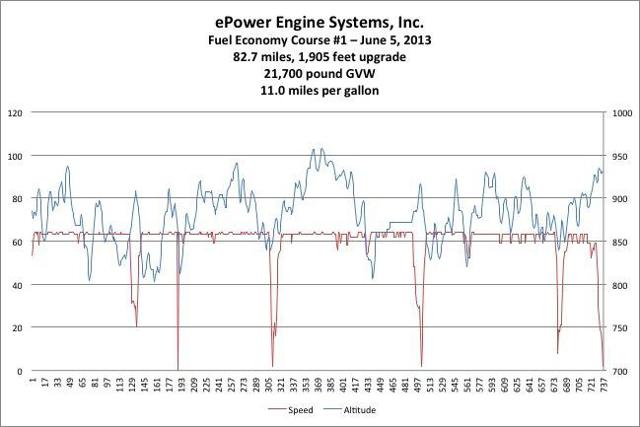 Click to enlarge
As you can see our test course contains many elevation changes, rather than the flat and level testing courses typically used for MPG testing. Elevation is in blue graduated on the right axis, with speed in red on the left axis. We have four stopping points on this course as indicated by a zero mph. The truck is operated in cruise control mode and holds its speed very flat during the testing. I am certain that when tested under typical course conditions our numbers will be higher.
Our experiment with removing four PbC's from the battery pack caused several problems and had a negative impact on fuel mileage and performance. The idea was to have the batteries operate at a higher state of charge thereby supplying the same amount of boost power to our system. Both I and the Axion engineers thought this was worth a try to see how they would perform. We knew that the PbC battery has a U shaped curve as far as internal resistance of the battery and that attempting to run at a higher SOC may have us fighting the resistance curve. This has proven to be the case. By raising the internal resistance of our battery pack we have upset the balance of power distribution in the system. The electric drive motor now has a lower internal resistance than our battery pack; this makes it more difficult to charge our batteries, as the power path to the electric motor has less resistance than the batteries. We will be reinstalling the four additional batteries and associated wiring on Monday morning to return the pack to a 56-battery configuration. We have also bought Cummins' "INSITE Service Tool" and expect to receive our copy of the software on Monday. We integrate the INSITE software into our data collection system immediately. The upgrade will give us printed documentation of real time fuel usage and information to share with the Cummins engineers.
(click to enlarge)

Click to enlarge
Our heaviest test last week was at a GVW of 45,200 lbs. on Friday afternoon. We had to abandon that test when an accident backed-up freeway traffic. The truck performed well from a power point of view. We did notice a significant decrease in acceleration under load but once up to speed the truck maintained speed through the course.
As you know our US Patent application was allowed by the US patent Office. I have instructed our Patent attorneys to complete the granting process. This will provide patent protection as of today in the US and Mexico. Our applications in Canada, Europe, China and Honk Kong are still pending. Our attorney was pleased that the body of our patent was approved and remained intact by the examiners. They will be requesting expedited reviews from the EU and Canada at my request now that we have the US patent in hand.
Disclosure: I am long AXPW.