Many of you have requested a guide to the latest changes on Seeking Alpha.  I'll take a moment to highlight the most notable changes for your convenience: 


Please note that all

screenshots

contain

random

filler

data

and do not accurately reflect the content on our site. Click on each screenshot to enlarge the picture.
New Business Directory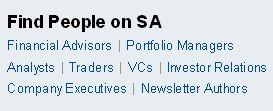 In an effort to provide you with new clients and business leads, Seeking Alpha has created an online business directory (currently ranked by number of followers).  In order to make the most out of this directory, please make sure you and your business are correctly classified by editing your profile.  Let us know if you believe we should include additional categories and if so, which ones.
There are several links to the directory throughout the site including on the homepage under 'Find People on SA.'   In its present form, the directory is a basic one but overtime we expect it to become increasingly important.  We plan to add additional features and information and would like your feedback as to how to make this directory most beneficial to you.
It is free to be listed in the directory but in order to appear, please make sure that the "keep my details private" option is unchecked while filling out the "promote my business" section (see screenshot).
Integration with Twitter and Facebook


Social media tools are becoming ever more important, yet at the same time, it becomes increasingly difficult and time consuming to utilize all the available tools effectively.  That is why we've enabled you to automatically promote yourselves on Seeking Alpha and the leading social media sites simultaneously.  Now, whenever you have something to say on Seeking Alpha, you can post it on Twitter and Facebook at the same time without any extra effort on your part.  You can choose to automatically repost links to your StockTalks, Articles, Instablogs, and/or Comments (see screenshot).
For those of you already on Twitter and Facebook, you will definitely want to make use of this powerful new tool. For those of you without Twitter and Facebook accounts, it is a good opportunity to delve into these worlds and greatly expand your audience without any extra effort. Again, this is an optional feature and you can easily turn these settings on/off within your settings page.  So go ahead and try it and you will be amazed at what a time-saver this new feature is: triple your reach with a fraction of the work.  It is simply fun to use too!
Improved StockTalks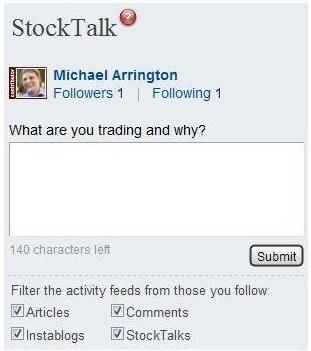 Similar to Twitter, StockTalks are a great tool to communicate with readers, post interesting links, share brief and concise ideas, notify others about article updates, etc.  These are automatically viewed by your followers.  Now it is easier and more effective to use than ever before thanks to our integration with Twitter and Facebook (as described above).  But we've made other improvements as well.  We've also added a convenient filter for your StockTalks window so you only see what you want to see.  You can filter by Articles, Instablogs, Comments and StockTalks (see screenshot).

But what good are StockTalks if you don't have many followers?  We've now added a section on the left side of our homepage for ALL StockTalks to appear (see screenshot).  This exposes your StockTalks to millions of readers, and we expect this to be an ideal way for you to pick up new followers and expand your fan base.
We've implemented various safeguards to make sure the homepage StockTalks highlight content from you, not spammers.   Therefore, if you want your StockTalks to appear on our homepage, please keep in mind the following guidelines:
StocksTalks will only appear on the homepage if:

The poster has a photo uploaded (this can easily be done from your settings screen). 

The post does not contain a link

Only one StockTalk per user can appear on the homepage at any given time. This means that if you have one StockTalk on the homepage while posting a second StockTalk, the second will immediately overwrite the first.

 
Remember, that these criteria only apply to StockTalks appearing on our homepage for all readers (see screenshot).  Your regular followers can always view all of your StockTalks, irrespective of the above guidelines.
StockTalks are also now tickerized. Mention a stock using brackets or a $ sign, and they will automatically appear on our quote pages for all readers.  For example, if you have a thought about Yahoo that you would like to share, use $YHOO or (NASDAQ:YHOO) and you will see it on the Yahoo quote page. Lastly, due to the popularity of our other leaderboards, we've also added a new StockTalk leaderboard to bring more readers your way.
New Seeking Alpha Toolbar

We've created a handy toolbar which you can always find running across the bottom of your computer screen while on the Seeking Alpha site.  This toolbar has all the links you would most commonly use to view or edit your Portfolio, to quickly read and write StockTalks, to view and write Instablog posts (or submit articles) and to edit your Settings (formerly accessible through the "My Stuff" tab). And of course, from this toolbar you may register/login and logout from the website. 
We believe the toolbar's portfolio link in particular will benefit authors greatly. Readers love seeing your headlines on the stocks they care about which is accessible through the Portfolios section.  The toolbar creates much faster access to Portfolios which will lead to higher readership of your articles.
 
Business Intelligence
We've replaced the "My Stuff" tab with a new tab titled "Business Intelligence."





Business Intelligence is a powerful and free, yet easy to use business research tool.  It enables authors and readers to conduct sophisticated searches for products, companies, and themes across thousands of companies' quarterly conference call transcripts.  There is a wealth of information within these transcripts and I think you will be pleasantly surprised with what you will find.  I encourage you to use this new tool to aid you in your research.  For an example of how to use Business Intelligence, please see David's Instablog.
    

Redesigned Instablogs
We've given your Instablog pages a new look and feel and removed all SA branding for true author ownership (see screenshot).  We've also included a search box specific to your Instablog to enable readers to search within your blog posts and added a window to integrate your stocktalks onto the same page (see screenshot).  Additionally, we've added a counter to list the number of Instaposts you have, and a link to view the full index of posts.  You'll also notice the all new footer in our Instablogs section which allows for powerful cross promotion.  It includes links to Instablogs tagged by the most popular stocks, the latest Instablog posts and a link to the Instablog leaderboard which now lists ALL Instablogs, no longer just the top 100.  On the sidebar of each leaderboard you'll find a new navigation panel with links to various SA pages, including fun stats pages that list interesting statistics about SA and our authors in real time (See stats pages for articles, instablogs, and stocktalks).
 
Though relatively new, the Instablogs feature has been very popular among our authors and readers and is now the most powerful blogging platform for finance.  In fact, Marketing Charts has already ranked your SA Instablogs in its listing of the top 10 sites for personal blogs and websites alongside other powerful blogging platforms such as MySpace, LiveJournal and Blogger.  Your Instablogs and articles are now being read by more people than ever before.  
Bringing You More Exposure in Comments

We're driving even more attention to you and what you have to say in the comments section. Within each of your comments, we now include direct links to your other comments, your instablogs and your StockTalks (we'll be adding a link to your articles soon as well). We also now publish a link to your website and/or blog with the full web address for all to see, giving you a little bit more self-promotion.




Improved Dashboards
Our dashboards now feature relevant, popular rates for ETFs in real time! See screenshot.

Easy Importing of Portfolios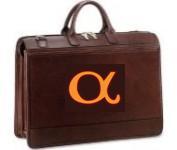 Frustrated by having to maintain your portfolios on multiple sites? You can now easily import your existing portfolios from any site by simply copying & pasting them to Seeking Alpha (see screenshot).
 

We hope you enjoy these latest improvement and we hope to continue to bring you even more enhancements and additional features in the near future. As always let us know what you think as we value your feedback.

All my best,
Boaz Berkowitz
Director of Contributor Relations
Seeking Alpha