Is the apple finally rotting?
March 2, 2014
By Enda Glynn
gfscapital.com/apple-finally-rotting/#sthash.LPzygJqK.dpuf
Forget about everything else the financial news wants to tell you, in the end if no one wants what you have, then what is it really worth?
The headline this recently was apple stock plunges on lower than expected iphone sales.
(Reuters) - Apple Inc needs a cheaper iPhone to keep pace with low-cost rivals, analysts said, after the company's smartphone sales fell short of lofty expectations in the holiday shopping season
Let's look into that claim, the company sold 51 million iphones! And this is a record number for this product, you would think people would be screaming halleluiah on record sales, but no Wall street expected more from you Apple, they wanted 55 million phones sold, tut tut, Should have tried harder! And hence they claim that this is the sole reason that the stock has sold off in the last 24 hours.
It would have nothing at all to do with the fact that the stock is up 640% since its low in 2009? Heck, its up 138% since June last year! Those are some scary rallies! And the news junkies want to attribute this little dip to something tangible, maybe just maybe people are sick of the apple story?
It's no-longer the 'you just gotta own this company' stock.
Maybe underneath it all, people are growing weary of the stock market in general and not just Apple? Apple is the darling after all, and if you've grown sick of the favoured child, well then what hope have the others got then?
Let's take a look and see.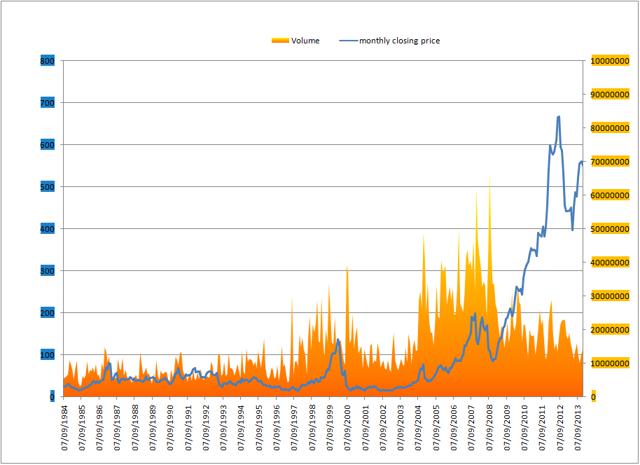 This is a long term volume with closing price chart of Apple inc. As you can see, the volume of traded shares rose strongly before every price rise. It happened in 1997 and 2002. At these junctures there was appetite for owning stocks then as the volume of traded shares rose, inevitably the price rose following this rise in participation.
But what about now?
Since 2008, volume has plummeted. It is now approximately 1/6th of the highs! How, please tell me can a stock price rise in the long run if less and less people want it?
Forget about everything else the financial news wants to tell you, in the end if no one wants what you have, then what is it really worth?
From an Elliott wave perspective notwithstanding my views on the market as a whole! This stock has collapse written all over it! what goes up must come down!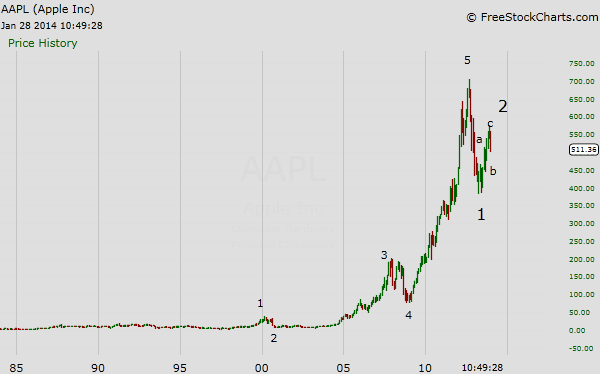 The price chart has traced out a text book five waves up since 1998, topping out in September 2012 at $705. Since then the trend in force has been down with a counter trend A,B,C rally since may 2013. The price pattern, should it develop as expected, would point to support at the previous fourth wave low within the range of $50 to $150 level.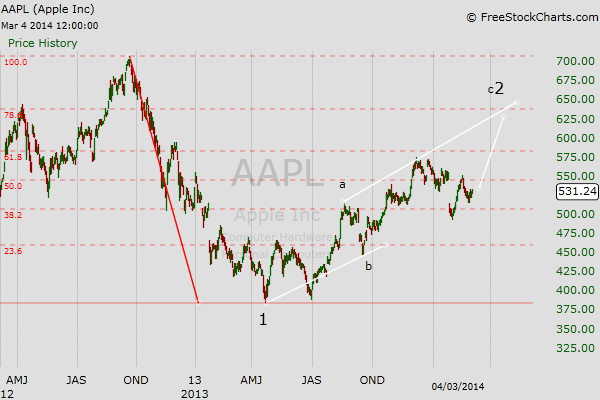 So perfect has this countertrend rally been that it sits beautifully in a neat trend channel, and tops out before it hits the upper trend line. The pattern may extend in its current form but it is still a corrective pattern, reading the RSI of late it suggests we are reaching an oversold scenario, with this in mind the extension is looking likely with a possible near term price target in the region of $620. This would still count as a correction within the larger trend and until the pattern suggests otherwise owners should be cautious and shorters should stand ready to move.
Elliott wave theory may not mean much to the by-stander but, to me, it gives a far better signal of probable price direction into the future than any other method, especially when compared to listening to the talking heads in the financial news.
No doubt this will be called a 'buying opportunity' by the analysts, and if you believe that and buy, without doing at least some fact checking and basic analysis yourself, then maybe you deserve to lose your shirt. The news will never tell you there is danger ahead; they will just project yesterday's good times into the future, until it's too late.
Needless to say I believe are approaching a multi decade selling opportunity.