Each year, European investors in the resource markets find an increase of activity in November. Two events bring participants in mineral exploration and mining together; the Edelmetall- & Rohstoff-Messe (Precious Metals & Commodities Show) in Munich, and the Zimtu Road-Trip.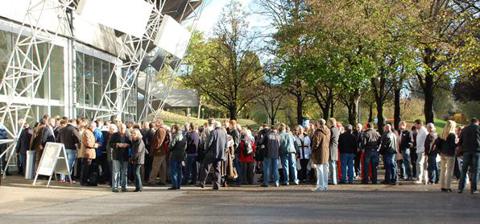 Long queues at 2012 Edelmetallmesse in Munich's Olympiapark
The Edelmetallmesse is Europe's largest gold and mineral resource show which attracts a significant number of investors, analysts and letter writers. A unique characteristic of the show is the near frenzy of people lining up to buy physical gold and silver. This show has attracted prominent international financial personalities including Eric Sprott, Marc Faber, James Turk, David Morgan, Johann A. Saiger, Prof. Dr. Hans Bocker, Thorsten Schulte, Dimitri Speck, and Lawrence Roulston, just to name a few. Exhibiting companies include the likes of Aurcana Corporation (TSXv: AUN), Colt Resources Inc. (TSXv: GTP), First Majestic Silver Corp. (TSX: FR), Zimtu Capital Corp. (TSXv: ZC), Focus Graphite Inc. (TSXV: FMS), Monument Mining (TSXv: MMY), Premier Gold Mines Limited (TSX: PG) and Western Potash (TSX: WPX).
Among the Edelmetallmesse exhibitors will be a group of at least seven junior explorers at a booth hosted by Zimtu Capital, a project generator that maintains holdings in companies ranging from early to advanced-stage and covering a number of commodities. The Edelmetallmesse will be the first stop on the Zimtu Road-Trip.
The Zimtu Road-Trip is the annual event which brings mining executives and investors together in various European cities, and which begins this year in Munich and then makes stops in Geneva and Zurich.
The companies participating in the 2013 trip include Lakeland Resources, Prima Fluorspar, Commerce Resources, Pasinex Resources, Arctic Star Exploration, Equitas Resources and Western Potash.
This year Zimtu Capital has added workshops to its events which will bring industry experts together with investors in a more intimate setting. One of these workshops will focus on uranium and will feature the President of Dahrouge Geological, Jody Dahrouge who was a member of the teams behind two of the four major discoveries in the Athabasca Basin. Another of the workshops will feature the specialty metals expert Simon Moores of Industrial Minerals.
In addition, Chris Berry of House Mountain Partners, a featured presenter at the Edellmetallmesse, will be on the Zimtu Road-Trip and will be speaking about his perspectives on Value Investing.
For more information on the Zimtu RoadTrip in Zurich, please click here.
For more information on the Zimtu RoadTrip in Geneva, please click here.
For more information on the Edelmetallmesse in Munich, please click here.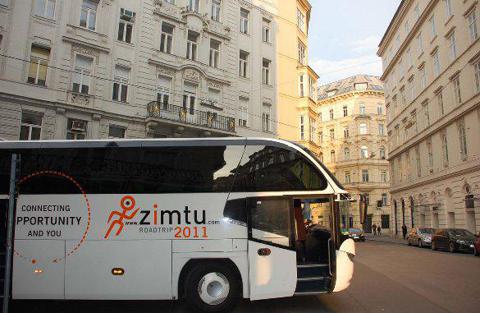 Disclosure: I have no positions in any stocks mentioned, and no plans to initiate any positions within the next 72 hours. I wrote this article myself, and it expresses my own opinions. I am not receiving compensation for it. I have no business relationship with any company whose stock is mentioned in this article.