The following (green font) is one of the 8 charts and corresponding commentary/analysis/strategy from our February 25th Keys To This Week report (access requires subscription).
Keys To This Week, one of 8 different reports that we produce for subscribers at various intervals throughout the month, is a detailed weekly outline of key market factors and corresponding charts pertaining to the US stock market and market sectors, US interest rates, and the US Dollar, that are most likely to influence US financial market direction during the next one to several weeks.
---
Excerpt From: Keys To this Week
Asset Class: US Market Sectors
Topic: Asset Flows In Utilities Sector
Date: February 25th, 2013
This Week our trend model shifts to outperform in the defensive Utilities Sector.
The blue line in the lower panel of Chart 5 below plots our own Rydex Utilities Ratio, daily since 2007, which measures the percentage of daily assets invested in the Rydex Utility Sector Fund relative to the combined total assets invested in all Rydex sector funds.
A corresponding daily bar chart of the Utilities Sector SPDR ETF (NYSEARCA:XLU) is plotted in the upper panel.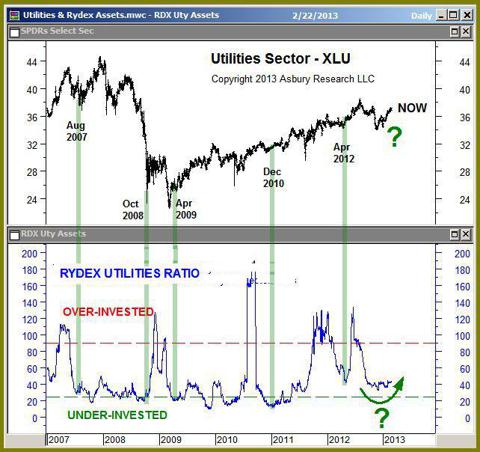 Chart 5
The green vertical highlights between both panels show that Utilities are currently hovering at/starting to rise from historic under-invested extremes according to our metric, and that previous instances of this have coincided with or led some of the most important bottoms in XLU in recent history, amid relative sector outperformance.
continued…
---
The next chart below is an updated version of Chart 5 from our February 25th report. The red highlights on the chart show that, during the past 2 months, our Rydex Utilities Ratio has moved from historic under-invested extremes to opposite, over-invested extremes as investor dollars have flowed into the sector, as we anticipated.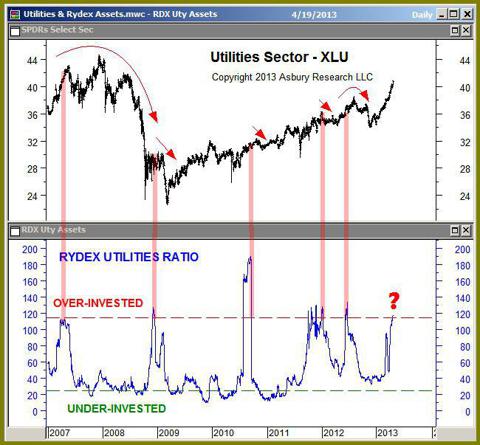 Our final chart below plots the daily relative performance of the Utilities Sector SPDR ETF (XLU) versus the S&P 500 ETF (NYSEARCA:SPY) since Q4 2012, with the period that our trend model has been on an overweight bias highlighted in green.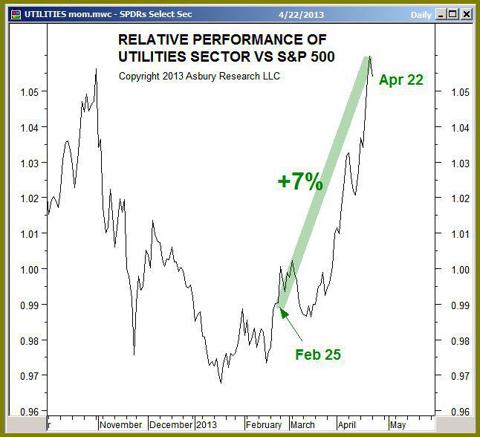 The chart shows that the Utilities Sector has outperformed the S&P 500 by 7% since our February 25th report, which is pretty amazing considering that Utilities is typically thought of as a defensive sector and the S&P 500 has coincidentally risen to new all-time highs during that same period.
Although there are additional components to our trend model which help us to time our entries and exits, these charts are a pretty good example of how we monitor investor asset flows to identify emerging sector-related opportunities - often before they become apparent on a basic price (or relative performance) chart.