The purpose of this article is to outline my quest for the cheapest broker that lets me "do what I want" with the least amount of hassle and how the real hassle is always behind the scenes. I'll also outline the public companies from the perspective as an investor.
 I currently can trade with Firsttrade, Schwab (NYSE:SCHW), Ameritrade (NASDAQ:AMTD), E*Trade (NASDAQ:ETFC), Merrill Lynch (NYSE:BAC), and I have checking accounts with Fifth Third (NASDAQ:FITB), and a savings account at Bank of America (BAC). So, what's the scoop and why am I writing this article? I've been setting up a new E*Trade account for the past month and my patience is wearing thin. Why did I choose to open another account with E*Trade?
Merrill Lynch (BAC) won't let me buy stocks less than $1. This is to protect me from myself, I suppose. But what happens when a company that you value over $10 goes below $1? Odds are you'd like to buy more and now your left buying it at a higher price of at least $1, whenever it surfaces back above that waterline. All for $29.95 a trade. What a great deal! Not.
Ameritrade (AMTD) has the best interface and is honestly in my opinion the best, except for that it won't let me buy certain penny stocks because it doesn't like the transfer agent. I fought Ameritrade on this a little bit, because if they would simply let me buy the companies that I want to buy, I'd push all my accounts to them.
Firsttrade also won't let me buy all the securities that I want to buy. It is also in my opinion "less pretty" than Ameritrade.
Schwab lets me buy pretty much anything I want, but Schwab has proven to be a little more hands on than what I'd like them to be. I got a margin call on a $30,000 account that was over half marginable securities and we were sitting on about $1,000 of margin. That's pretty ridiculous. Also, Schwab is more expensive than E*Trade.
So, here I am, setting up another account with E*Trade (ETFC) because I know it will be the most flexible once I get it going. I've been trying to set up this account for over a month now and have made a frustration timeline that you can see below. I'm still in limbo and haven't received a phone call from E*Trade. I've had to take the initiative to call them up and follow up as to where exactly the money I sent them is. They still aren't sure, so there is roughly $115,000.00 floating out there in E*Trade land.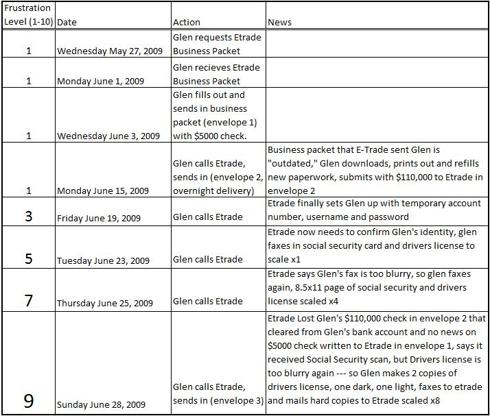 Click to enlarge
Alright, how do these companies stack up as far as investments go? I would say that Schwab (SCHW) and Ameritrade (AMTD) are reasonably priced. Bank of America and Merrill (BAC) still appear to have over 100% upside potential within the next year and so does Fifth Third (FITB).
Lastly, I'll note that I've been asked by a couple Fifth Third employees what I would consider investing in. I asked them if they had ever considered buying Fifth Third (FITB).
Disclosure: Glen and his investors own FITB and BAC.