Silver
On February 11, 2012, we wrote a piece on Silver and SLV titled "Correction of Errors on iShares Silver Trust (NYSEARCA:SLV) Interpretation" (found here). In that article, we said the following:
"The current indications suggest that SLV will fall as [low as] the $22.14 support level. Because silver easily fell to the third support level in the period from 2001 to 2008 (within the context of a precious metal bull market), we expect that the $21.02 is a realistic worst case scenario to watch for. We will consider buying silver and related derivatives at $22.25 and below.

"We view the most recent rise from the December 2011 low as running out of steam. Therefore, the rising resistance level established at $28.70 appears to be firmly in place…for now."
As seen in the chart below, Silver has declined to the rising support level of $21.02 in many instances but broke through to the downside on February 18, 2013.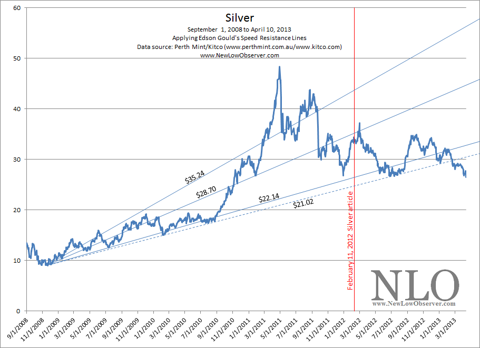 From a technical standpoint, the next downside target for silver may be to the $20 level if the current levels don't hold. However, under typical circumstances, any point below the $21.02 level is considered undervalued. While it is possible that Silver could fall further we don't play the short side since we're in the position to accumulate good values. Values at this point trump the guesswork of when to enter and exit the short. We believe that anyone interested in the upside potential to silver should thoughtfully accept the potential loss of -50% or more and purchase in two stages, once at a predetermine price at or below the current level and a second time at or below the first purchase.
Agnico-Eagle Mines (NYSE:AEM)
On April 6, 2012, we recommended the consideration of Agnico-Eagle Mines (AEM) (found here). On September 25, 2012, we recommended selling of AEM (found here). While we got a lot of heat from readers of the SELL recommendation, from the less than brilliant to the reasonably rational, our work has proven that precious metal bull markets are vicious and should not be taken lightly.
After our recommendation of AEM on April 6, 2012, the stock rose nearly +40%. When we gave the sell recommendation of AEM on September 25, 2012, the stock increased an additional +11%. However, as of April 12, 2013, AEM is down -27% from our sell recommendation and down -37% from the November 2012 high at $57.33.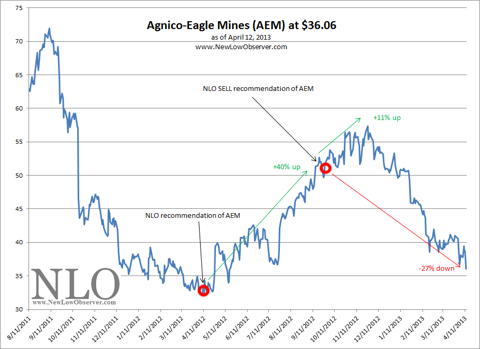 Never under-estimate the power of a gold bull market. We hope that our work on this topic has been instructive.
Disclosure: I have no positions in any stocks mentioned, and no plans to initiate any positions within the next 72 hours.
Additional disclosure: holder of silver and gold since 1996