On December 16, 2011, BMC Software (NASDAQ:BMC) was at the top of our Nasdaq 100 Watch List (found here). At that time, we said the following:
"BMC Software (BMC) has not only fallen to a new 52-week low, it has also fallen to a 2-year low. Based on the decline so far, according to Dow Theory, BMC could retrace to the $40 level. Fair value for the stock is at $44.86. The $40 level seems reasonable within the next year for BMC even though it is 20% above the current price. The most obvious downside target for BMC is the October 2008 low of $22. A decline of $22 would equal a loss of 33%.

"It should be noted that despite the market turmoil of 2008, BMC did not fall to the 2006 low. Additionally, the long term support line as drawn in the chart for BMC indicates that $22 ultimate price to watch for. If BMC were to replicate the percentage decline from the May 2008 top to the October 2008 low, the stock would decline to a price of $31.11.

"The Punchline: Those interested in BMC could split their investments into two transactions. The first purchase could be done between Friday's closing price and $31.11 and the second if the stock declines to the $22 level. No additional shares should be bought if the price increases."
Since December 16, 2011, BMC fell as low as $31.65 and has achieved the current price of $45.36. However, it has been indicated that Bain Capital is willing to pay $46.25 for BMC. While competing offers for BMC may exceed the $46.25 price, we feel that the gains achieved, at the current price, requires investors to sell the stock at a +36.75% gain from the 2011 low.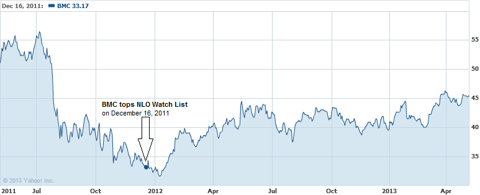 Coming soon for subscribers:
Gold Stock Indicator
Notes from our visit to the Berkshire Hathaway shareholder meeting
Insurance Watch List