When you look at the Dow Jones-UBS Commodity Index (below), you'll notice that, so far, the index has a well established pattern of higher lows since 1999. Obviously this can change drastically, after all we're talking about commodities, the most volatile instruments widely available for the longest period in history.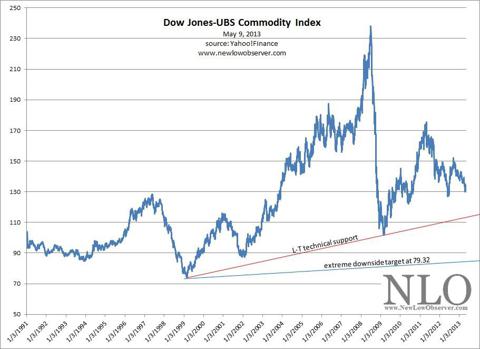 The long-term technical support is the most obvious downside target (ascending red line). Next is Edson Gould's extreme downside target at the rising 79.32 level (ascending blue line).
At the current level, we've been accumulating individual commodity stocks. However, we'd be committing significant amounts of our portfolio to food producers, processors and distributor stocks if the index hits the extreme downside target or lower.
Until the extreme downside support is broken, we're considered to be in a commodity bull market with an understanding that there will be dramatic volatility. Break below the 1999 low and we're definitely in a bear market.
Disclaimer: This analysis relies on our assumption that an investor did not accumulate commodity related investments at significantly higher levels. As investors who seek opportunities at or near a new low in price relative to value, we assume significant risk of loss in the event that our analysis is incorrect. We automatically invest with the assumption that once purchased, our investment will loss -50% or more before a gain is achieved. Please confirm all data before acting on strategies that we have and will employ.