On December 6, 2012, we said the following of our Nasdaq 100 Watch List:
"We've highlighted the chip sector stocks to put emphasis on the fact that, as an industry group, the sector may be at or near a low."
After a year and a half, the chip sector stocks have achieved all that we had anticipated when we wrote about them in late December 2012. As seen in the chart below, all of the stocks except Altera (NASDAQ:ALTR) achieved gains that beat the Nasdaq Composite growth of +46.22% in the same period.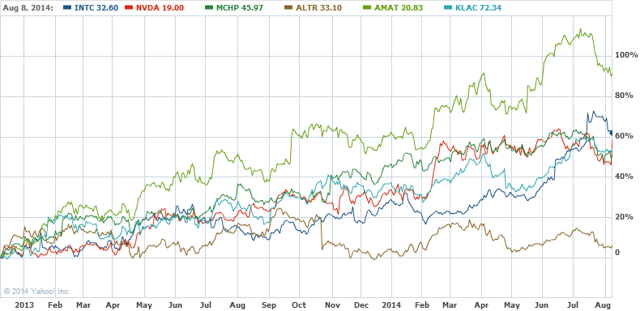 The chip sector does run on a cycle and it is our belief that while this may not be the top it is time to sell the principal in those stocks that have had a decent run. The profit portion should be allowed to compound until new relative lows are achieved.
We've been fortunate to successfully identify two chip sector cycles lows on March 20, 2010 and December 6, 2012. As we have in the past, we will notify subscribers of investment opportunities at the next cycle low. Investors may want to consider rotating into sectors that we've identified as worth accumulating using the proceeds from the sell of chip sector stocks.
Disclosure: The author is long KLAC, AMAT, INTC, ALTR.